In this test
, we review Diamondback's long-awaited 2014 DH8. Diamondback has executed a successful resurgence to elite level mountain biking with a compelling range of trailbikes, but for reasons unknown, its return to downhill has been lagging. The 200-millimeter-travel aluminum DH8 was shown in prototype form two years ago, and was raced by the DBR team throughout the 2013 season. While it was 'officially' released this year, the production DH8 will be sold in 2014 as a frameset, including an FSA headset, an Easton seatpost and a Fox RC4 Kashima shock. For the record; our test bike was built up from a 2013 team-issue frameset that is essentially the same as the 2014, production models, but it has machined-aluminum suspension rockers, instead of forged items. The DH8 frame kit is available in medium and large sizes and it sells for an MSRP of $??? USD in North America and €2479 in Europe.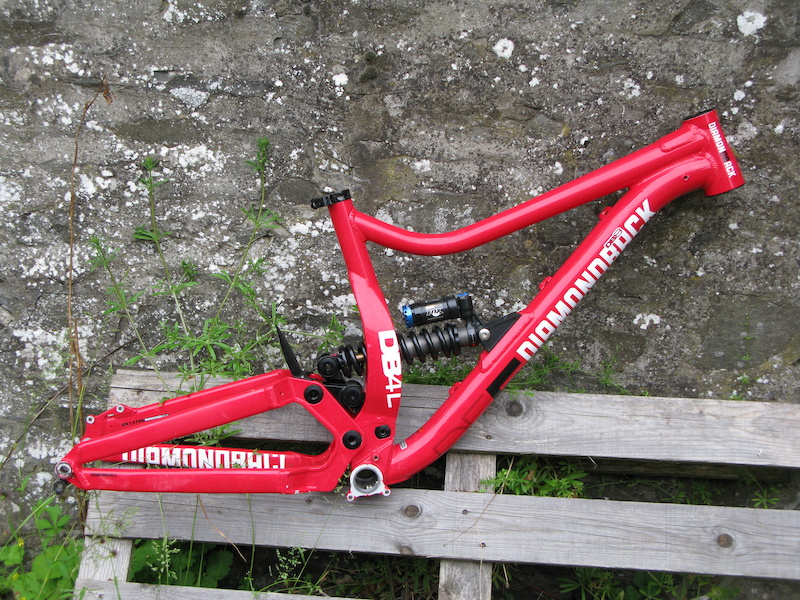 Diamondback 'officially' released the DH8 as
a frameset in 2013.
DH8 Frame Details
• Welded-aluminum chassis
• Eight-inch-travel, single-pivot-swingarm, linkage-driven rear suspension
• Two-position shock mount on down tube
• Frame-mount, rubber fork stops
• Tapered head tube
• Sizes: Medium and Large
Frame kit Includes:
• Easton seatpost
• Fox Factory RC4 Kashima Shock
• Chainstay protector
• FSA Headset
• Seat clamp
• MSRP: $???USD, €2479
Building the Bike
With a frame in our hands, it was time to pull the parts out
of the box and get building. As building a bike from scratch is usually a good indication of how well thought-out it is, we were keen to see how it all went together. When doing this many minor irritants can usually be ignored, but there are some that will just infuriate. Thankfully, we discovered no such problems while assembling the DH8. In fact, we had the aluminum chassis built up within a couple of hours, which was a blessing, as the following day we needed to fly out to the Diamondback-sponsored Joyride Festival in Poland with it. While building up the DH8, we admired the frame's smaller details like easily accessed pivot bolts, sensible cable and hose routing, a hexagonal rear axle interface for increased torsional stiffness and bolt-in fork bumpers to protect the frame
(although ours disappeared somehow during shipping)
. Diamondback's execution of the frame's minor aspects reflects a depth of experience that comes from both racing and every-day riding.
Construction
Releasing a new downhill bike these days that isn't made from the magical black stuff may not seem to be in keeping with the times. However, while aluminum may not have the glamour and cachet of a carbon frame, recent World Cup results attest that it can still be more than a match for the latter if done well. The DH8 does not incorporate any intricate hydroforming, but the clean lines and straightforward look of its butted tubing still catch the eye. Look closer and you'll find large bearings, both in the swingarm pivot and within the linkages, tidy cable routing and a two-position, bolt-on forward shock mount. Machining under the two struts that form the shock tunnel and hollow linkage rockers help keep the frame's weight down to just under 11 pounds - about one pound heavier than a World Cup-level carbon chassis.
Diamondback's design team kept the mass of the DH8's suspension low in the frame, which should largely erase the effects of its weight. We also shaved off about 350 grams by switching to a titanium spring, which means that the Diamondback can easily be built to a competitive racing weight. The rear axle features a hex insert on the left side, with the aim of keeping stiffness high and also, to capture the axle so that only a single Allen key is required to tighten the it. The axle,combined with the beefy swingarm and large diameter aluminium linkages means that there will be little, if any flexing from the back of the bike. Like the axle, the pivot and shock-mount hardware are also inset so that the fittings can be undone from one side without needing multiple Allen keys or sockets.
Suspension
Onlookers made numerous comments during our review of the D8, that its design had more than a passing resemblance to the Mk2 Commencal Supreme, but beyond the seat-tube shock tunnel, their observations were unfounded. The Commencal's shock spans between the swingarm and the upper suspension member without being directly connected to the front section of the chassis, while the DH8's suspension is simple two-stage lever that drives a frame-mounted damper. With a linkage-driven, single-pivot suspension, there is simplicity and stiffness in the basic mechanism and it allows for precise modulation of the suspension curve through the bike's entire, 200 millimeters of travel.
While we haven't seen the exact graph for the bike's suspension curve, it certainly felt progressive and allowed for a softer spring to be used on greasy trails without the fear of bottoming out. Initially, its Fox RC4 shock came with a 450-pound steel spring, which is probably perfect for the intended rider of a large-sized chassis. The stock spring was too stiff, though, for a 165-pound
(75kg)
rider, so we dropped down to a 375-pound titanium spring which, along with 150psi in the shock's IFP reservoir, allowed us to use the middle ranges of the high and low-speed compression dials. The DH8's Fox-powered rear suspension was matched by a RockShox Boxxer Team fork with a blue spring that is one notch stiffer than the standard 'red' spring rate.
Geometry
Long wheelbases, slack head angles and low bottom brackets are the trend, and Diamondback's DH8 ticks the boxes. The medium-frame model has a long, 47.3 inch
(1201 millimeters)
wheelbase, a low, -10 millimeter bottom bracket drop, and it just makes the cut with a moderately slack, 64.5-degree head angle. Our large-sized test bike had a 48.5-inch
(1231 millimeters)
wheelbase. Contemporary World Cup bikes use head angles in the neighborhood of 63 degrees, which suggests that the DH8 is on the steep side, but experience is proving that, with the exception of World Cup competitors, most racers and park shredders are better served by a more nimble steering chassis. In this respect, Diamondback may be slightly ahead of the geometry game and not catching up, as first impressions may suggest. Bending to the current trend of trading up to the next-sized frame, our primary test rider decided upon the large DH8 frame for this review. The medium-size would have been the better fit, however, as our average-build, five-foot, ten-inch test riders soon discovered that the Diamondback's cockpit is quite long in both frame sizes. What Diamondback's longer top tube and relatively steeper, 64.5-degree head angle produces, is an increase in stability that is combined with the ability to turn harder, than a bike with a slacker head angle and an equivalent wheelbase.
---
| | |
| --- | --- |
| | Some may call the Diamondback's easy handling 'simple as boring,' but handling this good can only result in better riding - and for most of us, that is a huge selling point. |
The first time we swung a leg over Diamondback's downhill racer was in a foreign country, on an unfamiliar trail and following the 44Racing/Rockstar team riders. Hitting lines we had not walked, nor seen was a bit of a faith tester on a new ride, yet the DH8 was easy to adapt to and it quickly gave us the confidence for a maximum attack. Moving back to our own local trails in Scotland opened the door to direct comparisons with other bikes we have reviewed. Given the large-sized bike's predisposition for big tracks and features, we started out on some of the faster, rockier and rougher trails that feature sketchy lines and definitely place reliance on the bike's performance.
Suspension:
The progressive suspension kept the wheels on the ground and in spite of its soft, 375-pound spring, we never managed to bottom the bike out harshly. Only once or twice did we feel that we'd run out of suspension, but at no point was it a negative event, and in essence, touching bottom confirmed that we had the suspension set up almost perfectly for the terrain.
Technical skills:
Several sections of the test trails featured high lines which then drop into corners that are not a walk in the park to make consistently - unless you have the riding skills of a World Cup rider. While most all top-end downhill bikes can handle make these rock and root infested run ins, they tend to separate the best from rest. The Diamondback rates among the first group. To our surprise, where the DH8 excelled wasn't so much in its ability to plow through sections. The chassis communicates well, so you can feel what was going on, and then manipulate that to your advantage. Play neat and tidy down technical descents and it rewards greatly.
Geometry:
We did notice the DH8's slightly steeper head angle, more so because the last half-dozen bikes we tested on our home trails have all had much slacker head angles, and for all our expectations, they almost all failed to bear fruit. The DH8 didn't tuck under when hitting tighter corners hard, it didn't feel unstable at speed, and if anything, the 64.5-degree head angle actually helped dial in some agility to a bike that could otherwise have proved a handful in less challenging terrain.
Overall performance:
Over rocks it stays true to its line and allows you to use the increasing spring rate to pop off features. In simple terms, the DH8 is a bike you can jump on and go quick with straight away. It has no odd characteristics or peculiar handling traits to catch you out. Some may call the Diamondback's easy handling 'simple as boring,' but handling this good can only result in better riding - and for most of us, that is a huge selling point.
Pinkbike's Take
| | |
| --- | --- |
| | So, have Diamondback hit the nail on the head with the DH8? 'Yes' is the simple answer. It's not perfect, but the bike is a definite performer. It feels comfortable to rip with straight away and that is a definite positive, for there are no quirks to take into account and no difficulties in getting it set up properly. Those who like a super slack bike may need to look elsewhere, but given that many riders are realizing that they don't ride super slack bikes to their full potential, that really is no bad thing. Diamondback's quality is high, their attention to detail, plainly evident and the prospect of the DH8 as a long-term purchase is definitely appealing. The biggest stumbling block among riders may be its price, not its performance or aesthetics. The DH8 frameset is priced fairly among top-drawer DH bikes, but without a recent World Cup pedigree, that may be a hard sell. For those interested in pure performance, however, the DH8 is a great bike that is right up there with the very best. - Alasdair MacLennan |