Midland Downhill Championship
The idea behind the Charity Weekend was all about raising money for two causes close to the hearts of Dave & Lindsey Pearce. By way of introduction, Jason Brenan of Rave Racing had a nasty crash while racing about this time last year. 'Gunny,' as he is more commonly known, and his Rave Racing team have been regular faces at all the Pearce cycles races over the last few years and they're a great bunch to be around. Ever since Gunny's accident, Dave has been talking about putting on an event to raise money to help with his rehab. Because the services of the Air Ambulance have also been required in the past it was decided that the proceeds would be split between each cause.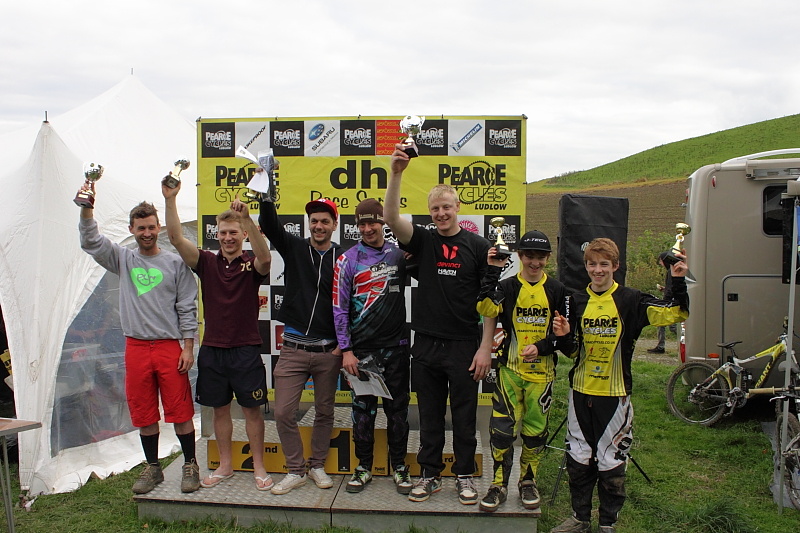 When it comes to downhill events every racer in the UK would agree that Pearce Cycles organise what is absolutely the best regional series, bar none. Good taping which makes the most of the hills available, great organisation and a friendly atmosphere which is a pleasure to be part of. Hopton has been an integral part of the series for years so it was appropriate that it also became the venue for the Midland Championships as part one of the charity event.
With some events you'd be concerned about a lack of practice with a one day offering but with Pearce that's never a concern. Eight practice runs on Saturday morning was easy, twelve achievable at a push, all thanks to the efficient system which uses Land Rovers and trailers. To those outside of the UK it may sound primitive and you may wonder why we always talk about it in reports. Simply, it's difficult to achieve the nirvana of no damage, speed and safety. Thankfully this has been cracked, and the turnaround proved so quick that there wasn't a queue all morning which is just what you want from a race.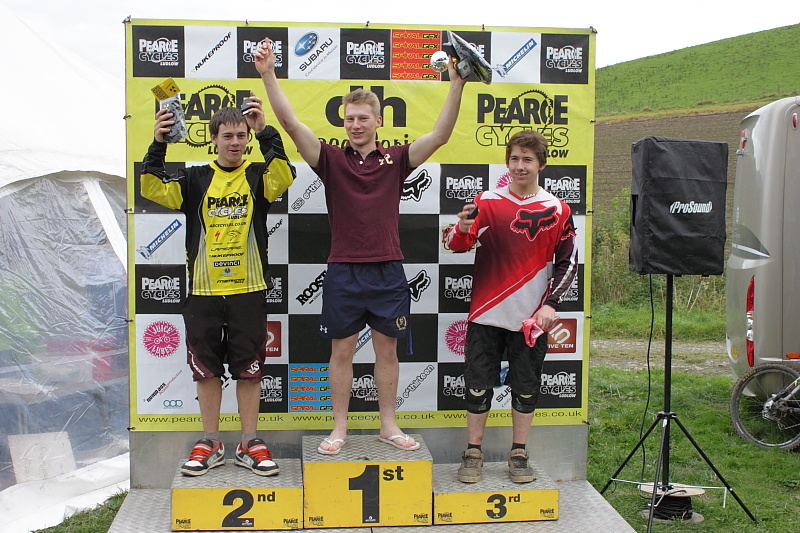 With just 120 riders and one race run things started and finished in a virtual blink of an eye but as ever times were close, especially for those eligible to take home the title of Midlands Champion.
Full results (Midland Championship)
Gravity Enduro
(Words by Bono)
As the second event of the weekend was a Gravity Enduro. Two stages had been prepared and were to be run twice. The theory behind this was that "once you had ridden it once you would want to ride it again". This also meant all four stages would start close together, so the same route back to the top would be shared for the most part on all four runs making plenty of time for chatting and banter.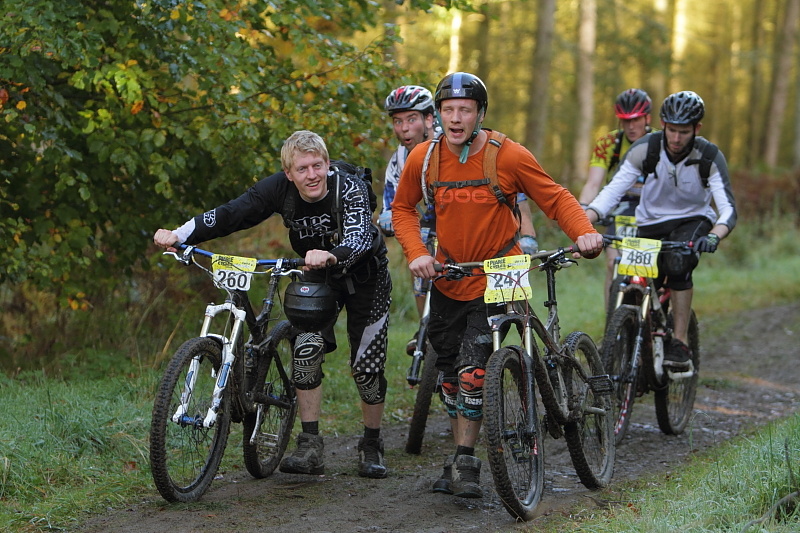 A cold foggy 10.30am start on Sunday morning soon gave way to a glorious sunny day. Racing started on the longer more pedally stage one. Both stages had a lot of decent and with the average time for stages one and three being well over ten minutes long and definitely the more tiring but less technical of the stages. A short fire road start before dropping into a loamy loose wood section, that then joined on to a fast flowing wood section of the newly opened XC track at Hopton This would normally take you back to the car park but today you would sprint straight past and drop into the Start of the XC loop with its fast and relatively smooth twists and turns that weave their way across the hill. A stony off camber corner grabbed a few riders as the speed increases as you wind across and down the hill. The river crossing gave riders time to catch their breath before a fire road sprint that would leave them breathless again and lead them towards the quarry section where they were greeted with a steep single track climb which got them standing up before dropping them into a slippery off camber slab and onto a narrow shale track which skirts the old quarry.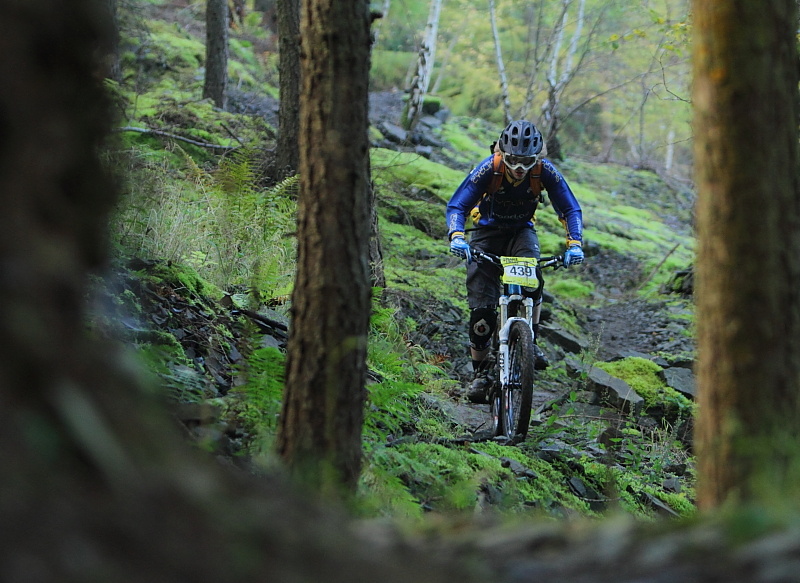 By this stage you are just over half way and a steep drop and fast flat section leads riders onto a tree lined fire road. A bit more gradient this time sapped the legs a bit more. Turn left off the fire road and into a Downhill section over a few braking bumps and straight towards a thin traverse across a steep bank and down towards a big table top at the bottom and the lowest part of the track.
When you are at the bottom the only way is up with a steep but thankfully short climb. At this stage Rider 903, Ben Nott, and Pearce Cycles riders Matt Barrett and brother Andrew, all deserve a special mention. They had all raced the DH event and a won Midlands Championship titles in their respective category's on the Saturday, and also went on to win their category's in the Gravity event as well.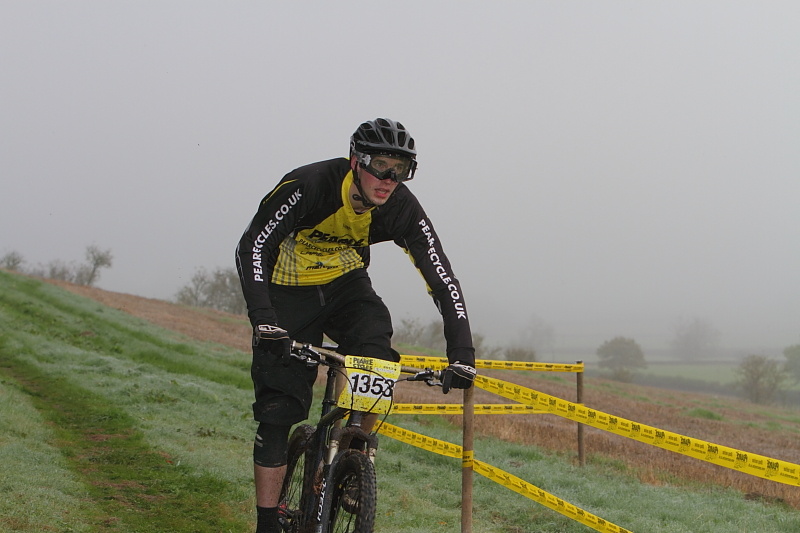 The host's team riders put up a great show, Rob Goodey also made the podium with a 3rd spot in the juniors. Dave 'Davross' Radcliffe (above) would go on to claim the overall Hardtail category as well.
With live run times for both stages being shown on Monitors at the finish line and stage results being printed and posted on the notice board promptly after each category, there was no excuse for the riders not knowing exactly what they needed to do before their next race run started.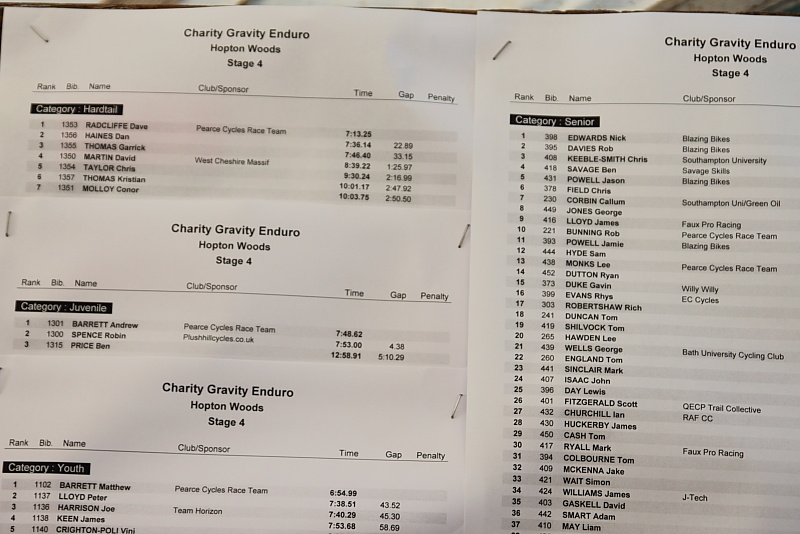 Having the preliminary results available as the final stage happened was a real winner with the spectators as they knew exactly what was happening as each rider entered the finish arena.
A one hour gap between the start of each stage seemed quite easy at first, however as the day progressed this hour gap from start to start would get harder to achieve after the long stages one and three, and the climb up to the start began to take effect with a few riders were defiantly feeling the pace with a few riders pulling out with cramp.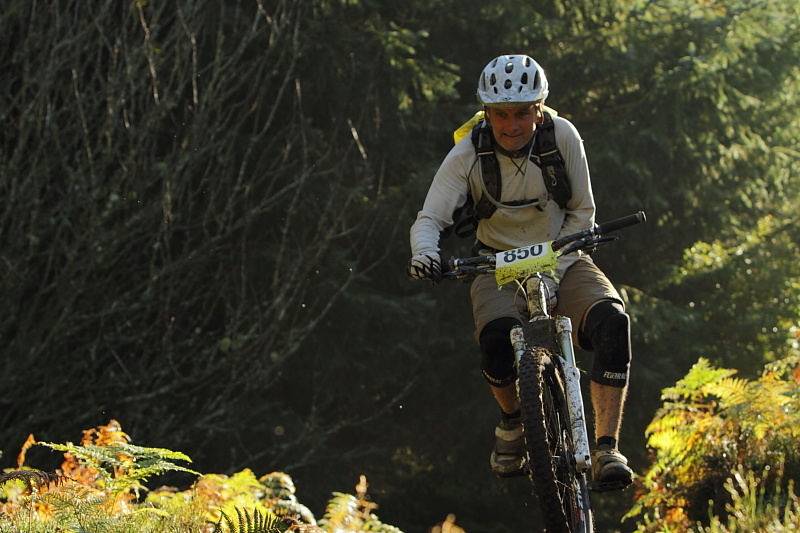 Stage two and four were shorter but more technical and used an old XC route to start which skirted the old DH starting hill before dropping into the old DH section. For those with dropper seat posts it was definitely time to lower your seat ( I hope that's what the chap above is doing) in preparation of avoiding the roots that are about to greet you. They have slowly grown in Number and size over the years. Darkness and damp roots are never a nice combination as the riders eyes try hard to adjust from the extreme differences in light. Out of wood and then straight into the fast multi lined open section.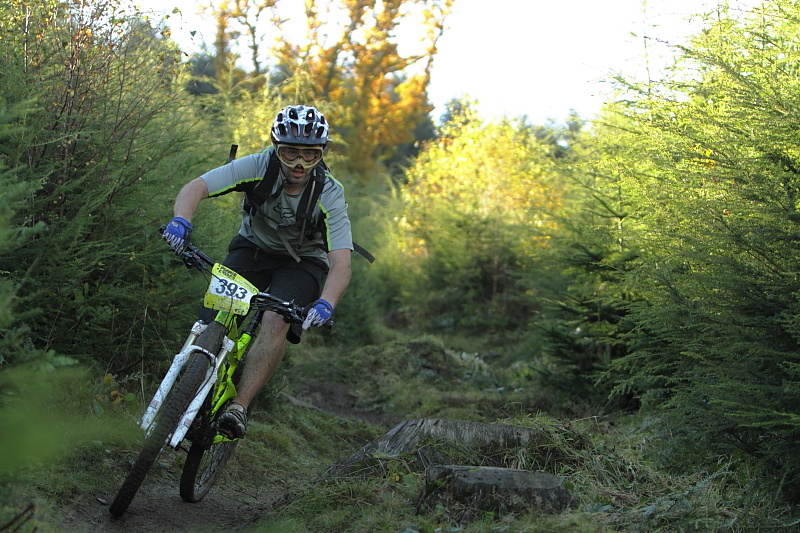 You were quickly flowing back into part of the XC track and a carpet of roots before two table tops for the riders to get a bit of air time.
A short fire road climb, before dropping into fast twisting corners, steep slopes, hips and berms which quickly and smoothly flow into a very slightly uphill piece of single track with a leg crunching 20-30 seconds of pain. Turn left down a fire road descent where the fastest speeds of the day were probably reached before a freshly manicured section with a cheeky untouched, loose, off camber section at the end before joining up with a set of berms on the DH track that throw riders towards a table top and on towards the finish line. With an average time for this section of around 8 Minutes unless your name is..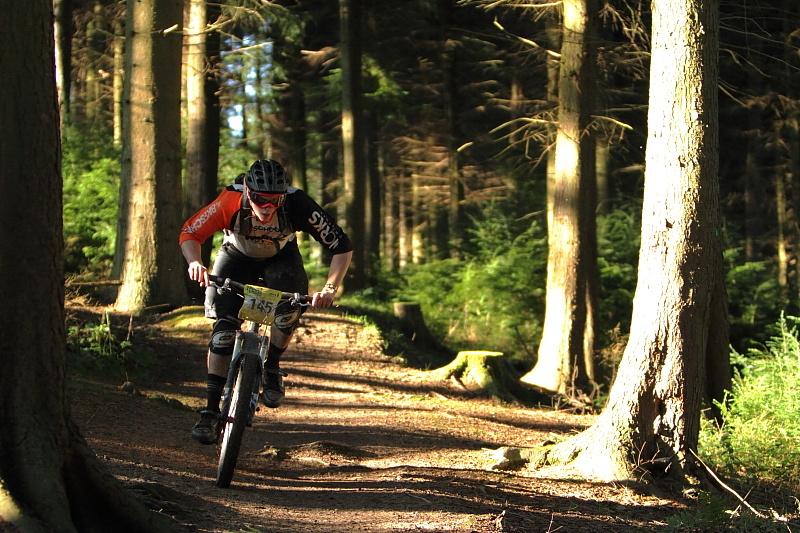 | | |
| --- | --- |
| | As this was the first ever Gravity Race the Pearce Cycles Team had undertaken it was perhaps a little difficult to pre judge the event. However, after the event it was clear; riders and spectators said they had thoroughly enjoyed themselves and were eager to know if there were more Gravity events in the pipeline! We will just have to wait and see whether this happens. What was evident to me was the number of people that stayed until the end of the podium presentations, laughing and chatting comparing stage times and bruises. If the smiles on faces are anything to go by I think Pearce Cycles have pushed the bar up a fair bit higher. To most people who have ever attended one of their events this will come as no surprise from a company who are closing in on their 20th year of organizing race events. - Bono Barrett |
---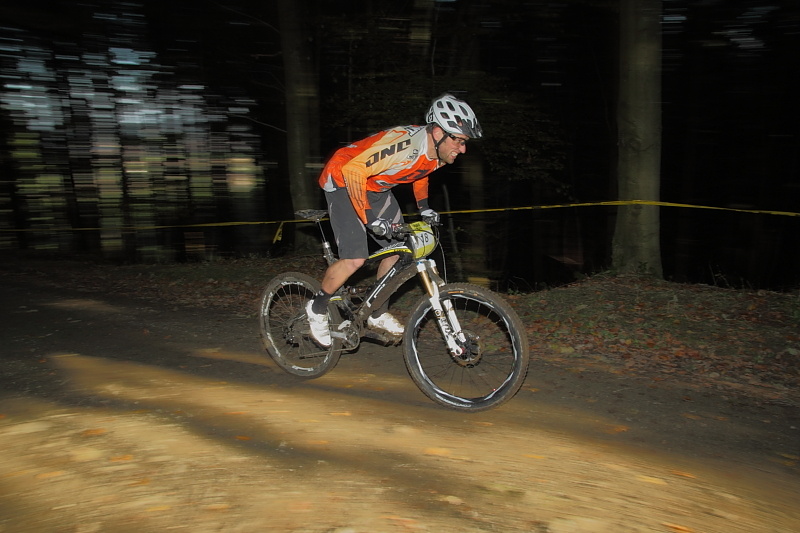 Marc 'Slugger' Beaumont who smashed the stage in 5:43.26. Marc also set fastest times of the day on all four stages and took the overall win by over a minute.
Photography by
Sarah Barrett
from both of weekend's events can be viewed
here
and all proceeds from sales made will be forwarded to the two funds.
Full results (Gravity Enduro)
www.pearcecycles.co.uk