O'Neal AMX Zipper knee pads
With the rise of extreme trail riding among the masses, or at least a perceived increase, there's a whole host of gear coming out that uses downhill inspired designs mixed with features aimed specifically at riders looking for lighter weight options. One such area is with kneepads. Full armour's hardly the top ticket for all day riding, and on all-day rides even knee pads can be more hassle than they're worth if there's lots of climbing involved. Sure, you can take them on and off, but your buddies won't be thanking you every time they have to sit around and wait for you to get yourself ready at the top and bottom of every climb. Enter centre stage the AMX Zipper from O'Neal, which gets around this problem with the addition of a zip so you can take them on and off easily without the need for shoe removal. To ensure that the zip doesn't cause any issues with movement it's actually elasticated and stretches up to 10% to help keep the shape of the pad. Using the same visco-elastic Sas-Tec SC1 as their gravity Sinner pad, the actual padding is low profile yet still offers significant impact force dissipation while minimising any impingement on the movement of your knee when pedalling. Shaped to fit a bent knee, there are twin Velcro straps that can be set and then left as neither crosses over the zip which makes it quicker and easier to get them on and in a comfortable position each time you use them. Construction is light too, coming in at 356g a pair for our large size, and features a tough Cordura front impact face with soft terry towel against your knee, and a thin neoprene backing with silicone grip strips top and bottom to hold everything in place. The Sas-Tec insert is also removable to make for easier washing without degrading its performance over time. MSRP €99.99,
www.oneal-europe.com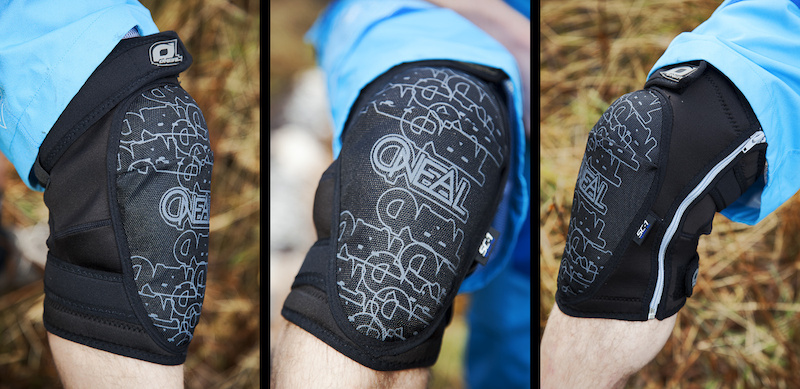 The AMX Zipper knee pads use Sas-Tec padding to help dissipate any impacts that may occur.
Pinkbike's Take:
| | |
| --- | --- |
| | With so much riding going on with trail bikes that used to be the sole preserve of big bikes, uplift, and plenty of body armour it's no surprise to many that a whole genre of downhill-lite products have begun to appear to cater to these riders who want to get to the top themselves but still ride proper trails on the way back down. So much of our local riding is just like this yet rarely do the knee pads get pulled out, which is fine until you start heading towards the dirt. The AMX's major draw is the zip for ease of removal before a climb, yet more often in our time with them they were just left on for the entire ride as they were so comfortable. Mid-summer riding in a country other than the UK may well be a different proposition but we certainly didn't find them to be overly cumbersome or hot. Having also used the heavyweight O'Neal Sinner pad for many years we know that Sas-Tec works fantastically well, and on the couple of occasions when the AMX was called into action, they performed faultlessly albeit for downhill I'd be inclined to pull on something just a little more heavy duty. None of the current knee pads using visco-elastic foam are cheap, whether Sas-Tec or D3O, but the technology allows for a lighter and thinner pad to give as much, or more, protection as the heavier traditional designs so they definitely do a lot to prove their worth. - Alasdair MacLennan |
---
Burgtec Ridewider bar
Burgtec were an early adopter of the wide bar movement when it originally kicked off on the World Cup scene. That spawned their original scandium Ride Wide bar, but a few years down the line though and 750mm seems just a bit too xc for many, which is exactly why the new 780mm Ridewider is now available. It's as wide as the majority of riders need, but as there are accurately etched cut marks on the aluminum bar it's easy to do some trimming should they be a little too wide out the box. As bars get wider the sweep will generally increase to compensate for the arc your hands follow as they pivot from your shoulders. Therefore, nine degrees of back sweep is mated to four degrees of up sweep and creates a comfortable position for your hands given the greater width. Given that the trend for flat bars seems to have moved away as bike geometry has caught up Burgtec expect the 30mm rise bar to be their biggest seller to downhillers. That said, they still see merit in the 15mm rise bar for those who want a lower front end, and those who want to use them on a trail bike. It was this rise we opted for which came in at a true weight of 315g and suited our riding perfectly. MSRP £64.99 GBP.
www.burgtec.co.uk
Burgtec has answered the call for wider bars with their 780mm Ridewider aluminum offering.
Pinkbike's Take:
| | |
| --- | --- |
| | At 780mm, the Burgtec Ridewider is definitely not a narrow bar. The shape is spot on, both at the full width, and when trimmed down to 760mm which was required for bruised knuckle avoidance on some of our tighter local trail. Flex is in the comfortable middleground; not noticeably flexy, yet not so stiff that every last piece of trail buzz makes its way through to your hands. While Burgtec may not be the biggest manufacturer out there they manage to punch well above their weight with some of the top riders in the world choosing to run their products. You need only look to Brook Macdonald who won't use any other pedal, and Josh Bryceland using their direct mount stem. The Ridewider bar is comfortable in both shape and stiffness, and comes in at a more than reasonable weight really for a full width aluminum bar. Striking graphics and accurately etched alignment and cut markings round out the positive picture. If we were being super critical the anodising could probably be slightly harder wearing, and the bold graphics are also a little soft, but they really are pretty minor criticisms in an otherwise positive product. - Alasdair MacLennan |
---
Scott MX Tyrant Goggle
Scott Sports have been around for years in the optics market although they seem to curry most favour with the motocross contingent. However, their latest top end offering may just be the goggle to bring them further into the MTB world as the Tyrant MX comes with a number of great features that make them a great choice for the pedal powered market. Anti-fog lenses are expected on all but the most basic goggles these days and so a clear lens with the coating on it comes as no surprise here. Scott also feature their patented Revolutionary Air Management (RAM) venting on the Tyrant, and this works by having forward facing vents on top of the frame which push the air through 90 degrees to direct directly down over the inner surface of the lens. In much the same way the screen blower works on a car, it helps prevent fogging, in conjunction with the coated lens. The 3.2 face foam is a triple layer foam on the upper half of the goggle, mated to a dual layer on the lower half. While both feature the same soft felt layer against your skin, underpinned by soft open cell foam, the upper half also has a 5mm thick band of much denser foam between that and the goggle frame itself to help with venting and to make for a comfortable fit against your forehead. Finally, the unique feature on these goggles is the Fit System, which allows users to dial in the shape of the goggle's frame to suit their face. Four positions can be dialled in using the supplied plastic key
basically a plastic screwdriver
and is matched with the adjustable (and removable) nose guard. MSRP £60GBP,
www. Scott-Sports.com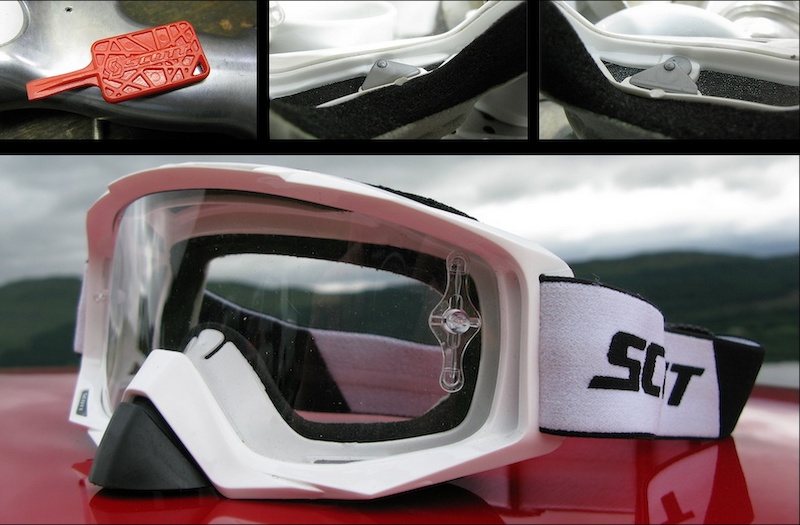 Scott's unique Fit System brings a level of customization not typically seen on mountain bike goggles.
Pinkbike's Take:
| | |
| --- | --- |
| | It's a shame that Scott Sports don't get more airtime in the mountain bike market, for while their goggles have a major following on the moto scene, this has yet to translate into popularity amongst the gravity disciplines. The Tyrant MX is a supremely comfortable goggle that has great clarity of vision when new, and thanks to a tough lens with a strong anti-fog coating on the inside of the lens, they stay this way for a long time too. Venting is impressive and the RAM system definitely seems to do its job, to the point that you could use these quite happily as an enduro goggle, even in typical wet and humid (and pedally) conditions typical of British events. Silicone ribbing on the strap did a great job of keeping it in place on both our TLD D3 and Giro Feature lids. That unique Fit System was initially viewed as a bit of a gimmick but actually using it totally transformed this impression. Where goggles are usually a personal thing, dependent on both facial shape and compatibility with your chosen helmet, the adjustment offered by it circumvents this and allows for the goggle to be tailored to fit a variety of different face shapes by the simple turn of a key. It only works on the lower portion, but as this is the bit that usually causes problems with fit, that's where it's most effective. It doesn't add any noticeable weight to the goggle, and the cam system on which it operates is as simple as it is effective so aside from a slight increase in cost, we can't see any downsides. Over and above the adjustment system though, there were two far simpler features which stood out. Firstly, the frame is ultra-low profile directly below your eyes, and cut at an angle, which helps provide great visibility. Secondly, and one which has been a bone of contention on some goggles in the past; the nose isn't restrictive. While still forming a tight seal at the top of your nose, the foam is of reduced thickness towards your nostrils which makes an amazing difference when breathing heavily. It also means you don't need to start hacking at your brand new purchase just so you can breathe freely. Although Scott sent us this monochrome colour pairing, checking out their site shows a number of great vibrant colourways and designs available to suit more outgoing tastes. The Scott Tyrant MX goggle is comfortable, well made, and offers the unique Fit System, as well as a number of neatly executed design features such as the high quality anti-fog lens, RAM venting, and well shaped face foam. They're not the cheapest but they should last a while, and being Scott, spare lenses are likely to be available readily no matter where in the world you happen to be. - Alasdair MacLennan |
---