colinr9954
Member since Jun 26, 2011

Male / 35
Cambridge , United Kingdom
Block user
Recent

Added 1 video
Nov 21, 2015 at 3:02
Nov 21, 2015

Feb 28, 2013 at 3:53
Feb 28, 2013
2014 Specialized S-Works Enduro 29 SE - First Look and First Ride
Another well written review on a bike I could never afford. Dirt magazine have done a brilliant job seeking out and championing great bikes like the YT Tues (/2.0) which I could conceivably buy. Better yet with the money I save I could afford to visit new places that would push my riding far more than a 100% carbon super bike.

May 4, 2012 at 6:17
May 4, 2012
Key Bike Makers Discuss Shimano's New Direct-Mount Rear Derailleur Option - Video
This makes sense to me. The derrailleur needs to be aligned with the cassette and so should mount on the axle. However it is essentially an expensive lever attached to some other expensive components (frame's rear triangle etc.). As such it should have a failure point designed into the DRD hanger link (with proper material selection this wouldn't limit the stiffness) to limit forces applied to the business part of the mech and the frame during a crash. Of course these DRD hanger links should be replaceable! A guard mounted on the outside of the driveside spokes (e.g. clear acrylic sheet) could be used to keep the derrailleur from getting sucked into the spokes and causing damage to the wheels/chain/cassette/mech hanger.

Apr 18, 2012 at 11:21
Apr 18, 2012

Apr 16, 2012 at 3:15
Apr 16, 2012

Selling
Apr 15, 2012 at 11:21
Apr 15, 2012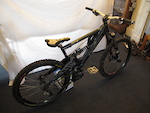 $700 GBP
I am leaving the country in a few weeks and unfortunately cannot take my bike with me. It is an older model Orange Patriot Large Frame with a pretty decent build (see below for full spec). Over the last few years its done Trail Center XC rides, The MegaAvalanche, as well as more Gravity orientated riding. I have found its proven front and rear suspension designs to be predictable and confidence inspiring. FRAME: Orange Patriot Size Large in dark blue The frame has gained plenty of scuffs and scratches over the years. Importantly it has a dent on the drive side swing arm. The dent is near the top edge on the outside of the swing arm. I have tried to show this in the photos. The swing arm is not bent, which can be verified by placing the edge of a ruler against it. I have been riding with the dent for two years and don't thing it has affected the frame's strength. Because this is an Orange Patriot there is some tire rub on the seat tube. The rear shock is a Fox Van RC with ProPedal with 190/50 stroke. It was serviced about 2/3 years ago by Mojo. It is still running sweetly. The travel and geometry is adjustable between 5" and 6" by moving the shock position. The 5" position provides a slightly steeper head angle, stiffer effective spring rate and bottom bracket, which I use when (trying) to ride (small) jumps or for trail riding. FORKS: Fox 36 Van R The forks have been serviced once a year by TF tuned and were last serviced in September. I will include three springs (Green, Blue and Purple) for tuning to the riders weight. As you can see from the photos the paint work is quite scuffed. There is a scratch on the fork leg, which didn't come out in the picture but you can feel it with a fingernail. It may affect seal lifetimes (although TF have never mentioned it). WHEELS - Front: Hope Hoops Wheel: Hope XC Hub/DT rims - Rear: Mavic EX729 Rim/Shimano Deore Hub - Tyres: SuperTacky Maxxis Swampthings BRAKES - Front: Shimano SLX Hydraulic Brake, 203mm rotor, Superstar Kevlar Pads - Rear: Shimano Deore Hydraulic, 180mm rotor, Superstar Kevlar Pads DRIVETRAIN - Shimano SLX crankset - e.13 DRS Chainguide - SRAM X9 Rear Derraileur - SRAM X9 Rear Shifter - SRAM X7 DH cassette - Shimano Deore Front Derrailuer - Shimano Deore Front Shifter - Wellgo B38 flat pedals CONTROLS - NS Bikes Terra Bars - ODI Lock-On grips - Funn seat I have tried and likely failed to include all relevant details. Please get in touch if you have in queries, It would be great if you could come and give the bike a test ride. I live in Cambridge and usually ride at Woburn Sands, Chicksands or sometimes Aston Hill and would be happy to meet you there for a test ride.

Feb 23, 2012 at 11:54
Feb 23, 2012

Selling
Feb 22, 2012 at 7:08
Feb 22, 2012

Selling
Feb 22, 2012 at 6:31
Feb 22, 2012
Load more...