During practice for the 2013 Red Bull Rampage, Mark Matthews hit Gee Atherton's epic gap from the previous year. He had a shady run-in and a bit of wind knocked him straight into the rock ledge with fairly devastating consequences. Mark compound fractured his femur, breaking it in two places just below his hip. Transported to the hospital in Salt Lake City, Mark underwent surgery - and that was when the real battle began for him.
Before leaving for Rampage, Mark had purchased travel medical insurance for his trip. It was after amassing close to $40,000 in medical bills that he found out his
insurance would not cover him
. Over the last three years, and with the support of his sponsors and community, Mark has held fundraisers in order to raise the money to pay off his debt. Knolly, iXS, Smith Optics, Chromag, SR Suntour, Dissent Labs, Spank, Camelbak, and others all stepped up to help out and now Mark can add a new sponsor to his list; Northman Insurance.
.
| | |
| --- | --- |
| | I feel very grateful to have partnered with Northman. They are such a unique company and their support gives me the piece of mind that I will never run into medical debt again. That takes a huge weight off my shoulders. - Mark Matthews |
Northman Insurance
provides insurance for extreme sports and adventure sports; international travel coverage, life insurance, income replacement, and custom solutions built to fit their clients' needs. Isaac Allen, the President of Northman Insurance, says, "
we are looking to reach adventure sport athletes and eliminate gaps in current insurance offerings
." It was his wife who discovered Mark's story and identified him as the perfect example of their target market, "
[he is] a dude just living for the sport and riding hard
." Mark's experience with discovering he wasn't covered by his insurance after a massive injury is exactly the type of situation that Isaac is hoping to negate with his company. But aside from his story, Isaac says of Mark, "
he is a totally rad soul who is super humble and hard working, a perfect fit for Northman. We sponsored Mark so that he could have one less thing to worry about and he could get out and ride
."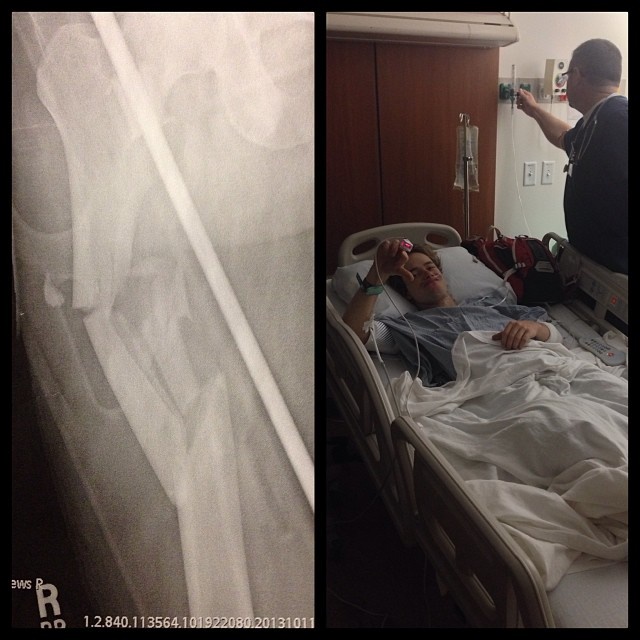 It is quite uncommon for an insurance company to sponsor an athlete as they are rarely interested in a single client, but Isaac's approach is unique in the fact that he wants to spend time with his clients and learn from them. He feels that using individual experiences and needs will help Northman to build a better coverage program. He is focused on building a program for each client as opposed to trying to fit the client's needs into existing, and somewhat restrictive, policies.
When selecting coverage for competing in out-of-country mountain bike events there are some bold exclusions like, '
no pro athletes' or 'no mountain biking downhill
', but the ones that are hidden away can cause the most problems. Isaac advises that rider's always read the fine print on their policies and to ask the carrier to send an email confirmation that the coverage is exactly what you need it for; have them state that the specific contest or exact mountain you are heading to ride is covered. It is important to be as specific as possible when describing the coverage you need and to make sure that you get everything in writing.
Many companies won't insure professional athletes in sports like mountain biking, especially not for competitions where cash prizes are involved, but that is exactly why Northman Insurance now exists. "
No one is offering a good solution, so we decided we would,
" says Isaac. It hasn't been easy, it's a very complex system and has taken the company two years in underwriting to build the right kind of coverage, but it has been worth it from Isaac's point of view; "
we love mountain biking and the athletes in the sport. We want to not only solve the insurance needs but really help get the sport sorted when it comes to risk management.
"
An Update from Mark:
"The online fundraiser I launched earlier this year made me $5000 USD. I used that money to pay off ambulance bills and physiotherapy expenses, but I still have a long way to go before that gigantic surgery bill disappears. I am still accepting donations to my PayPal account: markandrewmatthews@gmail.com. Financial burdens aside, I am feeling 100% on the bike again and am back to progressing my riding. I would rather see any donations go to someone who needs them more than me. Paul Basagoitia is a legend who needs our support right now, we are all one big mountain bike family, send something his way."
Donate to Paul here.
---
MENTIONS
:
@mmatthews
/ @dbaker
---