darrellwiebe
Member since Sep 11, 2012

Male / 47
Calgary , Alberta
Block user
Recent

Jan 15, 2021 at 10:42
Jan 15, 2021

Selling
Jan 15, 2021 at 10:40
Jan 15, 2021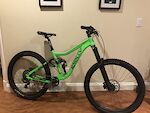 $2400 CAD
Great bike and it glows in the dark. Carbon wheels on hope 2 hubs. Rockshox Pike and Monarch plus RC3 suspension. SLX brakes. Turbine cranks and chainring. Sram XO 11 speed drivetrain. Dropper was moved to the new build as the price reflects.

Oct 19, 2020 at 17:57
Oct 19, 2020

Selling
Oct 19, 2020 at 17:51
Oct 19, 2020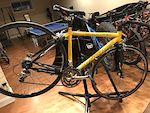 $450 CAD
Extra small road bike used by my kids a couple times for fondos Carbon fork and chain stays. All Ultegra brakes and drive train. CycleOps rear hub on Mavic wheels. Be a good Roadie parent and get your little lad or lass out on the asphalt with you. Someday you'll be wrenching in a rain storm at some national champs trying to fix something the kid destroyed on their bike again and you'll think.... how the f@ck did I get here? Buy this bike and see where it takes you.

Oct 19, 2020 at 15:27
Oct 19, 2020

Selling
Oct 19, 2020 at 15:26
Oct 19, 2020
$200 CAD
Sick of your nice bikes getting stolen? We've had this beauty for years and every time the bastards steal our bikes they never take this one! You might be looking at your new commuter. It's got awesome 26" wheels and any spare tubes or extra tires I can find around here will go with the bike. For free. Does it have brakes? Yep, and they both work! Does it have a Shimano drivetrain? Yep XT, and it shifts through every gear. Even granny! Best of all it has reflectors on the wheels and the pedals. So don't delay, make an offer today. If your a little kid or a little person or just a little miffed that bike thieves ripped off your nice bike. Buy this one! D

Oct 19, 2020 at 14:06
Oct 19, 2020

Selling
Oct 19, 2020 at 14:02
Oct 19, 2020
$1550 CAD
https://www.cube.eu/en/2018/bikes/mountainbike/hardtail/nutrail/cube-nutrail-pro-rawnmint-2018/ ***************please read ************ "Raw and mint" Is the colour. It is not brand new! If you want a new bike please go to Bow. I'm not in the business of buying New bikes at full retail and selling New for half Price. All you that are coming to see the bike tomorrow, still come but know that you will be seeing my used bike. Warts and all! Raw and mint Bluto 100 mm fork GX 1x11 1550 obo

Oct 10, 2020 at 21:16
Oct 10, 2020

Selling
Oct 10, 2020 at 21:13
Oct 10, 2020
Load more...