Last weekend, the beautiful small town Pisek in Czech Republic was the home for last FMB World Tour contest in Europe this year. The track was a slopestyle/skatepark combination nicely situated in the middle of the Old Town main square. On the start list you could find best Czech and Polish dirt jump riders.
Read on,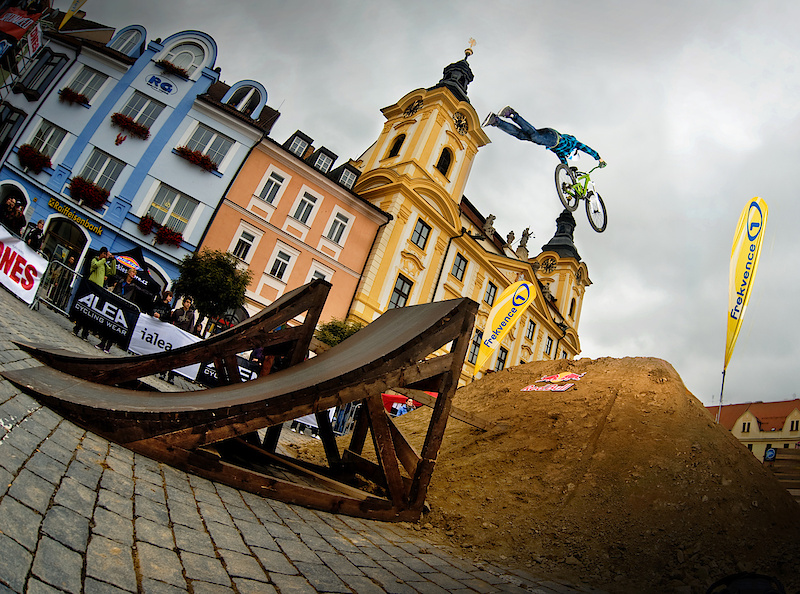 Szymon Godziek
After the qualifications were won by Kuba Vencl the spectators could see really interesting high jump competition. With the bar going above 5m Szymon Godziek broke crank on his bike when it hit the ground after the jump and Kuba Vencl was eliminated from the finals by serious injury when he fell down. When the bar rose to 5.60m the only one who managed to pass this height was young David Godziek who won this contest and earned 10000 Czech Krones (some 550 USD).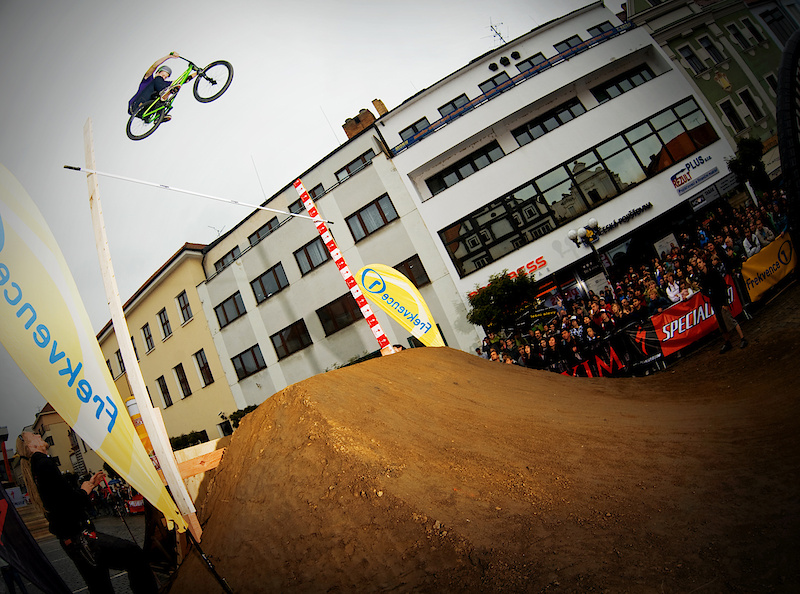 David Godziek in high jump contest
Kuba Vencl in high jump contest
The slopestyle finals with best 10 riders started just after the high jump competition as the dark clouds were coming above the Pisek. The first run showed us some good tricks even the rain quickly made the whole track slippy and dangerous. Double tailwhip from Thomas Zejda or backflip nohand from Szymon Godziek could bring us taste of what could happen in better conditions. But the best run came definetely from David Godziek. David who was riding as last one had also the worst conditions but judges had no doubts to announce him a winner when the contest was stopped after the first run due to the rainy weather.
David's run which brought him first prize and another 25000 Czech Krones (some 1400 USD): x-up at step down, backflip nohand at 1st jump, slow barspin at spine, 360-double barspin at 2nd jump, unturndown at the quarter, table at the spine, tobbogan at the step up, 360 x-up at the step down finished with oldschool nohand from the drop.
Final results:


1.

David Godziek

(DARTMOOR) – 256 points
2.

Jan Toth

(NS BIKES) – 245 points
3.

Szymon Godziek

(DARTMOOR) – 237 points
4.

Thomas Zejda

(DARTMOOR) – 212 points
5.

Damjan Siriski

(AGANG) – 198 points

David Godziek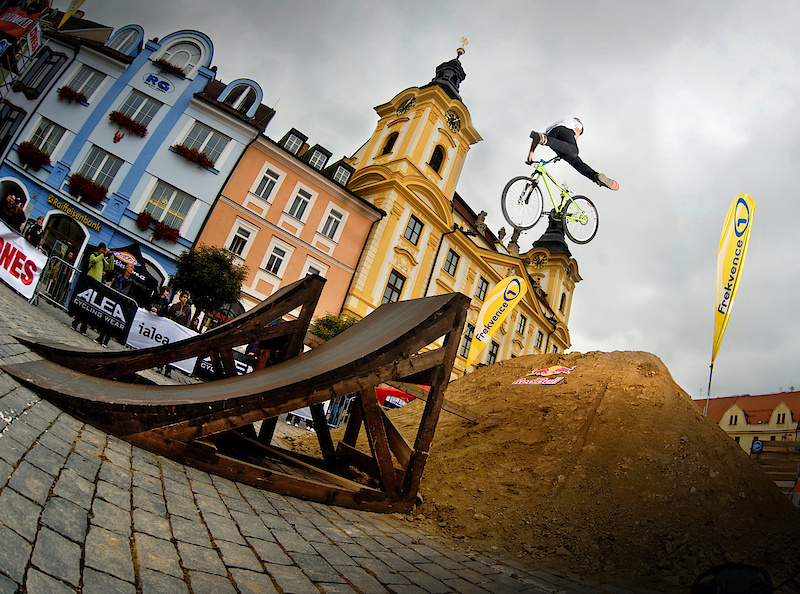 Jan Toth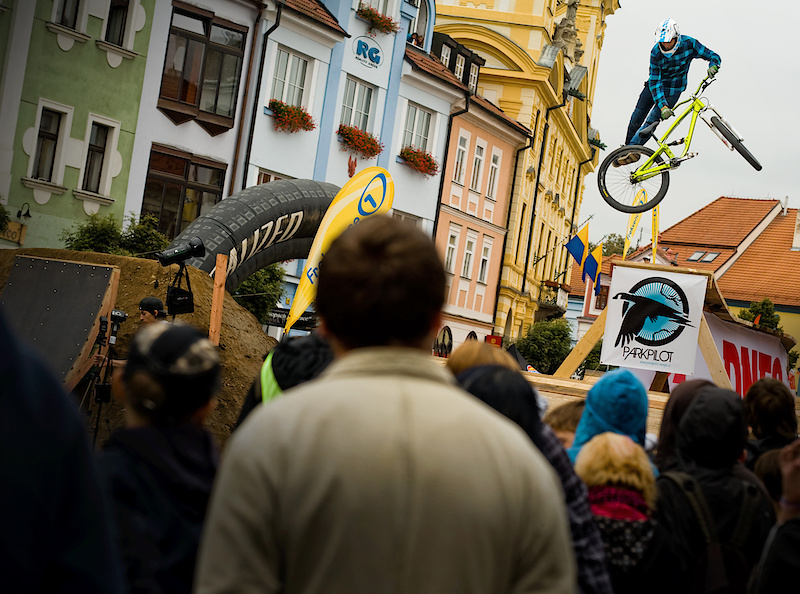 Szymon Godziek
Thomas Zejda
David Godziek
bike check:
Frame:
Dartmoor Two4Player 2011
Fork:
RS Reba
Crankset:
Shimano SLX
Handlebar:
Dartmoor Scand
Stem:
Dartmoor Funky 2011
Saddle:
Dartmoor Ivy 2011
Pedals:
Dartmoor Fever 2011
Grips:
Dartmoor Shamann 2011
Front wheel:
Rim:
Dartmoor Raider
Hub:
Dartmoor X-Drive
Tire:
KHE Mac2
Rear wheel:
Rim:
Dartmoor Raider
Hub:
Dartmoor K-Drive
Tire:
KHE Mac2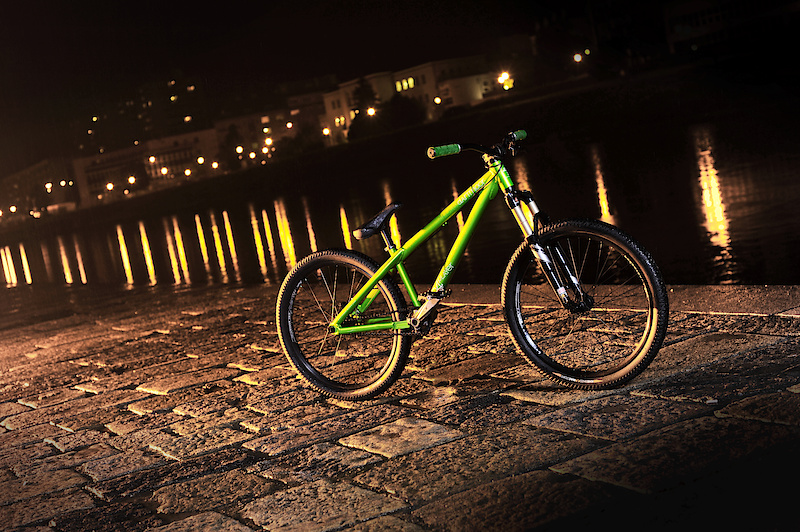 Dartmoor Two6Player from David Godziek
Szymon Godziek
bike check:
Frame:
Dartmoor Shine 2011
Fork:
Manitou Circus
Shock:
Manitou ISX-1
Crankset:
Shimano SLX
Handlebar:
Dartmoor Swing Low 2011 750mm
Stem:
Dartmoor Funky 2011
Saddle:
Dartmoor Lite 2011
Pedals:
Dartmoor Fever 2011
Grips:
Dartmoor Shamann 2011
Front wheel:
Rim:
Dartmoor Raider
Hub:
Dartmoor X-Drive
Tire:
Geax Aka
Rear wheel:
Rim:
Dartmoor Raider
Hub:
Dartmoor K-Drive
Tire:
Geax Aka
Dartmoor Shine from Szymon Godziek
Szymon Godziek
Video by: Adam Strojsa - 4elements
Photos by: Kuba Konwent - konwent.fotolog.pl