Formula came out with a new XC/AM brakeset for 2009 and over the past few months I have been giving them a right proper thrashing on my Intense Uzzi. Once I felt that I had beaten on them enough I handed them over to Cory Hemminger to install on his Giant Trance and really give then a true XC beating. Cory logs a lot of hard miles in the woods, so I knew that we was the right person to have help with the testing.
Read on to see how they stacked up on 2 different set ups and riding styles
,
| | |
| --- | --- |
| | The R1 is the premiere XC race disc brake on the market today. The lightest disc brake ever made for a bicycle combines its astonishingly low weight with top-level power and performance. The brake comes stock at 279g, but can be dropped all the way down to 263g with a little bit of tuning. The forged MC body and caliper, provide increased modulation, braking power and durability. Even at this low weight, the R1 generates more than enough power for All Mountain or Enduro use. The R1 uses a patented caliper piston system that increases fluid capacity in the caliper further increasing performance under heavy use. |
That's the statement on Formula's website. I'm not an XC racer, but a lot of my riding could fall into the all mountain class, so I was interested to see if these brakes could stand up to the manufacturers claims on power and performance. I also know that the term all mountain is a pretty broad category and here in British Columbia, all mountain generally means we just climb up the mountain to get to our downhill trails. Possibly a bit outside of the intended use for these brakes, but we'll see how they make out.
The R1's are available with 160mm and 180mm rotors, and also with optional 2-piece rotors with aluminum carriers that drop the weight even further. I inquired about 203mm rotors but Formula would prefer that you looked at their more burly brakesets like the ONE, if your needs are greater than 180mm.
First off I was amazed at just how light and minimal these brakes are. There's no material left that doesn't need to be there. It's an aesthetically pleasing package too, flat black with white accents and a liberal smattering of red anodized fasteners. Plastic coated, steel braided lines complete the set.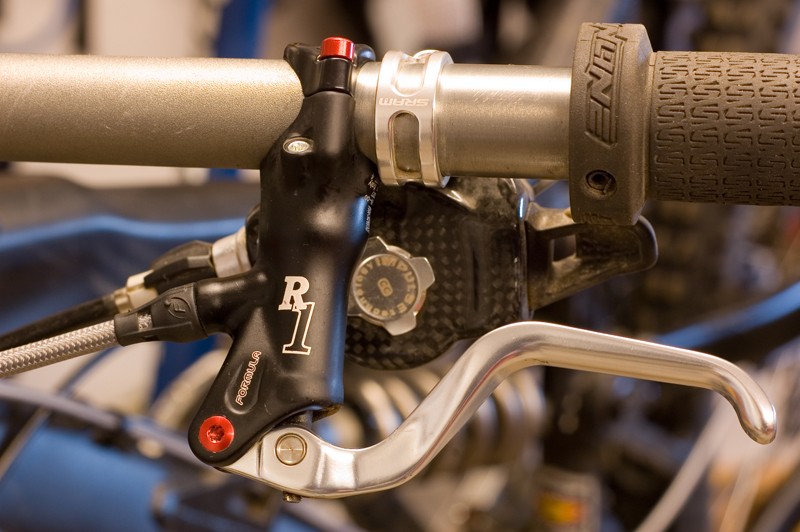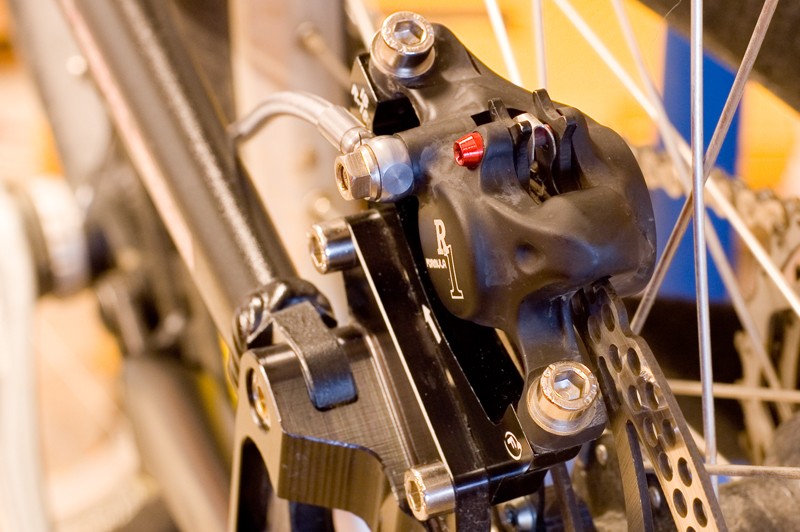 They are light, as in really light. The front lever/caliper combo was only 170 grams, with the rear coming in only a few grams heavier. Formula's claimed weight of 279 grams include adapters and a 160mm rotor. Weight weenies rejoice!
Here's a top view shot. Formula also has a kit to mount the master cylinder assembly directly to SRAM X.0/X.9 shifter similar to Avid's Matchmaker. That would clean up the installation a bit and save a few more grams in the process.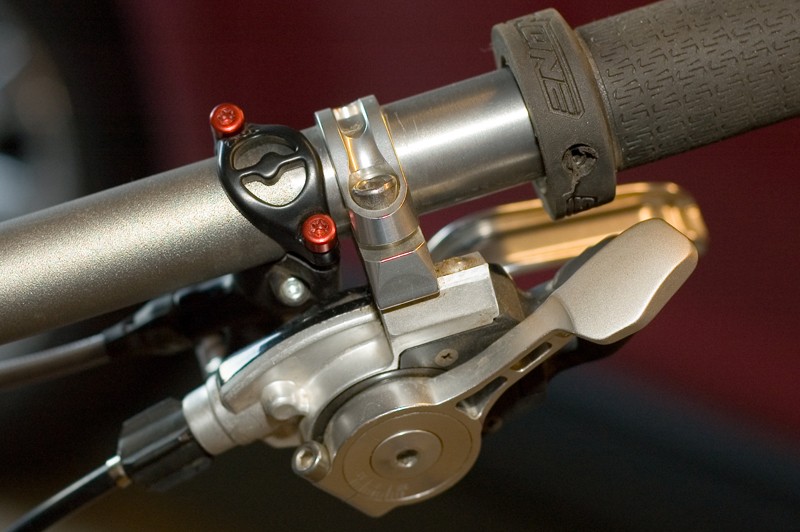 Installation was a breeze, in fact there's nothing to report. Just bolt them on, check the caliper/rotor alignment and lever reach, then head out to the trails. My test sled is a 2009 Intense Uzzi, and I must say they matched up pretty nicely on my bike.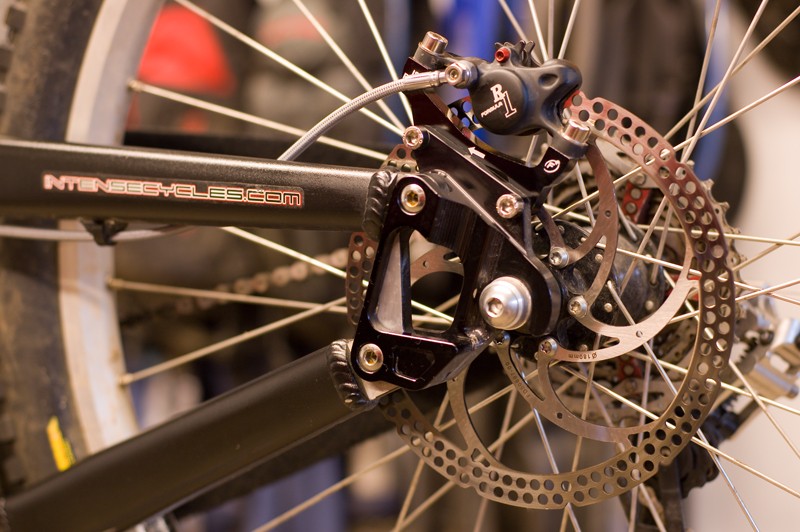 I didn't get a chance to ride around and bed the brakes in before we got to the trails so I was a bit hesitant about the first few stops. The first trail we rode was Bean on Burke mountain and it starts off fairly gentle. Right away the lever feel was good and the power was substantial. A few minutes into the trail and the power came on stronger and the modulation was fantastic. It's a good thing too because the next trail was Sawblade, for those that know it, it's steep, rooty and technical with non-stop switchback corners. Slow technical moves are the skills you need and smooth powerful brakes are a definite necessity (although 15 years ago they rode this trail with rigid bikes and canti brakes!) The Formula R1's proved immediately that they were up to the task, and keeping my 210 lbs under control isn't a job taken on too easily. I felt really confident on these brakes and throughout the day I was picking technical lines without even wondering if the brakes would have enough power to control my speed. The modulation was fantastic and they had plenty of power. I must say that it's a pretty significant detail when you can fully trust a new set of brakes after 10 minutes of riding. The lever feel stayed consistent and I never had to fiddle or adjust anything for the entire time I've been on them.
Being thoroughly impressed to this point I decided to leave them on the bike for my upcoming weekend at Whistler. Now I knew right off the bat that this would be subjecting this XC / AM brakeset to abuse far beyond what they were intended to take. A heavy rider on a 7" travel bike at the world's best bike park...well I guess we would have to see. I took a spare set of brakes with me just in case. It turns out, that spare set would stay in the toolbox all weekend long. I wouldn't go so far as to say these brakes would be good for DH use but they fared much better than I thought. The long descents really punished them and caused the brakes to heat up and start to fade. Proper feel came back quickly though and I never felt the need to pull aside to let them cool, and I left them on for day 2 at the park as well. Less steep trails and the faster jump trails were fine and I had no issues with brake fade. I want to stress again, this use was far beyond what the brakes were intended to do, but I felt a proper review should test a product to its limits - and beyond. A lighter rider on a lighter bike might have better results, in fact a better rider that isn't on the brakes quite as much might have even better results still.
Once I returned from Whistler I contacted a friend that had a proper AM bike to see if he would take them for a few weeks. Being a proper gear junkie like me, he jumped at the opportunity. The following comments are from Cory Hemminger:
"I'm no pro, but I've got plenty of real world experience with bikes and bike-related activities: I've ridden mountain bikes long enough to remember when Tomac's drop bars and Tioga wheels were de rigeur; I've managed a local bike shop; I helped build and maintain a handful of well-known local trails. I also ride year 'round, getting on the bike between four and six times per week in the summer and about half that when the weather goes south. I'd consider most of my riding to fall into the cross country category, but that's mostly because my only ride is a cross country bike – other folks call it freeride, all mountain, or triple black diamond awesomeness.
Most of the testing for this mini review took place on trails in Maple Ridge and the Fraser Valley and, while they're a little more buff than many of the lines in North Vancouver, there's still lots of the roots and rocks that makes BC great for mountain biking. I made an effort to hit a range of trails that are typical for riders in the area by squeezing in a few days at the Woodlot and a couple elsewhere in the Fraser Valley, which added up to about eighty kilometers and ten hours of riding on the R1s.
Everybody comments on the weight of the R1s when they first pick up the brakes and they are impressively light, topping my digital scale at 170g for the front (sans rotors, bolts, and adapter). The caliper and lever / master cylinder body have a nice matte black finish that is complemented by red alloy hardware that looks good even after seeing a few different bikes and a couple months of testing. Other nifty design features in the R1 include an upright bleed port that is in the correct position for bleeds, T-15 mounting hardware at the lever, and a top-loading brake caliper for easy pad changes. The 7" adapters that were used with the brakeset were nicely machined and included all of the bolts needed to mount the system to my bike.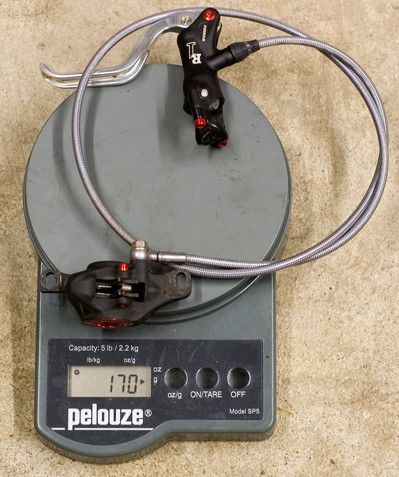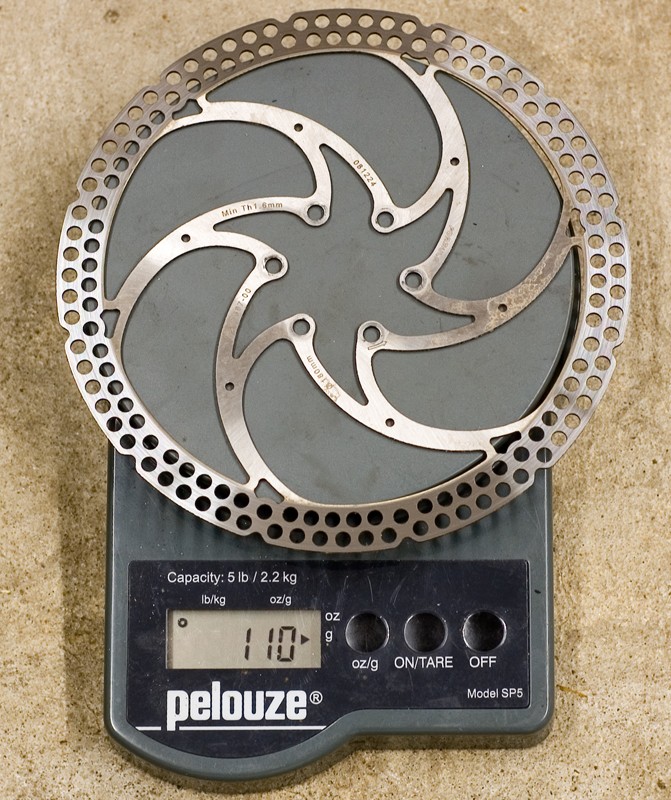 The rotors are light too, in fact some of the lightest I've seen. This is a 180mm rotor!
The R1s went on my Giant "No X" Trance and the install was straightforward, even though I had to make a couple of adjustments during the review. First, the brakes were silent in the stand but when I got the bike out on the trail in real world conditions (translate: rain and mud) there was a noticeable amount of drag at the caliper. After engaging in a brief e-mail correspondence with Formula USA to diagnose the problem, I removed the caliper from the bike and swabbed the pistons with some isopropyl alcohol while working them in and out to help break them in. This seemed to take care of the problem and I didn't have to remove any fluid from the system (which was the next suggestion from Formula). Second, the R1s didn't play especially well with the way I had the PushLoc remote for my Revelation mounted on the handlebars, and I experienced interference between the brake lever clamp and the lever on my remote. According to Formula, the Mix Master adapter (for use with SRAM shifters) is incompatible with my remote setup so I was forced to make do with a new remote position. It's definitely not a big deal for me, but I know some people out there are pretty 'particular'.
On the trail, the R1s are fantastic performers. Like most brakes, they howl until they warm up on cold and wet days and then chirp occasionally on the way down, but once they are going well, they truly feel like a premium brake. The R1s have plenty of power for general trail-riding duties and, when combined with 180mm rotors, have no problem stopping me on long sections of root-filled double track or fast, twisty single track. The system's feathery modulation really helps the R1s shine because you don't have to worry about pulling a little too hard on the lever and getting launched by grabby four-piston brakes and the power isn't delivered in a halting or inconsistent manner like some of the hydraulic systems out there. Instead, the R1s deliver consistent and predictable power that translates into better control at high speed, into corners, and through technical sections of trail because you know you can control your bike when you need it.
What you've got, then, is a super-light, high-performance brake that works really well for general riding duties and whose most notable issues in this review were related to setup or minor performance quirks. Why wouldn't every rider jump on these things? What's not to like? The answer, of course, is price. MSRP on the R1s is definitely at the upper end of the market and, in Canada, that price doesn't include rotors or adapters, so mounting the Formula R1s on your bike will set you back a pretty penny."
Pros
Plenty of power
Excellent modulation
Class-leading weight
Fit & finish
Top loading pads
Customer service
Cons
Price
A little finicky to set up (cleaning pistons, overfilled lines)
Lack of power at start of runs
Mix Master incompatible with RockShox PushLoc remote
Chirped a bit – it's no turkey gobble, but it was noticeable throughout the test
No fade, pumped up a little on long descents
Here's a parting shot of the brakes. More info is available at
Formula's website
.
-
dave-m.pinkbike.com