davee7
Member since Aug 29, 2004

Male / 41
Guelph , Ontario
Block user
Recent

Jan 12, 2021 at 8:25
Jan 12, 2021

Selling
Jan 12, 2021 at 8:23
Jan 12, 2021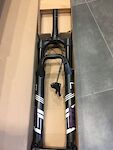 $800 CAD
New(ish) take off from my Santa Cruz Blur. Rode this fork 5 times then went to anther fork. Looks and works like brand new. Comes with upgraded remote lock out. ********CURRENTLY SET UP TO 110 TRAVEL, IM NOT SURE HOW TO SET IT UP TO 120***********

Selling
Jan 12, 2021 at 8:18
Jan 12, 2021

Jul 24, 2020 at 9:12
Jul 24, 2020

Selling
Jul 24, 2020 at 9:07
Jul 24, 2020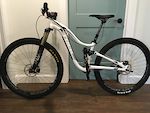 $1900 CAD
**************SOLD FOR $1,750********************* Selling one of three of my wives bikes. This bike is heavily upgraded: complete XT drive train including brakes, 1x10 drive train 35mm internal width Easton ARC rims with 29x 2.4 Maxxis Ardent 120 TPI EXO TR tires X-fusion dropper post This bike has always been meticulously cleaned and maintained after each use, chain and drive train cleaned and lubricated with Muc off dry lube. Never raced, never gone off huge jumps or drops, never been boxed up and put on a plane, and never ridden in a bike park or Blue Mountain. Ridden casually at Three stage, Puslinch (twin ponds) Hydrocut, Guelph lake, Albion Hills and Arkell trails. Never been dropped or crashed. Everything in working order as it should. this bike has very low hours/use and is still in like new condition with the exception of some minor cosmetic scuffs. Forks sanctions have NO scuffs or scratches, nor does the rear shock. Willing to throw in spare Maxxis Ardent 29x2.4 tire 120 TPI EXO TR, XT pedals, and size 39 Northwave shoes (as seen in pictures) if asking price is met or reasonable offer as close as possible to asking price. Mature seller here, please do not inquire unless you are serious about spending money on a bike. Im am very flexible to show the bike. thank you for reading, Dave

Jun 3, 2020 at 17:53
Jun 3, 2020

Selling
Jun 3, 2020 at 17:52
Jun 3, 2020

May 14, 2020 at 17:28
May 14, 2020

Selling
May 14, 2020 at 17:26
May 14, 2020
$300 CAD
I rode these wheels on my gravel bike for 67kms until my new wheels came in. Formula hubs Like new condition, no issues what so ever. They come complete with rubber and rotors. see pictures for specs.

Selling
May 14, 2020 at 17:16
May 14, 2020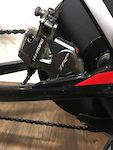 $140 CAD
want to upgrade your cable callipers, but not your brake levers? this is the perfect solution. Extremely high stopping power hydraulic callipers. New condition, bike has been on my trainer most of the time.
Load more...