The One-Sixty 8000 is Merida's latest entry into the all-mountain/enduro category. Merida is a massive company - an underrated brand, perhaps - but one of the oldest and most experienced manufacturers in Taiwan, where it produces its own range, in addition to a number of models for the industry's well-respected names. I'll be the first to admit that Merida's previous One-Sixty was lacking in a few key areas, but for 2017, it has been completely overhauled. The 2017 version retains its predecessor's 27.5-inch wheels and 160-millimeters of rear-wheel travel, but it has an all-new frame, revised suspension and updated geometry.

Merida's One-Sixty is available in three complete builds, starting from £3,300 to our range-topping £5,500 One-Sixty 8000 review bike that is built around a RockShox Super Deluxe shock and a 170-millimeter Lyrik fork, and a SRAM XO1 Eagle transmission. Accessories include: an MRP TR chain guide; DT Swiss Spline EX 1501 One wheels, shod with Continental Der Baron 2.4 Projekt tires; a RockShox Reverb dropper post; and SRAM Guide RS brakes. Merida's house-brand 35-millimeter stem and 760-millimeter handlebar complete a capable package that weighs 30.4 pounds (13.8kg) and costs £5,500.


One-Sixty Details:
• Carbon frame with an aluminium swingarm, Merida "Float Link" suspension
• Wheel size: 27.5"
• Rear-wheel travel: 160mm
• RockShox 170mm Lyrik fork
• RockShox Super Deluxe shock
• Sram X01 Eagle 12-speed drivetrain
• Sizes: Small, medium, large
• Complete bike weight 13.8kg (30.4 lbs)
• MSRP: £3,300 to £5,500 (not available in the US)
• Contact:
Merida Bikes
, @meridabikes
Construction
Merida's One-Sixty originally used a virtual-pivot type suspension layout called VPK. For 2017, however, it's out with the complicated and in with the simple. The new One-Sixty introduces Merida's "Float Link" suspension, which has an uncanny resemblance to Trek's Full Floater arrangement. First used on Merida's 120-millimeter XC bike, Float Link's single-pivot swingarm drives a rocker-link mounted to the seat tube. The vertically mounted shock is connected onto a forward extension of the swingarm, rather than to the frame. Reportedly, the advantage of the Float Link over the previous VPK system, is that it allows the leverage ratio to be more easily tuned from both ends of the suspension, and the frame can be made lighter weight, as the down tube is no longer supporting the shock.
The main frame is made from carbon fiber using a
nanoparticle
-infused layup to bolster its strength. Internal cables exit underneath the bottom bracket, where there is a bash guard on the curved down tube to prevent damage from rock strikes. For those inclined, there is space for one bottle cage on the down tube. The main frame has a curved top tube allowing plenty of stand-over clearance. Other details include the use of a Boost axle spacing front and rear, and ISCG 05 tabs on the bottom bracket shell.
Merida has plenty of expertise when it comes to aluminium, and the rear stays are made from a special 6013 alloy that is said to allow the wall thickness of the tubes to be thinner - so much so, Merida claims that using a carbon rear triangle would only have resulted in a marginal weight saving. Tire clearance is improved slightly by its 148mm Boost-width axle spacing, and the rear caliper is tucked safely away inside the rear triangle.
Like the rear stays, the upper shock link is constructed from aluminium, and drives the "metric" version of RockShox's Super Deluxe damper. The difference is the trunnion mount, which is said to allow the use of a longer-stroke shock within the same space that a conventional eyelet design would require. For the record, Merida uses 72x210-millimeter size shock, and their engineers reduced the suspension's leverage ratio to adapt to the shock's lower spring pressures and more sensitive damping adjustments.
Geometry
Long, low and slack is the new mantra for trail and enduro bikes these days, and Merida has given the new One-Sixty a thoroughly modern geometry that looks to put it on a level with its key competitors in that category.
This is a relatively long bike. The size-large tested here is equivalent to an extra-large size Santa Cruz Nomad, and comparable to the medium-sized
Whyte G160
I tested recently. With its 170-millimeter RockShox fork, the head angle measures 65.3-degrees, with 430-millimeter chainstays, a 475-millimeter reach, and a 1237-millimeter wheelbase.
Specifications
Release Date
2017
Price
Travel
160mm R, 170mm F
Rear Shock
RockShox Super Deluxe RC3
Fork
RockShoxRock Shox Lyrik RCT3 Air, 170mm
Headset
Big Conoid A-bearing
Cassette
SRAM Eagle X01 10 x 50t
Crankarms
SRAM Descendant Carbon Eagle 32T
Chainguide
MRP 1X TR upper
Bottom Bracket
SRAM
Pedals
NA
Rear Derailleur
SRAM Eagle X01
Chain
SRAM Eagle
Front Derailleur
NA
Shifter Pods
SRAM Eagle X01
Handlebar
Merida Expert 35mm x 740mm
Stem
Merida Expert TR 35
Grips
NA
Brakes
SRAM Guide RS 180mm R, 200mm F
Wheelset
DT Swiss Spine EX 1501 ONE25 Boost
Hubs
DT Swiss
Spokes
DT Swiss
Rim
DT Swiss
Tires
Continental Der Baron 2.4" Protjekt
Seat
Prologo Nago Evo X15
Seatpost
RockShox Reverb Stealth
---


The One-Sixty's numbers look good on the screen, and out on the trail, the Merida doesn't disappoint. I've ridden it everywhere as much as possible, from long rides in the local woods with plenty of ups and downs, to shuttling downhill tracks in the Forest of Dean (a local downhill Mecca), and it's clear from the geometry, the smart specification, and the way it rides, that it will be a worthy contender for any enduro rider's short list.

It might not they longest or slackest bike out there, but I found One-Sixty's numbers worked really well for me. The sizing was spot-on for my height. It was a perfect fit, the only thing I'd be inclined to change would be to switch out the 760 millimeter handlebar to a slightly wider one.

The Merida feels agile, specially when you need to loft the front wheel over an obstacle or change direction at a moments notice, it's easy to weight the bike and place it precisely where you need it into a corner. The suspension offers plenty of drive in the rough which helps to propel you over technical terrain. It's a versatile bike - comfortable on the climbs, where it masks its long travel, but it behaves like a mini-downhill bike on the descents.




Getting a good suspension setup was a very straightforward process. Using RockShox's recommended setting provided a good starting point and, with minor adjustments, they proved just-right throughout the test. I ran about 25 to 30-percent of sag, which worked well for the shock, and its large rebound dial provided easy adjustments. The three-way low-speed compression lever was easy to reach. I found the firmest platform setting redundant for my riding and spent most of the time alternating between the middle and open options.

The new Float Link suspension is balanced well, with the fork and shock working in unison to deliver a smooth ride in rock gardens, while muting high-frequency impacts, which provided loads of traction, especially when it was slippery. The rear suspension is well damped, and handles big, successive hits very well, while managing to stay up in its travel so it doesn't bog down or squash your speed out of compressions or berms. You can chuck the One-Sixty down a rooted, stepped descent and it will blast through it all, smothering the impacts with its buttery smooth feeling suspension. The length of the bike gives stability that really comes into its own at high speed, while the short stem helps to keep the steering agile and nimble.




Spec'ing a 170-millimeter fork was a good decision. The extra stiffness of the RockShox Lyrik chassis gave the Merida real clout when slamming into rocks and roots at high-speed, especially when riding trails blind for the first time. There's a lot of front-end frame stiffness detectable when dealing with steeper sections of trails, and coupled with the excellent RockShox dampers and the Merida's reworked suspension layout, means you can really keep the One-Sixty on the line you want.

It's right at home on fast and technical descents, but it's also a decent bike when you don't have a shuttle to get you to the top. The low weight of this top-end build undeniably helps when it comes to battling gravity, but the suspension is still well-composed when toiling up long climbs. With the compression dial on the Super Deluxe shock flicked to the middle setting, there is lots of support and minimum bob (unless you get out of the saddle and really crank it). The long reach didn't make the Merida a handful on more technical climbs and switchbacks, and there was enough room to make easy weight shifts. In fact, the way the One-Sixty traverses rolling trails with lots of short climbs belies its big travel status. You're not going to be the fastest to the top, but you won't be the slowest.


Component Check
RockShox Super Deluxe RC3 shock:
The performance of the new Super Deluxe shock is first class. I was really impressed. It's easy to setup and provides a good tune with minimal adjustment, being highly reactive off the top and nicely progressive as you push deeper into the travel, with good control throughout the stroke.
SRAM XO1 Eagle:
A big chunk of the Merida's price comes down to the Eagle 12-speed transmission. Well spaced, wide range gearing make it suitable for any terrain I ride, and shifting is smooth, quiet, refined, and reliable. I didn't notice the extra gear, but I did appreciate the 500-percent gear range.
Continental Der Baron 2.4 Projekt tyres:
Providing unparalleled levels of grip in wet and muddy conditions, these Conti tires are hard to beat. They're not fast-rolling tires, but during the muddy test conditions they didn't feel draggy. They excelled in soft conditions, making them ideal for a UK winter.
Prologo Nago Evo X15 saddle:
It is probably fine on a road race bike or a cross-country mountain bike, but this saddle just way too firm for the sort of riding the One-Sixty is intended for. Riding without padded shorts is a recipe for numb nuts. I'd be changing the saddle in a heartbeat.
Pinkbike's Take:
It's on the way down that Merida's One-Sixty 8000 best shows its new-found abilities. The suspension keeps the wheels glued to the ground, the frame is taut and stiff, and it's nimble enough on its tires to twist and shout down the trail. It's the composure of this bike that most impresses me, and also its completeness as a bike for tackling any sort of trail - big or small. Longer-travel trail bikes have really evolved over the years, and the latest evolution of Merida's One-Sixty puts it firmly in the same ballpark as the more well known candidates.

- David Arthur
---
Visit the feature gallery for high resolution and additional images
---
---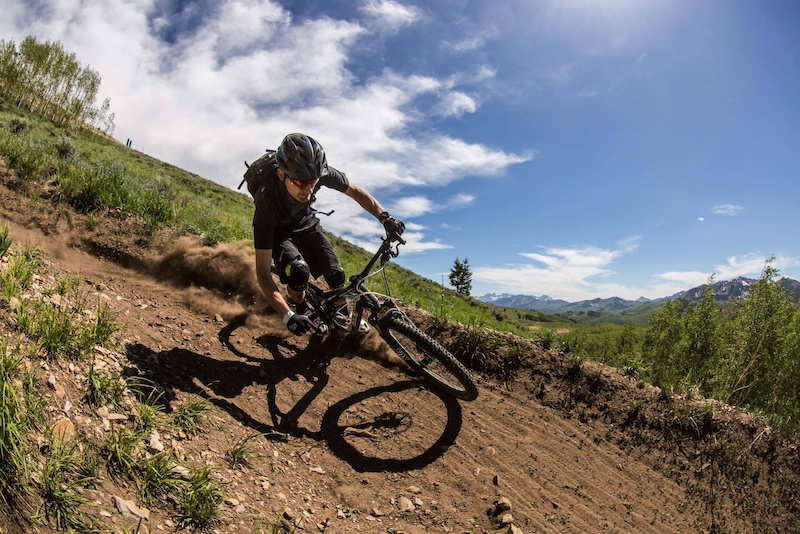 About the Reviewer
David Arthur is a freelance mountain biker writer based in the UK. Stats: Age: 34 • Height: 5'11:" • Weight: 154lb • Industry affiliations / sponsors: None