dblac45
Member since Feb 5, 2016

Male / 37
South Jordan , Utah
Block user
Recent

Jan 31, 2021 at 12:52
Jan 31, 2021

Selling
Jan 31, 2021 at 12:43
Jan 31, 2021
$2600 USD
XL frame but with this sizing would be a good fit for a lot of traditional "Large" riders as well. Amazing enduro bike that's a blast to point downhill and still does an amazing job climbing to the top. This was a custom build and the items below are what was changed from the stock build on the link below. https://khsbicycles.com/bikes/2016-khs-models/sixfifty-7500-16/ Upgrades: -Fox Factory 36 Fork -Fox X2 rear fork (Sent in and professionaly serviced two weeks ago and just got back) -Enve carbon wheels with Shimano XTR hubs -Shimano Saint cranks -Shimano Saint brakes (bled last week along with a full tune up) -Shimano XT drivertain (1x11 with 34 tooth chainring up front) -New bontrager 150mm dropper post -MRP chainguide Bike has normal wear and tear, but overall in great condition. Ready to hit the trails immediately. Weighs in at a total of 32 pounds which is light for an enduro style bike with this level of build.

Mar 15, 2020 at 19:05
Mar 15, 2020

Selling
Mar 15, 2020 at 19:04
Mar 15, 2020
$4400 USD
If you're looking at this ad you probably already know how awesome this bike is. Pro X01 building with the X01 Eagle 12 speed and X01 cranks. Less than a year old with not very man miles. Everything is stock except for some thicker grips. Like new conditions Fox Factory suspension Shimano XT brakes X01 Drivertrain Fox transfer dropper post Suspension lock out lever Feel free to contact me with any questions. Text preferred

Selling
Mar 15, 2020 at 18:58
Mar 15, 2020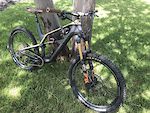 $3950 USD
The bike is only 29 lbs and climbs superbly. Super playful for cornering and jumps. The upgraded suspension makes it plow through the techy trails. This is the 2018 CF 9 model (top of the line). Comes with ENVE M60 wheels, Chris King Hubs, Fox Factory suspension, Sram XX1 Eagle gold drivetrain and cranks. Renthal carbon 800 mm bars. Reverb dropper post. Last year the suspension was upgraded to the 2019 Fox factory suspension instead of what came stock. It has the Fox DPX2 rear shock and the Fox 36 Fit Grip2 Fork. The bike has been babied and is in like new condition. One thing to note: I lost the front ENVE wheel fall of 2018. The Chris King hub was swapped out with a Hope hub on the front wheel.. I have lowered the price to reflect that change. Amazing bike. It's the 12th bike I've owned and by far my favorite one to date and definitely the best looking. Text me with any questions. Other notable upgrates/parts: Sram Guide ultimate brakes Rockshox reverb 150 mm dropper post (recently serviced) Renthal 800 mm carbon bars Chromag Trailmaster saddle Buy my bike and you'll be able to ride like this dude: https://www.youtube.com/watch?v=LgIKxhxcS4s Text preferred if you have any questions.

May 25, 2019 at 15:06
May 25, 2019

Selling
May 25, 2019 at 15:03
May 25, 2019

Apr 29, 2018 at 20:32
Apr 29, 2018

Selling
Apr 29, 2018 at 20:24
Apr 29, 2018
$4600 USD
One owner. I bought it late last summer. I'm looking to do a few cross country races this year so I'm looking for something with shorter travel. I've absolutely loved the bike. Look up reviews on the 5.5 to see its capabilities. Fox performance suspension. 160mm up front 140 mm in the rear Sram guide R brakes (new pads) Santa Cruz 780mm carbon bars Brand new carbon wheels with hope hubs. This upgrade put the bike sub 30 pounds Charge spoon saddle Sram X01 eagle 1x12 drivetrain X01 eagle cranks and shifters Brand new eagle chain Fox transfer dropper post, new as of two months ago.

Selling
Jul 22, 2017 at 7:41
Jul 22, 2017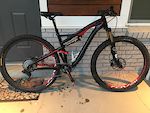 $2600 USD
Camber pro is just one step below the s-works. Carbon frame with s-works bars and front crank. The rest is the standard top of the line specs that come with the pro build. Sram xx1 rear derailler and shifter. Sram Guide brakes. Sram Roval carbon wheels. Command post dropper. The fork was swapped out this spring for a new Fox factory 110 mm. The whole bike weighs right at 26 lbs w/out pedals. This is a cross country machine that is a blast to ride on the downhill as well. It was purchased two years ago and has barely been ridden. If you take a look at it, you'll see that it's been well maintained and has only been ridden on mild trails. We just don't ride enough to justify keeping the bike. Crank brothers candy pedals available for a little extra money, Text preferred. I'll pay shipping on any full asking price offers
Load more...