2012 has been a good year. It wasn't a great year but it has ended up being very solid. Going into the final months I can honestly say I'm content if the mayan calender indeed predicts the end of the world. In saying that, there are still many projects and adventures to be completed! I recently had the opportunity to work with Brock Anderson but our project remains on hold while we try to time weather, schedules and our general lives with our shared passion that is mountain biking.
2011 was a very strange year for myself. Not much happened in my personal life and yet I didn't do a lot of travelling or have as many adventures. I'm glad to say I made up for it in 2012 with new bikes, more trips than ever to Whistler and plenty of fun even on a tighter budget. Due to big changes at home and work a mid-summer, adventure slow down occured which seems to have continued into the autumn months. While I try to break out of this slow down I remind myself of what I haven't checked off from this years to do list and what I can do to get it done with the little daylight left.
Craig and I started maintaining Mandatory Caution at The Woodlot in 2010. We opened the ground line right away with the intent of it being an intermediate trail if you avoided all of the stunts. As we added new features and rebuilt old structures the trail quickly became an advanced/expert trail. On our most recent ride we were happily surprised to see how well the trail has been holding up.
We had one of the dryest summers in a while followed by the wettest October on record. Add to this logging just above our trail and you have a recipe for destruction. Water is the enemy and anyone who builds or maintains trails knows that fighting water is a never ending battle. Surprisingly, this wasn't the case (except for one low-risk spot) as we ripped down the trail. The trail has seen heavy use since being reopened but has held up through some extreme seasons of riding. Updated trail building techniques deserve a lot of credit but finding the time to take care of issues as soon as they surface is just as important.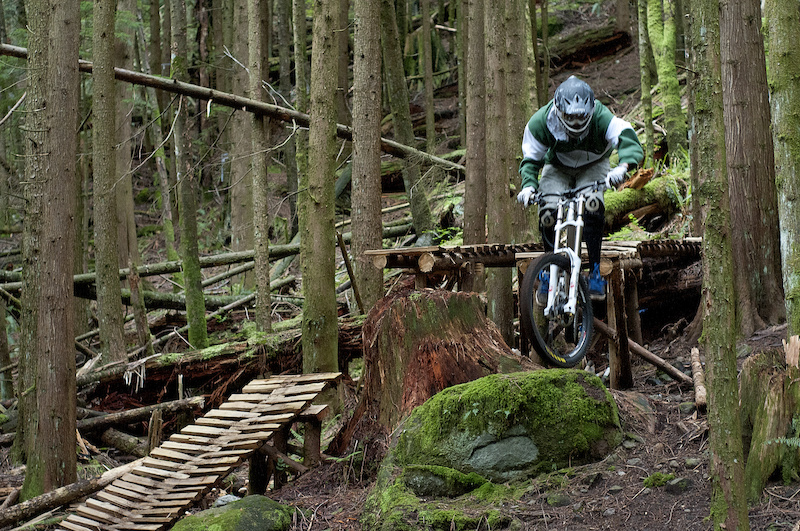 Being so proud of our trail, Craig and I wanted to team up with a film maker who could properly showcase the hard work and dedication we put into it. Brock Anderson is a very well respected, local photographer/film maker and he works almost exclusively in the fraser valley area. He was naturally our first choice and while our project remains on hold until time permits we are very pleased with the shots thus far (pics in the article and Brock's thanks-giving edit). Brock's talent speaks for itself. Daylight continues to fade and our lives steadily get busier but we will get this project completed and out to everyone as soon as possible.
Stay tuned for more updates!