Autumn is usually the best time for mountain biking. The dust has settled, the heat has eased and the trails are tacky. Bowen Island seems to keep these elements all year long. When Tam, James and I arrived there in late October we knew we were in for a treat.
Bowen Island is located just off the west coast and sits directly between Horseshoe Bay and Gibsons. It is a short ferry ride in which you pay to get there but not to return.
Video and story inside
,As the ferry lurched into Snug Cove I could already sense the character of the small community. Young children hung off the railings as they watched the ferry dock. Fishermen tended to their boats as the waves crashed and the pace in general seemed to be that much more relaxed.
A pioneer of freeride, "Dangerous" Dan Cowan, welcomed us as we pulled up beside him on the road. We introduced ourselves and without delay he had us follow him to the parking area. We parked near Killarney Lake and waited for his bike to arrive. Dan showed us the new bike skills park nearby and talked about his experiences. As we talked, our second tour guide Mike Laudrum arrived. He had the bikes, so we packed up the camera gear and set off to the mountains.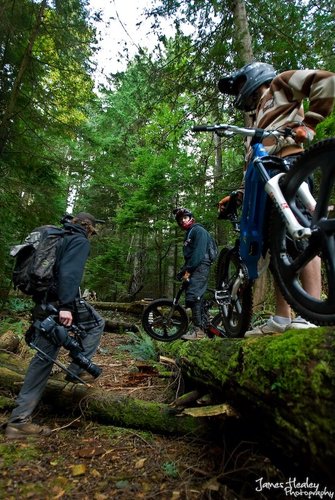 The first day consisted of shooting some new features that had been built. Bowen Islanders are not only talented at riding, but their trail building skills are truly something to behold. Tam grabbed some beautiful shots before the light faded and we finished up at the local pub.
We arrived on the island earlier the second day and Dan took us up one of his well known trails. The technicality of the stunts and the balance (aka "Flow") Dan and Mike possess is incredible. One wrong move and it is all over. Tam captured the trail with his unique style and wrapped up another successful day.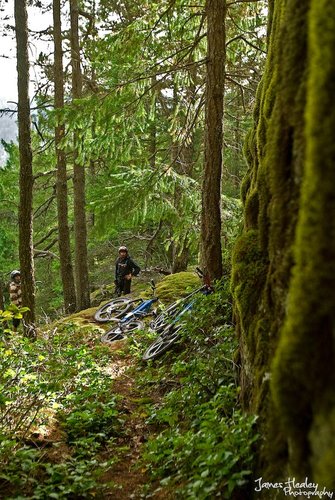 The weather cooperated, the camera gear worked properly and the riding was off the hook! Our Bowen Island adventure had come to an end and here is a preview of Dan and Mike's section from Tams upcoming movie!
Go check out
www.newwavecine.com
to learn more about Tam's next film.