There are a lot of people who know a lot about bikes, how to set them up, which components are better, and especially how to ride them. I also know that there are many often overlooked parts on a bike, one of them being brake pads. Now I know what you are thinking, "A brake pad is a brake pad right?" Well as I recently found out you are wrong. Until recently I knew nothing about brake pads, and it really didn't bother me. "If I stop, that's all I need", was my thinking. But as I have recently discovered, different brake pads make a huge difference in braking performance, and that can lead to a more enjoyable ride, more maneuverability and better race times.
I am here to share with you the information I have gathered on brake pads, hopefully you will come away knowing more about what slows you down. No one can decide for you what pads to run, but this should be a good guide, which will help you make an educated decision on what pads to you should be running.There are 2 main types of disc brake pads: Sintered (or metallic), and Resin (or organic). Both types of pads have their pros and cons, and choosing the right pad depends on many things such as:
-Rider weight
-Weather/trail conditions
-What type of riding you will be doing
-What size rotors you run
Sintered Pads
Sintered pads are made up of hardened metallic ingredients, which are bound together with pressure and temperature.
Pros
-fade at a higher temperature than resin pads
-better performance in wet conditions
-last longer
Cons
-louder
-longer break-in time
-not as much initial bite
-heat is conducted through the caliper, not the rotor
These pads will be better if you are a heavier rider. These pads are recommended for riding in wet, muddy, or dusty conditions. They are also a lot better if you are running small rotors, or are on a long descend. Although they are more noisy, and do not have as much of an initial bite as organic pads, you will definitely notice the increased performance at the end of your run. This happens because the heat is put back through your caliper, rather than your disc where you would get brake fade. Since these pads are made of a harder compound they will last longer than resin pads, but do not buy these pads just because they last longer. Always buy the pad that will enhance your performance the best, they are cheap you can always buy more if they wear out.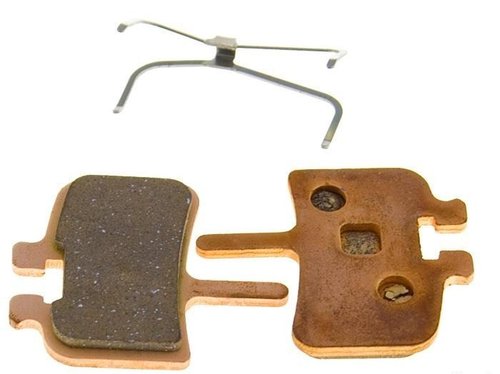 Metallic Pads
---
Resin Pads
Resin pads are made up of fibers and organic material that are bonded together with resin.
Pros
-Quieter
-Shorter break-in period
-More initial bite
-Prevent heat buildup
-Pushes heat back into the rotor
Cons
-Wear quicker
-Not as good in wet/muddy conditions
These pads are for lighter weight riders, and riding where lots of brakes are not required, like cross country, and riding in flatter areas. One thing I really love about the organic pads, is that they have a large amount of initial grab, this is a personal preference and you may not like this. When running these pads with smaller rotors, they will "manage" the heat better, meaning your oil is less likely to boil, which would cause a loss of power. Another great thing about resin pads is that they are much quieter, I know I hate brake squeal, and I'm sure you do too. One big disadvantage of these pads is that they wear out quicker, which means more replacing, and potentially more brake bleeds. Also don't run these pads when it is muddy, wet, or even very dusty conditions. It is suggested that if you are running these pads, you occasionally sand the surface, to remove the glaze.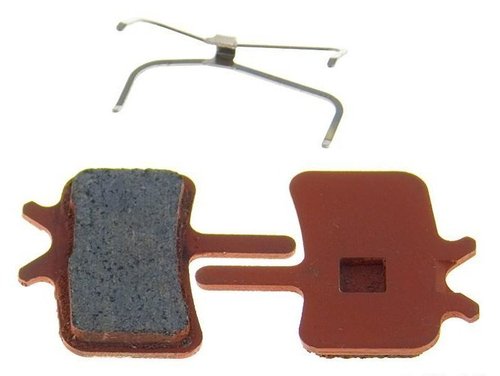 Resin Pads
---
In my opinion you should run metallic pads if
:
-You are heavy
-You ride downhill
-The conditions are wet, muddy, etc.
and run resin pads if
:
-you are light
-Conditions are dry
-You like lots of initial grab
-Your riding is less hard on brakes i.e. dirt jump/street, XC, etc.
Although I have now recommended pads for you to use, you have to make your own choices on pads according to your riding, the above list should be considered to be a guideline, and not used as a strict rule.
Sources
:
-
Hayes Disc Brakes
-
Hustler.pinkbike.com
If you have any questions feel free to send me a PM:
djman22.pinkbike.com/
---
Editor's Note:

Do you like articles like this or do you have something to say that would help others out in a technical manner? Well then contact me at brule.pinkbike.com and we'll get it out there for everyone to read
!