dmclemens
Member since Aug 30, 2016

Male / 37
Sunnyvale , California
Block user
Recent

Selling
Oct 2, 2019 at 22:36
Oct 2, 2019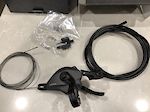 $35 USD
Nearly brand new (one 20 mile ride) shifter for XT 12 speed drivetrains. I wanted iSpec, but the bike I bought came with the band clamp, so I bought the iSpec version and need to unload the stock shifter. Includes the cable housing (with all end caps). The cable may be short, and I took the cable end crimp, so it likely needs a new cable and crimp.

Sep 5, 2016 at 20:24
Sep 5, 2016

Selling
Sep 5, 2016 at 20:22
Sep 5, 2016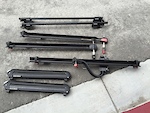 $200 USD
Full Yakima rack set: cross bars, towers, three bike attachments, snowboard/ski attachments. "Lowrider" towers fit on many factory raised rail systems. 48" round bars. 6 lock cores with keys (4 for the towers, 2 for attachments; two keys, two key blanks for removing lock cores). Bike attachments: one newer "Viper" that accommodates disk brake bikes, one "Copperhead," and one older "Anklebiter" that doesn't require the removal of wheels and attaches to the crank arm. Not shown are the fittings to angle the snowboard attachments and the 20mm through axle adaptors (2). Everything still works great, I just got a hitch mount and so I don't need the roof rack anymore.
Load more...