dmclemens
Member since Aug 30, 2016

Outside+
Male / 39
Sunnyvale , California
Block user
Supported Regions

Santa Cruz
via
SCMTS
Recent

Oct 10, 2021 at 14:28
Oct 10, 2021

Morning Ride
33.7 km - 02:21 - 1 achievements - 1 badges

Oct 8, 2021 at 14:03
Oct 8, 2021

Lunch Ride
18.0 km - 01:14 - 2 achievements

Sep 18, 2021 at 12:51
Sep 18, 2021

Morning Ride
27.2 km - 01:56 - 2 achievements

Sep 16, 2021 at 14:49
Sep 16, 2021

Selling
Sep 16, 2021 at 14:48
Sep 16, 2021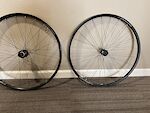 $90 USD
Rear wheel off a 2018 Trek Domane SL5 Gravel. Bontrager alloy centerlock, 142x12 hub. Bontrager Tubeless Ready Disc rim (measured at 17 mm internal width). Setup for tubeless (Stan's tape and valve stem). True and round, no problems or issues, it's for sale because I upgraded to carbon wheels.

Sep 4, 2021 at 15:56
Sep 4, 2021

Morning Ride
34.5 km - 02:28 - 4 achievements - 1 badges
Load more...