dolofogohogojo
Member since Oct 26, 2020

Male / 15
Boulder , Colorado
I like to eat bikes for lunch. Try it yourself. It's the future of fine dining. HMU for some sick minecraft tips and tricks, as well as a complimentary 1x2x1 piece of foam. I'm a big fan of fans, as I don't have great AC in the summer! Insta @anjdroo
Block user
Recent

Jul 6, 2022 at 11:07
Jul 6, 2022

Jun 21, 2022 at 17:53
Jun 21, 2022

Mar 30, 2022 at 16:47
Mar 30, 2022

Selling
Mar 25, 2022 at 20:17
Mar 25, 2022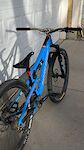 $2300 USD
This is my 5010 Slopestyle mountain bike! The bike is so mint. Wheels are true and tensioned, suspension is fresh, it's ready to rip. I didn't build the bike myself, however I've ridden it enough to know that it's crazy fun and you will never get bored of it. I have it set up as a slopestyle rig so it's really built for jumps, but I've been mountain biking on it a couple times and it was too fun. It's a ridiculous enjoyment wherever you take it but it's like a dirt jumper mountain bike so this isn't really for chunky DH racing (although park jumps feel nice!). SPEC LIST: Santa Cruz 5010 frame Halo Supadrive rear wheel (laced to spank rim w/ purple nipples) TONS of engagement Sram front wheel Rockshox fork + fox shock, both have been serviced and are in perfect condition I have a DH cassette with a single speed tensioner so that if you want to change the cog size, you can just adjust the tensioner instead of replacing the cog. Raceface cranks Chris king headset Comes with front brake that you can route through the steerer (Picture of the brake routed through included) Fabric seat (I can switch it with the blue chromag seat if you prefer) Renthal bars-> I have lower and higher rise renthal bars. Just tell me which one you want and it's on the bike! Raw bikeworks stem/Purple spank stem whichever you prefer. S&M hoder grips … It's got everything lol You can't really see it in the pictures but there are cosmetic scratches on the frame. The scratches are barely even surface layer and this Santa Cruz frame has some dummy thick tubes, so the bike is super stiff and strong and any scratches you put on it will be inconsequential. It's also unbelievably light, like dirt jumper light. If you live near Boulder I'd love for you to be able to ride the bike before buying it. I prefer local pickup but buyer pays shipping for non-local. The frame is an XS!!!! But runs big. I ride a medium enduro frame and this feels perfect... how a slopeduro should feel. Please keep in mind that if you are larger than like 5' 8", this might feel more like a dirt jumper and less like a slopeduro. Honestly I'd say just buy a slope bike or mountain bike at that point. PM me or text me for the fastest response (720)759-9112.

Mar 22, 2022 at 12:28
Mar 22, 2022

Jan 11, 2022 at 18:05
Jan 11, 2022

Selling
Jan 11, 2022 at 17:50
Jan 11, 2022

Selling
Aug 17, 2021 at 18:42
Aug 17, 2021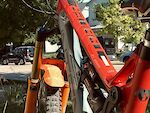 $3750 USD
*local is preferred but we can figure out shipping!* For sale is my 2019 intense tracer, it's built for racing but I've never done a single race on it and I think it jumps better than my dirtjumper. 2019 intense tracer frame Fox 36 factory orange 170mm (Serviced this season) I have Rockfox 39 decals on it which I find hilarious but I can pull them off if you want Fox Float X2 160mm Frame is press-fit so I have a thread together BB to delete creaks DT front wheel (New) Ethirteen rear wheel (Has a dent in the rim but seats and holds fine) Oneup dropper post + transfer lever Sram GX drivetrain Sram guide RS brakes Hutchinson Griffus racing tires The frame is almost in perfect cosmetic condition- I can show pictures of any damage if you're curious! If I forgot something feel free to ask If you have any questions text me for the quickest response! Thanks

Jun 14, 2021 at 16:55
Jun 14, 2021

Selling
Jun 14, 2021 at 16:52
Jun 14, 2021
Load more...