Steeze the Day Jam! Grab your friends. Grab your bike, and come on out on June 5th, 2010 at South Surrey Skate Park!
Why? Because it will be a blast, you will meet new people and best of all - PRIZES! Win some wicked things from our many sponsors in our raffle! Take part in some of the mini contests with in. Oh, and did I mention, free Redbull?
You will not want to miss out!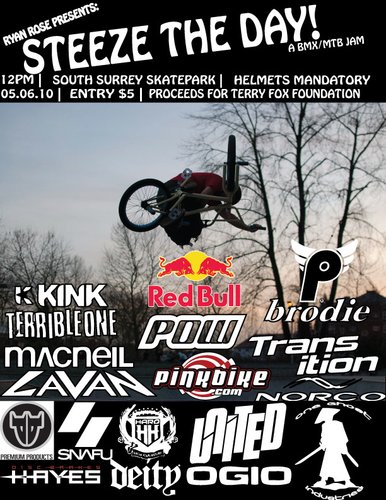 When: June 5th/2010 Where: South Surrey Skate Park
I am putting on my 3rd annual jam this year, in follow up to the April Fools Day Jam (which you can read about
here
and
here
), and the Do Epic Stuff Jam (which you can also read about
here
and
here
) which I put on. This year it's all about the
Steeze the Day Jam
!
The proceeds this year will be going to the
Terry Fox Foundation.
In the other previous years, the money went to the SPCA- Surrey Branch, and to help fund a new skate park for my city. The money raised from both previous events did help as well, and Surrey is getting a new covered skate park come June/July!
Why am I doing it this year? The same thing still stands as last year, raise money for a good cause and we are just wanting to get a big group of people together and have a good time!
Classes:
Beginner Intermediate Advanced.
Run Times: 7 minutes.
Jam format, 4 people at a time. Winner of each heat goes on to another heat.
Contestants will be judged on tricks, style and flow.
Registration starts at 10:30am.
Jam starts at 12:00pm.
DJ for music.
Concession stands for food and drinks ran and sold by city.
Weather Permitting.
HELMETS ARE A MUST!
This year we have many sponsors. Some of them have continued sponsoring this event, and we also have some new ones that have decided to sponsor it too!
Here are the sponsors:
Raffle:
Price for a ticket is $1, $3 for 5 tickets and an arm length is $5. Arm= 8 tickets. Max amount of tickets you can buy is an arm length. Tickets will be sold through out the day. Winner will have to be there to claim their prizes.
The companies that will be out there in support will be Norco, Haro/Premium, Ogio, Brodie and Macneil BMX.
How the day will go:



Register, which starts at 10:30.

Practice till 12:00 or 12:30 (or maybe a bit longer).

Beginner heats go of 5 people, for 7 minutes.

Judges choose 1 rider from each heat to go on.

5 to 10 minutes quick break.

Intermediate riders go, same as beginner.

30 minute break to get food, relax, ride around, etc...

Experts go, same as the others.

Break, so judges can talk and other people do there thing.

Beginner Finals

Intermediate Finals

Expert Finals.

Prizes given out.

Raffle winners drawn and prizes awarded.

Then that is it!



Hope you all have a good time at the Steeze the Day Jam!
If you have any questions, feel free to PM me or post them in the Steeze the Day thread. I shall be posting updates and stuff in there.
Thanks,
Ryan Rose