dothecrux
Member since Dec 1, 2010

Male / 41
Copenhagen , Denmark
Block user
Recent

May 3, 2021 at 12:58
May 3, 2021

Selling
May 3, 2021 at 12:57
May 3, 2021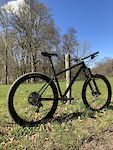 $675 GBP
As per title I'm selling my 2021 Cotic Solaris Max frame, INCLUDING Cane Creek 40 Series headset, full frame protection, seat binder, rear axle and EU/UK shipping! It stands as new and will be sold with papers from Cotic. I've ridden it a handful of rides, but realize my 195cm needs an XL (or a full susser...) No trades please. Private sale - no warranty, exchange, money back etc. Based in Denmark

Mar 15, 2021 at 9:32
Mar 15, 2021
Movies For Your Monday
Welcome Hannah Bergemann! Here's one of our old Sentinels. The new ones are sold out already :-)

Nov 27, 2020 at 6:41
Nov 27, 2020

Sep 21, 2020 at 12:14
Sep 21, 2020

Selling
Sep 21, 2020 at 12:10
Sep 21, 2020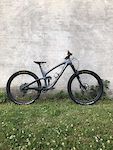 $1800 EUR
Almost new first edition of the Sentinel. Fully wrapped from new in All Mountain Style frame protection. Comes with Cane Creek 40 Series headset and Fox DPX2 shock. No signs of wear and tear. Only selling in order to reduce the amount of barely used bikes in the shed. Will maybe sell in with fitting 42mm offset Pike forks for an additional €300 (Pike RCs). Price includes EU/UK shipping.

Sep 21, 2020 at 10:28
Sep 21, 2020

Selling
Sep 21, 2020 at 10:25
Sep 21, 2020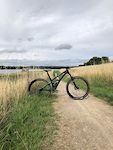 $1300 EUR
Selling my beloved Yeti SB4.5c Turq Series frame. It will be sold with Fox EVOL shock, Hope headset and Race Face PF92 bottom bracket. I will leave cables in the frame. Compact XL frame fitting like a large with approx 465mm reach. 67 degree head angle and 74 degree seat angle. 114 mm Switch Infinity travel rear. 140 mm front. Almost like the current SB115...! It's fully invisiframed from new. It has one scratch on the rear left side of the swingarm. Look deep in pictures, but I thouroughly checked, and it's only scratched the clear coat - not the fibers. The price (in Euros) includes EU/UK shipping. I can sell the following items along: Rockshox Reverb 150mm with 1x Lever (installed, but needs service as it sacks 10-ish mm when seated upon): €100 Rockshox Pike RC with Charger Damper and DebonAir piston. 140mm travel: €300 If frame sells with all of the above, I will give the Reverb for free. Ships from Denmark boxed.

Aug 18, 2020 at 10:19
Aug 18, 2020

Selling
Aug 18, 2020 at 10:17
Aug 18, 2020
Load more...