Over 15 million people have now watched Freerider Andi Brewi's incredible race against World Champion Snowboarder Gian Simmen. I thought it might be fun to give everyone a bit of an inside look into what it took to pull off an event like this, and the rider that made it happen. See the full video below!
When
Spank Industries
Pro Freerider Andi Brewi contacted me some time ago, and told me he had challenged Gian Simmen, a two time World Champion and Olympic gold medalist snowboarder, to a DH Race on the snow covered slopes of Ischgl Tirol Austria, I thought perhaps that last concussion maybe did a little more damage than he was admitting. Then, when he upped the anti and offered to do it LIVE in front of 15 million viewers on Germany's most popular TV show, Wetten Dass...?, we started to worry maybe he had just gone a little mad.
If you've ever met Brewi, you know he isn't the type to do anything half way. The thought of Andi pushing himself past the limits, at an estimated 90+ km/hr, on a track better suited for ice skates, actually started to scare us a bit. But, Andi is a confidence inspiring individual, and after hearing more about his well detailed plans, we couldn't resist being a part of history in the making.
It wasn't easy putting something like this together. Recently on the same show, a contestant paralyzed himself attempting to jump over a line of cars, and needless to say the producers were more than a little nervous about getting back into bed with another extreme sports character...especially one ranting about hitting 25m snow jumps on a bike at highway speeds. Andi actually had to prove himself off camera on the big Free-ski kickers at the Hintertux glacier in Austria before he got the green light to compete on the show's season finale hosted by Germany's most famous entertainer, Thomas Gottschalk.
Well...as they say, "If you've gotta go...might as well go out with a bang!"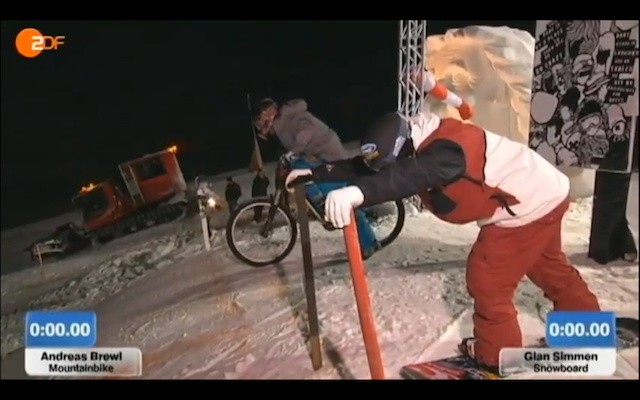 Due to the bad snow conditions, park builder Klaus Marco only start building 2 weeks before the show. The first time Andi actually got to test pilot the track, it was just over a week before the show. It was really tough for everyone to build and maintain a course that was not only fast enough for the massive jumps, but also fair for both bikes and boards, and calm enough not to scare off the TV crew. In Andi's own words though, "I was happy my opponent Gian Simmen was pretty much the best guy ever to work with. We wanted the course to work perfectly for both of us and have a fair race. Klaus Marco, his shapers and the whole Crew of Ischgl supported us super well and we had a course that was amazing to ride! The responsible people working for the German TV channel ZDF were a little worried about the speeds we were riding and distances we were jumping, but after they watched us practicing and hanging out together they were happy to see us as a team and tried to set up the cameras the way it looks less dangerous."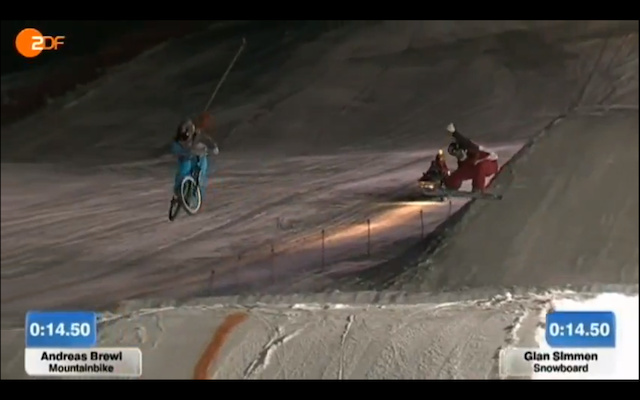 On the day of the big event, mother nature did her best to put everyone on edge. After praying for snow for weeks, it came at the worst possible time, and with the snow came wind. It was all that Andi and Gian could do to get a few practice runs in, and the fresh snow made conditions unpredictable and dangerous. Luckily about two hours before start time, the weather ceased, and builders got to work on removing loose snow. After a brief meeting between riders and crew, they agreed to concentrate mainly on the snowboard line as loose conditions actually started to favor the bike. Just in time for the 6000+ spectators that turned out to watch the race, and the millions tuned in to see it live on TV...it was on!
| | |
| --- | --- |
| | The countdown started and I was really focused. Four jumps before the finish line I was pretty much head to head with Gian, which had never happened in practice, so I knew I could win it if I kept my speed. The long straight at the end was definitely to my advantage, because I could pedal and the new snow wasn't the best for the snowboard. I finished just 0.64 sec. in front of Gian! The crowd, including my family and friends, went crazy on the mountain and the party continued late into the night in downtown Ischgl - Andi Brewi |
GT
Spank Industries
Zimstern
Gloryfy
TSG
Assembly Industries
Maxxis
Masters Of Dirt