ebarter
Member since Oct 25, 2018

Vancouver , British Columbia
Block user
Recent

Selling
Oct 31, 2020 at 12:28
Oct 31, 2020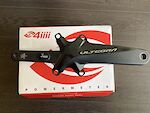 $475 CAD
No chainrings. The 4iiii is the left side precision power meter, purchased in 2019. It takes a CR2032 battery. Rarely ridden in wet conditions and no issues with seals, calibration or connecting to my Garmin. The drive side crank arm has a small superficial scratch (3rd picture) but is otherwise in great condition. The left side is in excellent condition.

May 12, 2019 at 16:08
May 12, 2019

Selling
May 12, 2019 at 16:07
May 12, 2019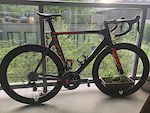 $2200 CAD
Size "M/L". Specs/geo: https://www.giant-bicycles.com/ca/propel-advanced-1-2016 Purchased at the end of 2016 and ridden two seasons in dry weather only. Generally in very good condition with the odd chip and scratch. Upgrades/changes from stock: - Giant SLR 0 55mm wheelset. Impressively light for the depth (something like 1500g) - Specialized Power Pro saddle - Near-new 11-30 cassette - FSA Energy bars (40cm in the drops, ~38cm at the hoods) - Ridesense speed/cadence sensors Bottle cages included, no pedals. Can include a 110mm stem also. Stock saddle: -$100 Stock wheels: -$600

Selling
May 12, 2019 at 16:04
May 12, 2019
Load more...