Myself, Eric Behn, and Adam Yunker (Spoked Media) teamed up this year to film the Monster Energy Slopestyle event at Kokanee Crankworx 2010. Here is the story, a final edit by Adam and some photos shot by Jaycee Clarkson and Alex Weber.
Enjoy it all inside
,This was my third year attending Crankworx and it was highly anticipated to be one of the biggest thus far. After a week of various races and competitions the main event was about to go down. The atmosphere was ecstatic and the village was packed with bike enthusiasts. The good weather that has been around all week stuck around for a super hot day. As the day got hotter, the free sunscreen and deodorant was flying out of boxes and the bikinis were showing up. Demo tents were busy as bikers got their last ride on the new 2011 Demo 8 II, the 2011 Giant Glory and other amazing bikes. Monster Energy was also there giving out drinks, this year you had to give a donation to get one, but a 25cent drink is always welcome in my eyes especially when its going to a good place.
By the time practice had rolled around everybody had consumed a Monster drink and if you were lucky enough to find them, a Red Bull energy shot from the Cove Bikes' tent. At 2:00 me and Adam headed up to scope out the course and do some one course filming while we still could. Riders touched up their skills and worked on overcoming the fear of the massive judges tower drop and final jump. We took some shots at the whale tail before the course was closed to media, we didn't have the yellow wrist bands so we were limited to 5 media pods. I took the top half of the course while Adam took the bottom.
Within half an hour herds of spectators began to fill the sidelines and prepare for an adrenaline rush. The lucky/smart ones found shade while the rest toughed it out for better spots. It was time for the event to start.
Qualifying started with 2 rounds of 16 riders. Everyone put in runs, but the upset that shocked the whole crowed and anyone who knew anything about freeride. Branden Semenuk who was highly anticipated to be the winner by almost everyone in the bike community took his first run. Putting down the smoothest, cleanest and quite possibly best run of the day, Brandon took a huge fall on an under rotated back flip on the final jump. Hurting his neck and collar bone Brandon could not finish the competition. I along with many other spectators was choked, after talking with his mother and father the morning of the event I felt for Brandon and his family. I wish Brandon a quick recovery!
Brandon was not the only injured rider. In fact three of the top riders: Brandon, Claw and Yannick were all out of the competition due to injuries. Many thought that the course was poorly designed with a drop much too massive to trick safely and a final jump which put each rider at risk. Even third place winner Casey Groves later expressed his feelings about how he wanted to see safer courses and better designers for 2011. On a positive note Groves said "I did have fun and learned that I never want to trick a drop that big and gnarly again because of how many of my friends got hurt!".
With injured riders and broken bikes the "Super Finals" consisted of 5 riders as opposed to the 6 after Yannick got injured and could not complete the competition. Cam Zink put down a run early on that was unbeatable with a 95.0 score that kept him up top. Montgomery killed it again on the hard tale, but went down in his final run attempting a tail whip off the final drop putting him in second. The 18 year old Casey Groves lost his chain in his final run and took third keeping the Canadian crowd pleased!
Here's the video of the event filmed by myself Eric Behn and Adam Yunker (Spoked Media), and some photos by Jaycee Clarkson and Alex Weber.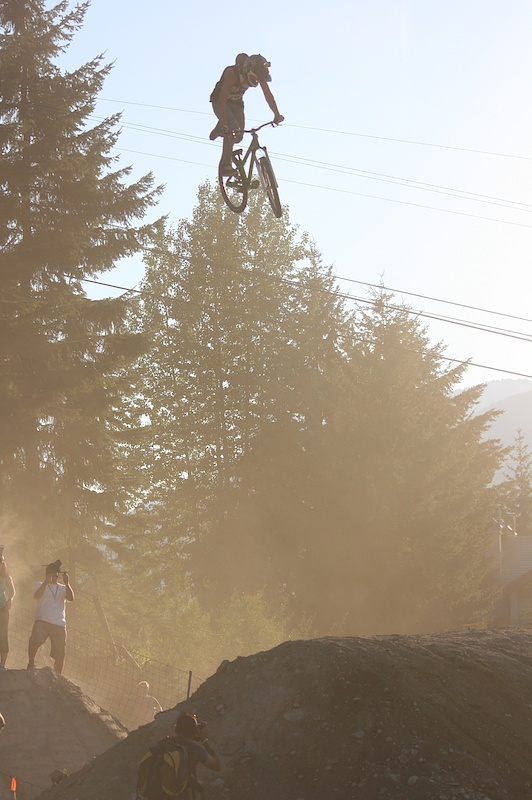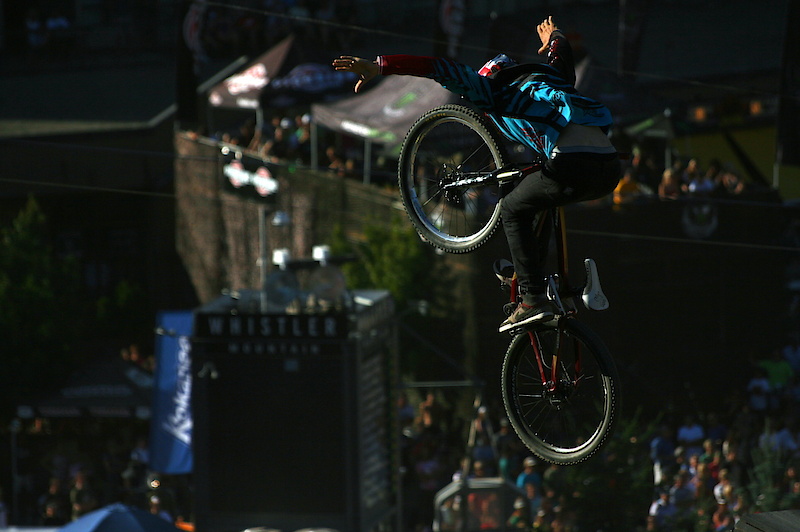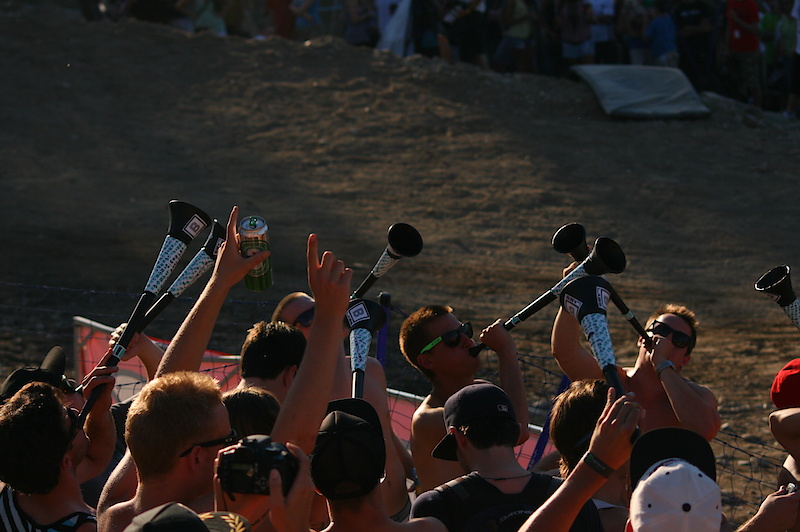 At the end of the day stoked fans made their ways down the mountain in a cloud of dust, literally, and I made my way home. Another great event put on by the Crankworx team. Now it's my turn to go out and ride.
Thanks for reading, Eric Behn