Becky Cook maybe doesn't ring a bell to many. But on Motorcycle Trials she has lot to say: 7 gold medals at the Trial Des Nations, 5x vice World Champion, 8 times British Champion and 2012 European Champion, meaning that for more than a decade she has been winning everything on a Trials bike. She may be a newcomer into the mountain bike highest level competitions compared to other riders with years on the business. But when she took on EWS racing in 2016 she already managed to have really good results in the 2 rounds she participated, 15th in Ireland, 11th in Valberg, France. Results speaks for themselves, 9th on the 2017 Enduro World Series with two 9th position's and a 15th position as her "worst" result in EWS2017, Southern Enduro champion in 2017 and British Enduro Series Elite champion in 2016. For 2018 she will be racing for the recently created
Orbea Enduro Team
and bringing with her all her experience on international racing, skills and knowledge. Already for 2018 EWS season she seats at 10th position on the overall series. Got a 10th in both Chile and Colombia, placing 4th on the 5th stage of Colombia and 9 on the 2nd in Chile, longest one on EWS history so far.
She has dedicated part of her time to answer some questions, let's know more about her and her whereabouts.
Yari:
Who is Becky Cook? Where are you from and where do you live?
Becky:
I was born and raised on the Isle of Wight, a small island off the south coast of England where I still live with my Husband.
Isle of Wight mountain biking trails
Yari:
How and when did you started on cycling in general?
Becky:
I have an older brother so from a very young age I used to go out and ride with him and his friends. We would build jumps or make trials sections to ride on our bikes.
Yari:
When and how did you started into MTB?
Becky:
I always had mountain bikes as a child but as my motorcycle career took off, the bicycle got put to the back of the shed. It wasn't until the end of 2014 whilst in Andorra for the Trial World Championship that I bought a cheap full suspension mountain bike to improve my fitness for the following season. Although still mainly focused on trials, I found myself enjoying riding the mountain bike more and more. Then in August 2015, a friend who owned a bike shop, Tred-shop.com encouraged me to enter an enduro race in Wales and lent me a decent bike. It rained non stop for the whole weekend but l had so much fun and ended up in first position, my love for Enduro had begun!
Yari:
Beginning was hard?
Becky:
Yes moving off a bike with an engine, obviously the pedalling side was hard work to begin with but I had good upper body strength which helped when going downhill!
Yari:
Which were your initial goals?
Becky:
To start with I just wanted to have fun and enjoy racing with no pressure. Soon my competitive side returned though and I wanted to challenge myself against the best girls in the UK and my goals were to get podium positions in the fastest categories.
Yari:
Are you surprised by how far have you come or it was something you expected?
Becky:
I am surprised at how fast things have happened but I have also worked extremely hard for my results. I never expected to be doing the full EWS series in only my second year racing but it was now or never and I was determined to do the best i possibly could. I was hopeful of some good results!
Yari:
You have an awesome experience competing at highest levels on motorcycle Trials. Can you comment on your previous experiences and teams?
Becky:
I had an incredible 13 years competing at the highest level in motorcycle trials and am very proud of my achievements. I made friends for life and have lots of great memories from those times. We racked up many miles in my van travelling all over Europe to events with my bike and family or friends as support crew. It's not the largest of sports and unfortunately I don't feel women get enough support at the top level but I was lucky to be helped along the way by some great people and teams like TRS, Sherco and Top Trial Team.
Yari:
How is racing at elite level?
Becky:
The competition in the women's category is really strong, the level of the riders is incredible and everyone is pushing harder and harder to go faster. However, everyone is still really friendly and will always help each other out if they have a problem. I will have to work really hard to get amongst them this year but I'm looking forward to the challenge.
Yari:
Orbea Enduro Team seems like a big thing, what are you thoughts about it?
Becky:
Yes it is a dream come true! I am extremely excited and very lucky to be a part of this new project. Everyone involved is really passionate about the Orbea Enduro Team which gives me great confidence to succeed. Having a awesome bike to ride combined with a great team of people supporting me, I can't wait to start racing!
Yari:
There is a lot of rumours on the brand new enduro flagship from Orbea, the new Rallon R5. I guess you already had the opportunity to ride it. Could you share your impressions?
Becky:
Yes, it lives up to the hype! Fast, agile, efficient and fun! I love it!
Yari:
What bike(s) do you own right now? Which one you ride the most?
Becky:
Orbea Rallon, Alma XC and Orca Road bike. I ride my Rallon enduro bike the most but I have just recently got the Alma and it's so much fun to ride on my local trails.
Bike check
Frame:
Orbea Rallon size S/M
Fork:
FOX 36 Factory
brakes:
SRAM Code
wheels:
ENVE M730 29"
tires:
Maxxis
transmission:
SRAM Eagle
front ring:
Rotor 34T
pedals:
Crandkbrothers Mallet
cassette:
SRAM Eagle
stem:
ENVE 55mm
handlebar:
ENVE 740mm
grips:
RaceFace
seat:
Selle Italia
seatpost:
Crankbrothers Highline
Yari:
¿26, 27.5", 27.5+ o 29? What's your opinion, which one fits you better?
Becky:
The Rallon is my first time on a 29" and I'm really impressed with it. I think this will suit me well.
Yari:
After two EWS races in Latin America, Chile and Colombia, you currently stand on 10th place. How do you feel, which were your impressions for the start of the season?
Becky:
So it has been one hell of a start to the season and they couldn't of been more different. From the 'antigrip' dust of Chile to the 'peanut butter' mud of Colombia it's been a crazy couple of weeks! I had two 10th positions which in truth I am slightly disappointed with but all the girls are so strong now, the competition is really close. My new Orbea Rallon performed perfectly in both races and I took a 4th position on stage 5 in Colombia so I am very happy with this and it gives me a lot of motivation for the next race.
Yari:
You have already shared several hours with your spanish team mates Gabriel Torralba and Javier San Roman, they both had great performances for their first races. How is to share team with them, are you taking on the "protective mother" role or more as the older sister that plays tricks on them in order to show how to learn the new rules?
Becky:
We had a great couple of weeks as a team, I think I am probably more of the sensible older sister! Trying to give them advice but I'm not sure if they actually listen! They are great guys and I think we learn a lot from each other whether it's riding, racing or the preparation side.
Yari:
Which race, from the ones you've participated, consider the toughest?
Becky:
They've all been tough but for me, the last race in Finale Ligure was probably the hardest. I think by that point I was physically and mentally exhausted from a long season of racing, working and organising everything in between! I had nothing left to give and i was just focussed on making sure I made it to the finish!
Yari:
Could you share some anecdote you remember, some good laughs or even maybe some stressful moments due to racing.
Becky:
There are too many to remember! Usually during the transitions or shuttles between stages someone will come out with a great story! One of the most stressful moments was breaking a rim and handlebars the day before the race in Whistler. I had no spares and was there on my own but everyone is really helpful so I managed to borrow a rim and they built me a new wheel so I could race.
Yari:
So far which is the race from which you keep the best memories?
Becky:
Tasmania is my favourite place I've raced. Although I didn't have a great result as I crashed hard breaking my front brake I loved the trails and can't wait to go back next year!
Yari:
And the worst memories?
Becky:
There are no bad memories, it's just learning from mistakes!
Yari:
Do you have some kind of amulet or obsession when racing?
Becky:
No
Yari:
Which are your strong points?
Becky:
Good upper body and grip strength for long descents and technical, tight, trials like terrain.
Yari:
And weaknesses?
Becky:
Pedalling - too many years spent with an engine underneath me!
Yari:
Which rider impress you right now or which one is your preferred one?
Becky:
I think Katy Winton will be one to watch this year! Everyone impresses me though and it's great to be amongst them and try to learn as much as possible from them.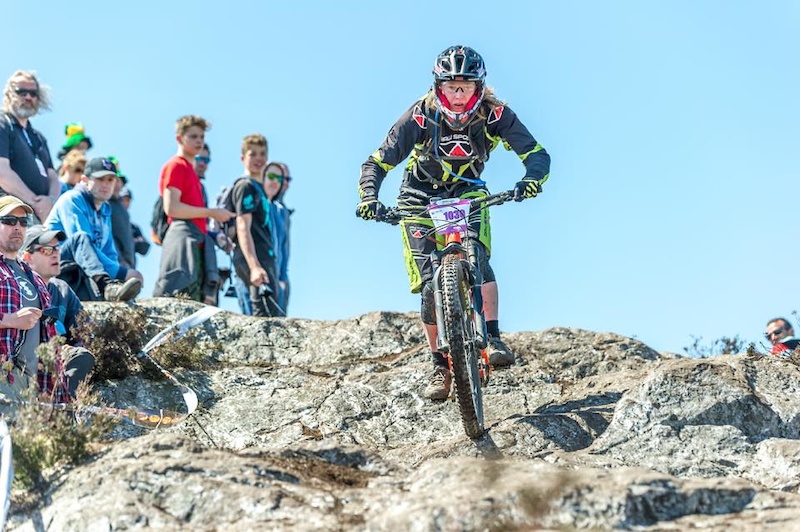 EWS Emerald Enduro 2016 (BeckyCook Racing)
Yari:
And who, throughout your career, have impressed or inspired you more?
Becky:
Tracy Moseley, she's a legend! Such an impressive rider but still so down to earth and willing to help.
Yari:
Do you do an specific training, could you briefly describe it?
Becky:
Yes to help me prepare for the 2018 season, I got myself a coach! Alan Milway has set me a training plan which includes gym sessions, intervals and sprint sessions. Not forgetting riding my bike and having fun!
Yari:
Which is or are your preferred ringing spots?
Becky:
Forest of Dean or Wales are my usual spots when I'm in the UK.
Yari:
When at home, how and where do you usually train?
Becky:
During the week I train at home on the Isle of Wight and fit my gym sessions, intervals and sprint training around my work, which is driving a lorry! Then at weekend's I usually travel to the 'mainland' UK where there is more steeper, tougher 'enduro' style riding.
Yari:
For enduro racing: "blind" racing or trained stages?
Becky:
I like riding stages blind, it makes it more interesting and more of a level playing field for everyone. It tests your ability to read the trail ahead rather than learning it from doing run after run.
Yari:
Describe a typical day on your life when you're racing. Is there lot of difference between motorcycle and mountain bike racing?
Becky:
When it comes to the the actual day of racing there is usually not much to do except get kitted up, have breakfast and go! The day's beforehand is when all the preparation is done, making sure the bike, my kit and everything is ready. It's the same principle in motorcycle competitions too. There are actually a lot of similarities between motorcycle and mountain bike racing. They both usually involve many hours on the bike but rather than racing 'stages' in Enduro, you do 'sections' in Motorcycle Trials. They both give you the opportunity to recover from a mistake or problem. So if you crash in a stage or make a mistake in a section you can then hopefully do better on the next one rather than everything coming down to one run.
Yari:
What advices would you give to anyone starting cycling in general?
Becky:
Go out and enjoy yourself! Start slowly and progress as you get more confident.
Yari:
To help us to enjoy more our rides what set-up would you advice or recommend for our bikes?
Becky:
Get your suspension set up correctly. For me this has been one of the biggest improvements to help me go faster. Your local bike shop will help you if you are not sure yourself.
Yari:
Tell us about what you do when you are not racing.
Becky:
Usually working! I drive a lorry for the family business between training and racing. I still like to ride the trials bike occasionally too!
Yari:
How do you see the current MTB panorama in UK and its future?
Becky:
Mountain biking in the UK is really popular. There are races nearly every weekend and bike parks all over the country so plenty of opportunity to ride and I see it growing and growing.
Yari:
How do you help to increase or support MTB in UK?
Becky:
I try to ride the UK races as much as I can and ride with other girls to try to encourage more into mountain biking.
Yari:
What music are you listening right now?
Becky:
George Ezra - Paradise.
Yari:
A preferred movie or TV serie?
Becky:
I don't have time to watch either!
Yari:
Preferred food?
Becky:
Everything except fish!
Yari:
Which you prefer: a camper van or a Ferrari?
Becky:
A camper van to take to races.
Yari:
Future plans?
Becky:
Enjoy riding my bike, do the best I possibly can and see where it takes me!
You can follow Becky on the following social media:
Instagram
/
Facebook
/
Twitter
Check more about Becky on this interview on YouTube and her decision to step down from highest level of motorcycle Trials competition:
Thanks for your time Becky!