Couple of months ago I had the unique opportunity to try on scoop a brand new steel bike, the
Nordest Bardino
. If you happen to know
Jeronimo Cycles
then you may know what to expect. With the experience they have from building custom made titanium frames for road, mtb and ciclocross, they put all their efforts on creating a steel hardtail to shred the trails with total confidence even on the steepest and harsh terrain.
Geometry/Sizing
Slack you say? Is 65 degrees OK for you? Reach maybe? You got it, 438 for the medium and up to 475 for L. They don't do XL but is not necessary. I'm 193cm tall and I felt really comfortable on the bike with a L size. With a seat tube angle for 74.5 and 74.6 for L size, there is not issue at all when climbing, no loss on performance and you feel each pedal stroke pushing hard to take you up as quickly as possible to test that slacker angle.
There are two different configuration options for the full bike, the Bardino M2 and the top notch Bardino M1. And there is a special and exclusive option of the Bardino Ti M1. The Bardino steel M1 has the following specifications:
•
Fork
: Fox Factory Series 36 FLOAT 29 160 FIT4 3-Position Lever w/Open Mode Adjust 110 Boostmm Axle 1.5 T Kashima
•
Stem
: Thomson 4X 40mm
•
Handlebar
: Thomson MTB Carbon HB-E103 Trail 12mm Riser 6° Back 4° Up 31.8mm 750mm
•
Headset
: Cane Creek 40 ZS
•
Crankset
: Shimano Deore XT M8000 32T
•
Brakes
: Shimano Deore XT M8000
•
Rotors
: 180mm / 160mm
•
Rear mech
: Shimano Deore XT M8000
•
Cassette
: Shimano 11-42
•
Gear shifter
: Shimano Deore XT M8000
•
Rims
: Black Jack Ready 40
•
Tires
: WTB Bridger 3.0 27.5″ / WTB Trail Boss 3.0 27.5″
•
Seatpost
: Fox Transfer Internal Factory seatpost 150mm Kashima 2018
•
Saddle
: WTB Volt Team
•
Grips
: ESI Chucky
•
Chain
: Shimano 11S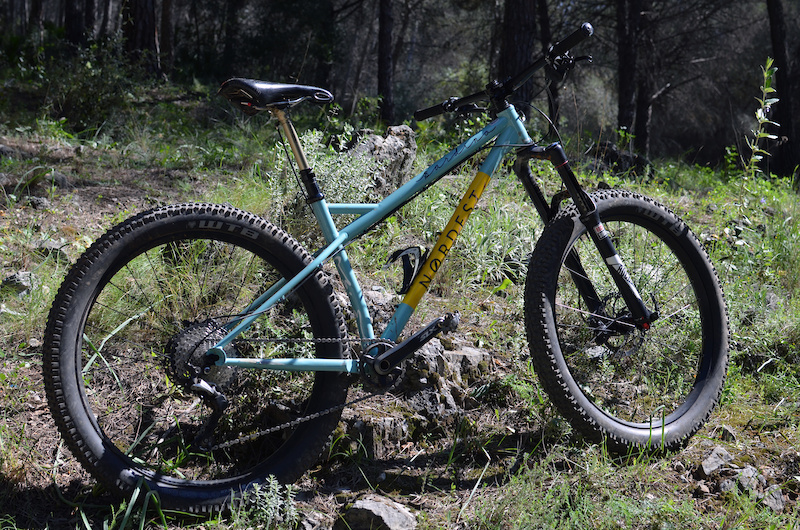 Enough with the numbers! Let's have fun!
On the trails
The area where we spent the day riding has a wide variety of terrains, rocky, loose, sandy, hardpack, all you need to have fun all day long. Climbing on the Bardino doesn't feel sluggish at all, the wide 3.0 tires gives an amazing traction on all type of situations. Roots, rocks, loose terrain, you can climb everywhere with this. Playing with the tire pressures I felt really comfortable both climbing and descending with 10psi in the front and 12psi in the back. Less pressure would compromise the tires flanks and on berms or harsh rocky sections feels somewhat wobblish. We had some friends coming over and also doing some rides with the bike, their opinions: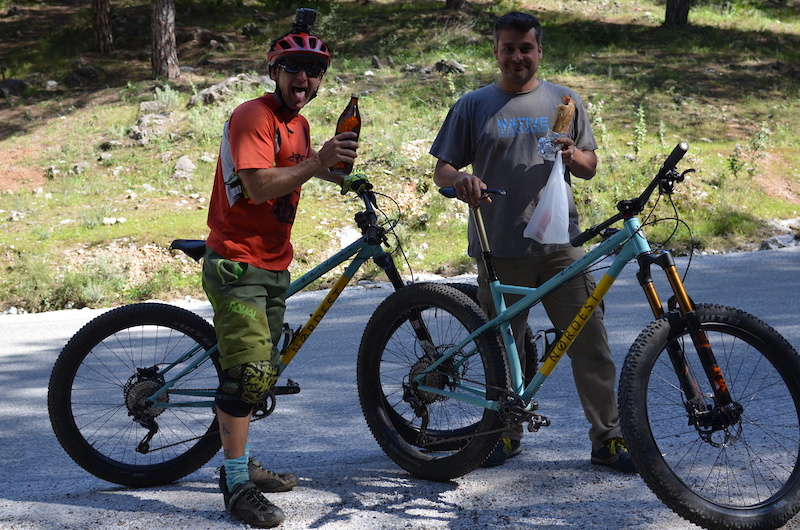 With 4130 steel and a good compromise between weight and comfort, the bike feels really comfortable. There is plenty of space on the rear triangle so mud will not be a problem. Another awesome possibility is to be able to mount 29" wheels and transform this enduro hardtail into a playful kilometer eater. Let's see what other rider, Jesus, has to say. He owns a OnOne Fatty, with rigid carbon fork and Kenda Juggernaut 26 x 4.0" tires.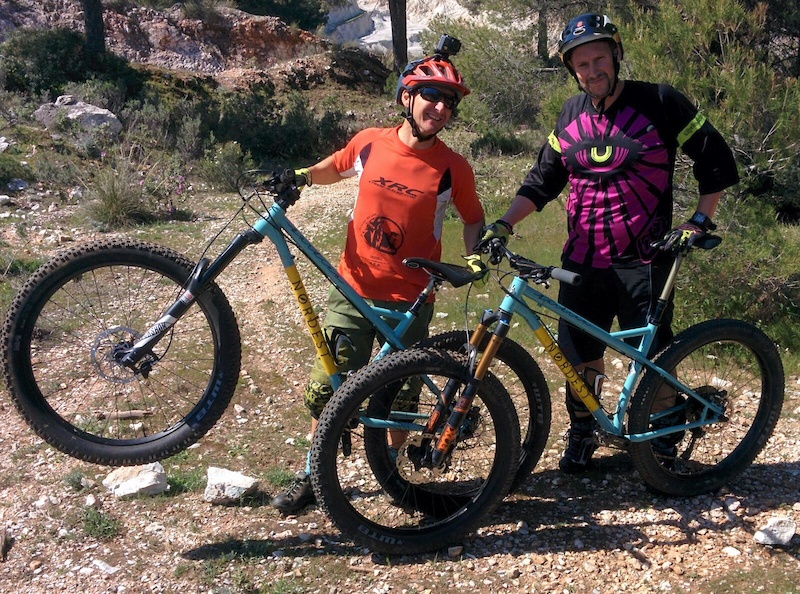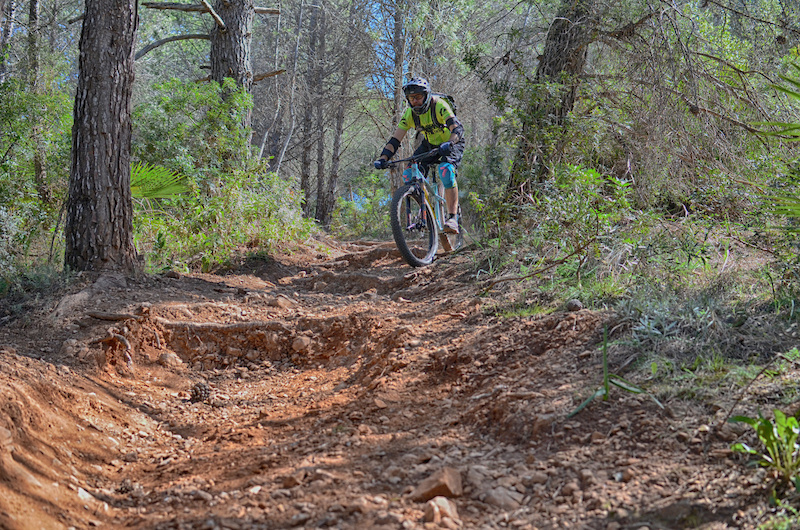 On the
NordestCycles
site you will find the prices for different configurations:
• Frame only: 549€
• Nordest Bardino M1 steel 3299€
• Nordest Bardino M2 steel 2499€
• Nordest Bardino M1 Ti 4150€
• Nordest Bardino M2 Ti 3350€-3659€