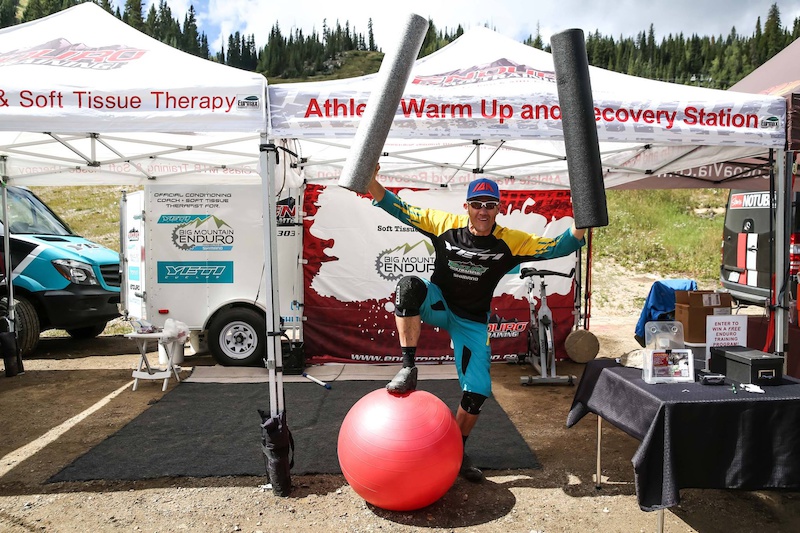 During this time of the year as you prepare for the "
official riding season
," it is an extremely important time to sort our your body issues. Whether it's flexibility, joint mobility, posture, systemic stability or breathing mechanics, all of these performance characteristics must be working at an optimal level as you head into the riding and racing season.
However, most mountain biking athletes and enduro racers make the mistake of not stretching enough, not resting when necessary, and not taking adequate care of the muscle tissues, joints, and nervous system.
This "
Rebuild/ Restore
" educational video series will teach you how to take care of the muscle and joint issues on crucial areas of your body. The idea is to "
Rebuild
" your movement foundation so you can later put strength and power on top of it and "
Restore
" the optimal movement capabilities of your muscles and mobile joints in your body.
Without a good functional movement foundation and optimal mobility, most riders will struggle with those nagging feelings of underperforming when riding or racing.
Some of the ways that the body will underperform are due to restrictions in the body. Four main ways you can quickly recognize these restrictions can be
:
•
Hip hinge difficulty,
making it hard to get into a good, powerful downhill position with hips back, chest low and arms out front.
RESULT- the center of gravity too forward and high… OTB!
•
Rounded shoulders
, negatively affecting your ability to breathe well. Because with poor posture, your rib cage is 'depressed' and it affects the diaphragm and lungs ability to expand and contract.
RESULT- less strength and endurance with lack of "top end heart rate"
•
Poor posture
will not only stress the lower back but play a major role in shoulder impingement problems. In fact, if you struggle with arm pump, upper body fatigue or neck fatigue, it's probably due to your poor posture.
RESULT- if you can't hold onto the bike - you crash!
•
Injury
. Many sports-related injuries are directly related to poor movement ability, especially repetitive strains, and sprains.
RESULT- you can't ride your bike, and hardware in your body makes only for cool looking Instagram and facebook pictures!
Again, these are only four physical restrictions that can be reduced with regular self-care, there are many more!
This is the first article with three of six videos you can watch to learn about how to address your muscle issues.
The first five deal with the different "mobile" areas of the body that are designed to create the most movement. The sixth and final video is an eight exercise stability workout created to increase your overall functional stability so, at the end of the day, your gains in flexibility, mobility and stability come together to create a stronger platform for you to achieve higher results in your riding or racing.
Equipment needed:
• Foam Roller
• Lacrosse ball
• Massage stick
General rules:
• Find only the areas that need work. Don't roll areas that aren't sensitive, these are healthy tissues and you need to leave those non-painful areas alone.
• Do it regularly. You must be consistent if you want to see change.
• It will hurt in the beginning, but with regular work, get better!
• Do lightly before a workout or ride and spend more quality time while watching TV or PB videos.
• Drink half your body weight in ounces of water EACH day.
• If you ever feel 'bruised" then simply take a day off.
• Use a hot tub frequently.
Video #1: Rebuild/Restore - Fix your feet and ankles for better riding
Let's face it, during a mtb ride, we spend half our time in a standing position. That means that we only have four points of contact with our bikes, both hands, and both feet. Video
#1
first will explain the theory of the "
mobile-stable
" platform and how the body works. The remainder of the video will provide you with specific techniques to improve and optimize the function of the foot and ankle.
---
Video #2: Rebuild/Restore - Help your riding from the hip down and ankle up
As we move up from the ankle into the knee, we need to think about how to address the muscles that come up from the ankle to the knee and head down from the hip to the knee and how both areas need to move well if you want healthy knees.
---
Video #3: Rebuild/Restore - Got tight hips, or lower back, try these out to improve your riding
For those of you who struggle with tight hips or lower back pain, this is your opportunity to learn how to help begin providing relief to the area. This is probably the most important video of the three since it deals with your pelvis, core, and center of gravity, so watch this one in order to discover how to find where your tissue issues are in this important part of your body!
Remember, you will experience both immediate relief and long-term relief, so be sure to do at least every other day to see real, permanent change to your body.
---
About Dee Tidwell
- Dee Tidwell is the owner of http://www.enduromtbtraining.com, coach of pro and amateur enduro racers and mountain bikers. EMT specializes in online, downloadable training programs, personal coaching, and muscle therapy. EMT is the official trainer and muscle therapy provider for Yeti Cycles and the Big Mountain Enduro series. At 47 years old, Dee is a successful 25-year mountain biking veteran, coach and 40+ division racer with numerous race wins, including the 2014 Big Mountain Enduro Series Overall, 2nd in 2015 and winner of the inaugural Monarch Crest Enduro.
---
MENTIONS
:
@enduromtbtrainer
/
@yeticycles
/
@IONbike
---