Time to "Build the Base" For Next Season
By Dee Tidwell- Enduro MTB Training, Coach- Yeti/Fox Shox Factory Team
I love this time of year -- Thanksgiving, Christmas, New Years -- all great times to be had with family and friends. But as much as they are all favorites of mine, the other is knowing that it's time to start training for the upcoming season!
Here in Colorado, it's snowing and I like to say that every human being is similar to a snowflake; we all look the same, but each one of us is entirely unique. Keep this idea in mind when setting up your training plan for the winter. Just because your buddy does "such and such workout" doesn't mean that it may be best for you. Seek out the best fitting option for your needs and then stick to it. In fact, the best way to do that and get the uniqueness needed for your needs is to hire a coach. Hey! A Christmas gift to yourself!
Here are a few reasons why the "snowflake" approach is vital to your success on and off your bike.
The Performance Pyramid
...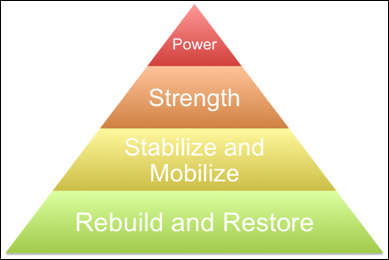 Within each of the four levels of the Performance Pyramid (PP), we can identify many things including each person's inflexibility, instability, immobility, weakness, and poor movement patterns. Since it's the beginning of the training year, we start at the bottom of the PP, focusing on the orange section, "Rebuild/Restore." Check out our full Pinkbike article
Part One
and
Part Two
for more insight on this section of the Performance Pyramid.
Remember, no matter the sport, you MUST become the best athlete your body has the potential to be. THEN you will be able to bring that athleticism to your sport. The better you can move on your bike, the longer you can do it, the more fun it is, the better you'll perform, and it's more likely that you'll enjoy riding into the latter years of your life.
Now as a coach, I agree it's important to build cardiovascular performance, however, I also believe it's imperative to consider how the body is functioning in order to create maximum efficiency and energy output.
So let's dive in.
Most of us know that December is a common time to begin preparing for the upcoming season. The most common method involves base training on the bike; in other words high volume, low intensity efforts.
This is important, and we do need to spend some time doing it, BUT…
Let's face it. Most mountain bikers have muscle flexibility, joint mobility, and stability issues due to injuries, repetitive stress (like the seated workplace), and trauma.
It's necessary to address these issues NOW, so you can create a good "movement capability base" in order to build a solid foundation, and subsequently muscle growth, strength and power, leading into the start of your riding or racing season.
This approach is not only proven with the world's best athletes, but every amateur rider as well.
How?
If you saw my last Pinkbike
post
with the "primal movement pattern" video, you'd know that the body is innately qualified to be good at:
1. Squatting
2. Lunging
3. Bending
4. Twisting
5. Walking/Running
6. Pulling
7. Pushing
Each of these movement qualities, if properly performed, will improve on-the-bike performance including:
1- decreasing the severity of injuries
2- creating longevity in the sport
3- improved skill acquisition and expression- more steaz!
4- sustained endurance
5- better posture on and off the bike
6- quicker recovery from trauma
7- an edge over your competition or buddies
They must be created and strengthened, but the theme amongst all of these movements is the foundation of solid stability, flexibility, joint mobility and posture.
Watch the video below and do the movements daily. Then do the video from my last Pinkbike post (
click here
) every other day as a workout for the next three to four weeks to begin "Rebuild"ing your movement prowess and "Restore"ing its flexibility, mobility and posture. AND, while doing those two things, yes, do some cardio training as well.
Dee Tidwell is the coach for the Yeti/Fox Shox Factory Race Team. You can reach him with questions at info@enduromtbtraining.com or
www.enduromtbtraining.com
---
MENTIONS
:
@yeticycles
/ @foxracingshox /
@shimano
/
@enduromtbtrainer
---