It is with much regret that I write this formal apology to Dave Weagle and Ryan Palmer of Bike Mag. This is likely the first bike launch that began with an apology, but considering the marketing blitz and sales potential surrounding 27.5, I thought it was crazy to launch a 29" bike. I had ridden other 29" bikes and they just didn't seem to fit our brand. At this point Dave confidently assured me we could build an aggressive short travel 29" trail bike that would rival the 26" Uprising's fun factor. I was nervous and skeptical, on one hand you can't deny the rolling speed and traction these monster truck wheels offer, but would we lose stiffness, agility and most importantly the FUN factor that is synonymous with our bikes.
Despite the excitement of holding 18 months worth of design and engineering work in my hands, I found myself trying to hate this bike, I thought I would ride it just long enough to sort out the shock tune then hand it off to someone more appreciative of the bigger wheels. To my surprise, after one lap on our local trails I had to deal with more than a few "I Told You So's". The bike was everything Dave promised and more, so I found myself confused and replaying past conversations in which I may have prematurely written off these bigger wheels. After finishing up my apologies, Luke Strobel and I took to the trails to find the limits of this unfamiliar machine. Over the coming year we mistreated this oversized outcast of the Evil family. If we were to truly adopt and accept this bike it needed to leave a smile on our faces. I can safely say, whether it was an epic XC adventure, slashing technical trails or the occasional jump line we have ended every ride with a smile.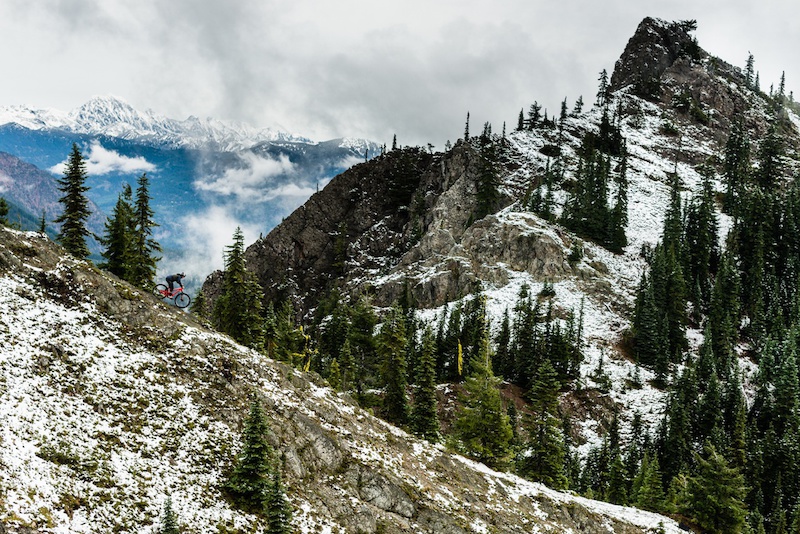 With that said, The Following was designed with FUN in mind and uses 120mm of progressive Delta System suspension in conjunction with 120-130mm forks to change its personality from aggressive XC to all-mountain styles of riding. I suppose you could call The Following a trail bike, but the lines between categories have become so blurred that we like to think this bike can handle all day epics to all-mountain shredding. For The Following project we moved to a well known carbon manufacturer that produces some of the best frames on the market and adjusted our suspension kinematics to allow the shock to move forward in the frame, eliminating the need for a shock tunnel. This cleared the path for state of the art carbon construction, which simplifies our manufacturing process while maintaining better control over weight, stiffness and durability. This also allowed us to simplify assembly by placing 15x24x7 Dual Row Angular Contact bearings in the swing arm and use a 15mm thru axle to connect the front triangle.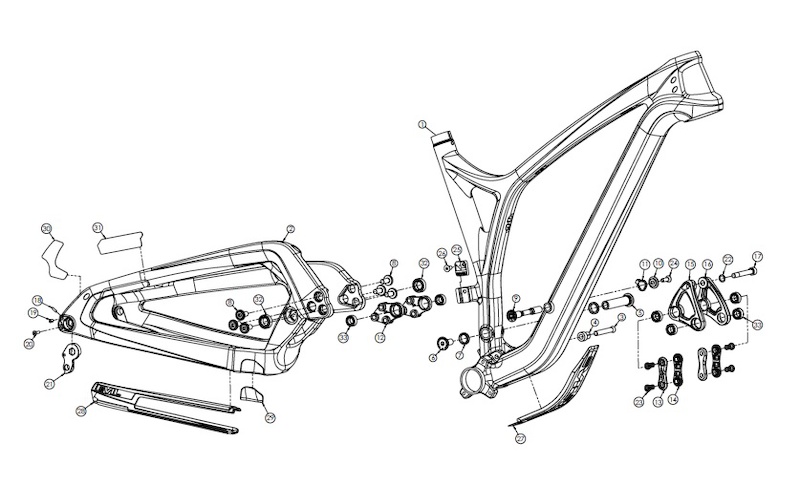 The Delta System linkage was also completely redesigned with a focus on simplicity, weight reduction and strength. We increased lateral frame stiffness with simplified forged dog bone links that use integrated bosses to connect the linkage and are secured with M8 bolts. The hardware has been completely rethought and simplified, so the frame can be easily disassembled and reassembled for routine maintenance in moments, which is something we are particularly proud of. Six 11x19x7 Dual Row Angular Contact bearings keep things stiff and running smoothly on the linkage while the 15x24x7 Dual Row Angular Contact bearings and a 15mm thru axle provide a stiff and durable main pivot. FlipChips are now mirrored for easy adjustment and are held in place with simple bolts that thread directly through the frame into the FlipChip.
We added internal routing for stealth dropper posts and front derailleurs. Rear derailleur and brake line are cleanly routed under the TT and the rear derailleur cable is routed internally through the swingarm. Plenty of clearance for 2.4" Monster Truck tires. The Delta System delivers the party in the back with a progressive spring curve that keeps you higher in the travel and maintains a playful feel through the entire stroke. Undoubtedly due to some Weagle black magic and complex number crunching, the Following feels like it has much more than 120mm of travel, which makes for a truly versatile bike that's shred ready out of the box.
- Kevin Walsh, owner, Evil Bikes
www.evil-bikes.com