fixedvic
Member since Dec 2, 2011

Male / 40
Victoria , British Columbia
Block user
Recent

Jul 9, 2020 at 17:52
Jul 9, 2020

Selling
Jul 9, 2020 at 17:50
Jul 9, 2020

Mar 27, 2018 at 15:37
Mar 27, 2018

Mar 16, 2018 at 19:25
Mar 16, 2018

Selling
Mar 12, 2018 at 0:21
Mar 12, 2018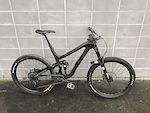 $3500 CAD
2015 Norco Range Carbon7.2 mechanic owned. I'm selling my Range to make room for a new Norco Sight. I've serviced the fork, shock and Reverb regularly, and just serviced all three as well as did a full overhaul of the bike. The chain and rear derailleur were just replaced, as were the brake pads, and shift cable and housing. I set the forks up with 3 volume spacers, and the rear shock with 5. I'm running a Cromag OSX bar (uncut) and a Pro Atherton stem (35mm). I've also just installed a new Chromag Trailmaster saddle. I just rebuilt the back wheel with new spokes and a new Sun Helix rim. The bike is set up tubeless with a brand new rear Minion DHR. This bike is feeling super dialed right now and I've maintained it immaculately. I'm just looking for something with a bit less travel as I'm not riding it to it's full potential. Feel free to contact me with any questions about the bike.

Jul 5, 2017 at 22:33
Jul 5, 2017

Selling
Jul 5, 2017 at 22:31
Jul 5, 2017

Selling
Jun 9, 2017 at 21:12
Jun 9, 2017

Selling
Jun 9, 2017 at 21:09
Jun 9, 2017

Selling
Nov 4, 2015 at 17:52
Nov 4, 2015
Load more...