fowler22
Member since Jun 18, 2012

Male / 35
Holliston , Massachusetts
Block user
Recent

Selling
Feb 6, 2021 at 12:06
Feb 6, 2021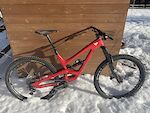 $2800 USD
2019 YT CAPRA CF Pro 29 Purchased Feb '20. Ready to ride as is, everything is working, bike was ridden hard for the last year and shows some cosmetic damage. Letting it go for so cheap since it has cosmetic damage. Mostly stock unless otherwise mentioned Lyrik Air spring bumped up to 170 with the new design that doesn't suck the fork down 5-10mm like the old one did. Fork stanchion is scratched (see pictures) but I have not had an issue with it and the last lower service went smoothly. Super deluxe shock. 160 rear travel. Bars cut down to 760 Rear wheel swapped for a Stan's FLOW S1, Minion DHR. Some wear on rear wheel. Drivetrain 1x11 GX with brand new derailleur and hanger. I just don't like eagle + find the 11 speed more reliable. Code RS brakes. The lever adjust is broken on the front brake (shown in photo) i never bother replacing it since it's in the spot I like E13 dropper. Super easy to service if needed. Frame has only cosmetic damage: I showed the downtube damage in the photos, but that is NOT frame damage, it's just the frame protector has started to peel in a couple spots.

Jan 11, 2021 at 8:02
Jan 11, 2021

Dec 23, 2020 at 16:08
Dec 23, 2020

Selling
Dec 23, 2020 at 16:03
Dec 23, 2020

Oct 28, 2020 at 9:39
Oct 28, 2020

Sep 10, 2020 at 6:22
Sep 10, 2020

Aug 13, 2020 at 13:26
Aug 13, 2020
The Best Tech From Lenzerheide DH World Cups
I guess the extra pressure on the system probably makes the bubbles smaller, allowing them to travel more easily through the brake lines more easily? That's my guess just based on bleeding experience and applying pressure via the syringe. Maybe someone who actually knows what they are talking about can chime in and correct me.

Apr 9, 2020 at 7:58
Apr 9, 2020

Apr 3, 2020 at 10:22
Apr 3, 2020
Now Finished: RockShox Ask Us Anything
@RockShox: Cool, looking forward to it. I'm convinced it's a non-issue anyway, just want to hear it from the people who know best. The SRAM service information for forks/shocks in general is awesome and one of the reasons I stick with RS stuff, would just be cool to see more info on this in particular.

Apr 2, 2020 at 7:23
Apr 2, 2020
Now Finished: RockShox Ask Us Anything
I would also like to see an official response to this, i.e. what the amount of "sag" one should expect just from the weight of the bike. There's a lot of information floating around MTB forums about this issue (and whether or not it even is an issue) but I would really like to see someone from SRAM/Rockshox comment on it directly to set the record straight. In particular, what are the potential issues this could be a symptom of, and how to diagnose if there is an actual issue or if some amount of sag is to be expected. Thanks.
Load more...