It's been a massive year for grassroots downhill racing in the South East of England. With races pretty much every weekend and many venues running their own home-grown teams and race series, this relatively flat corner of the UK is holding its own in producing great races and has a wealth of new talent, some of whom are just a few steps away from international recognition.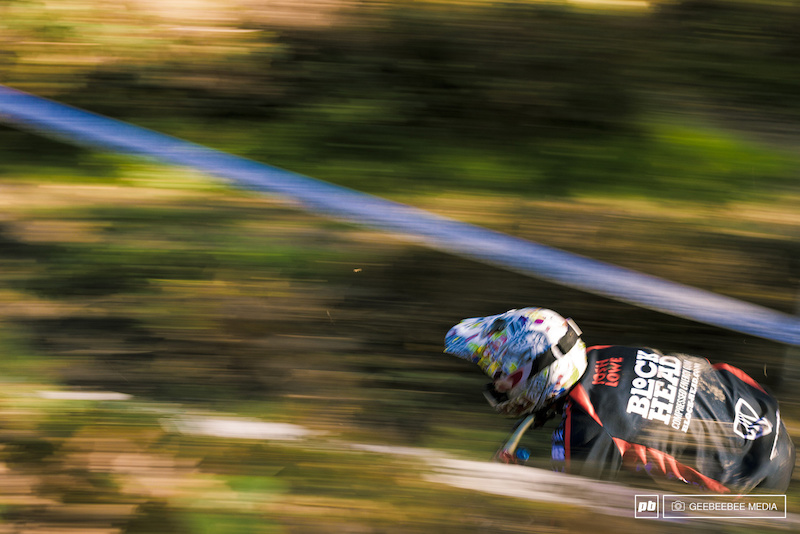 The PORC 2013 Downhill Race Series has been one of the most successful and well attended series over the last year in the South East, largely due to the efforts of Mike Joseph and his team, as well as support from a broad range of local, national and international sponsors. The last race of the series, held last weekend, treated riders to yet another new race line (seven different race lines have been used in the seven race series), and as the British autumn weather made sure, the riders were going to be entitled to a complementary Kentish beauty mud-mask!
| | |
| --- | --- |
| | They've worked really hard this year building a new trail for every round which have been great. Beginners improved massively through the year and it was still challenging enough to attract lots of serious racers too. Really good fun! Well done PORC! - Glenroy Martin, Team Aston Hill/Saracen |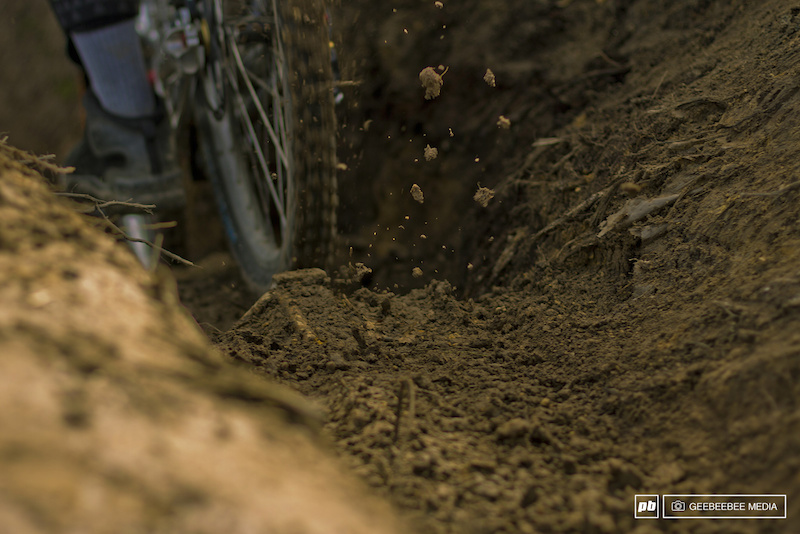 Racers were competing for both the race round win and for points towards the BTR Fabrications-sponsored
PORC Series Championship
, a new feature for PORC races, which helps to encourage riders to come back race after race for a chance to win not just points and prizes but a hand-crafted trophy thanks to the awesome workmanship of the team behind
BTR Fabrications
. Over 330 riders competed in the race series this year and it's thanks to the track builders and race organisers that riders kept coming back to earn points and experience.
| | |
| --- | --- |
| | When Mike Joseph approached me to help and to sponsor the 2013 PORC race series I was absolutely stoked on the idea. Not only would there be seven rounds but also an overall championship to compete for. The series didn't disappoint at all. With each round being better than the previous one. PORC really stepped it up another level with the rest of the local race organisers struggling to catch up. Team-wise, they all agreed that it's the best organised. Best tracks, best prices and by far the most enjoyable series ever - Jors Opperman, Team Manager, Team Whisper Bikes and PORC Series sponsor |

The seventh and final race line was a mixture of flowy jumps in the top section, a substantial rock garden with drops and technical turns in the mid-section and a series of gaps, a root garden and off-camber turns in the last section. Coupled with the saturated dirt from the constant rain over the previous days, riders had to be fit enough to pedal through the tacky sections to maintain their speed through the technical ones. The race line through the rock garden in the mid-section was opened up so riders were given a variety of line options, some requiring more cunning whilst others requiring pure guts. Unfortunately for some, despite managing to get through the rock garden, they came a cropper in the tight and steep left-handed corner soon after. Riders who got this section wrong from the start in the rock garden entry-point, found themselves in the wet bracken outside the tapes!
| | |
| --- | --- |
| | The PORC Race Series is a great race series to get involved in. The atmosphere there is always nice and relaxed which always makes for an enjoyable day. Mike Joseph as well as other volunteers have spent a lot of time and effort really improving the tracks which leads to even better racing. The crowd is always friendly and supportive of all riders and especially the younger riders who seem to get even more support than the fastest rider of the day! It's an event that encourages new riders to give racing a go and gets them involved in the sport as well as giving the experienced racers a chance to battle against others and push themselves - Sam Brightman, Intrepid Apparel/Transition Bikes |

| | |
| --- | --- |
| | It's been great to see PORC embrace its own race series this year, they have put a lot of effort into it and was great to be a part of. It was awesome to see more new faces in the women's category and I hope to see more next year! Job well done! The start of progressing women's racing in the South East? Lets hope so! - Suzanne Lacey, Team Aston Hill/Saracen |
Spectators lined the course at key vantage points and a wealth of photographers positioned themselves around the big jumps sections further down the race line, all keen to see the 90-strong field plough through the mud. With the track so treacherous, riders struggled to gain the speed required to clear the jumps, so it was down to their skills - and their suspension - to see them safely to the finish line.
The usual suspects, Josh Lowe and Glenroy Martin - who both competed in Europe as well as the British National Series this year - were up against fresh competition in the form of French World Cup, iXS, EWS and Crankworx Air DH racer, Ludovic Oget on his Zerode. With less than a second splitting the top three in overall times, all the riders knew that any slight wobble over the slippery mud or huck to flat in the mid or lower section was going to destroy any advantage gained in the top section. The last run of the day was all or nothing for most riders as their previous runs had been scuppered by slide-outs or out-the-front-door moments and to spice things up even more, the heavens opened, which led to rivers flowing down the beaten-up track. With true grit, the riders continued and eventually the clouds moved on, leaving spectators to bask in the afternoon sunshine of the Kent countryside. With the last riders down, the race, the day and the series belonged to local rider Josh Lowe who managed to fend off the threat of losing the last race of the season to the new challenger, narrowly beating him into second position.
| | |
| --- | --- |
| | The PORC Race Series was the first ever race series that I competed in. It's a great place to start and it's fantastic to see so many new and young riders there. The level of riding in the South East is growing, and I think it's brilliant that PORC holds this race series to help all these riders get into the sport. It's always a tight and exciting race with a friendly vibe! - Josh Lowe, Team Blockhead Energy/Trek and 2013 PORC Championship Winner |
Final round results:
Overall and Senior Men:
1st Josh LOWE, Blockhead Energy (Senior Men), 0:42.74
2nd Ludovic OGET, Ryde/Dagg Racing Team (Senior Men), 0:43.25 (+0.51)
3rd Glenroy MARTIN, Team Aston Hill (Senior Men), 0:45.04 (+0.59)
4th Brett WHEELER, Muc Off/KORE (Senior Men), 0:43.93 (+1.19)
5th Grant MARTIN (Senior Men), 0:44.80 (+2.06)
Master Men:
1st Tim KEMP, 0:45.84
2nd Jay SHAW, Team PORC/Whisper Bikes, 0:46.27 (+0.43)
3rd Gary NORTH, Team PORC/Whisper Bikes, 0:47.25 (+1.41)
Veteran Men:
1st Guy THERON, Team Whisper Bikes, 0:47.68
2nd Neil KEM, Team Adoniz, 0:48.45 (+0.77)
3rd Philippe DA SILVA, Ryde/Dagg Racing Team, 0:52.90 (+5.22)
Women:
1st Lucy DRESS, Team PORC/Whisper Bikes, 0:55.90
2nd Rachel DYSON, Sketchy MTB, 1:23.06 (+27.16)
Junior Men:
1st Macaulay FRIEND, Team Whisper Bikes, 0:48.11
2nd Matt COOPER, Team PORC/Whisper Bikes, 0:48.11 (0.00)
3rd Sam ROGERS, 0:49.13 (+1.02)
Youth Men:
1st Oli EVANS, 0:46.11
2nd Scott WILLIAMS, 0:50.11 (+4.00)
3rd Alfie KILLNER, Team Aston Hill, 0:52.61 (+6.50)
Juvenile Men:
1st Jordan BEIGHTON, Chelmsford Youth Cycling 0:49.17
2nd Thomas DAVIES, Kona Grass Roots/Crank Cycles 0:49.32 (+0.15)
3rd Josh MEAD, 0:49.82 (+0.65)
Young Ripper:
1st Lucas MEAD, 1:18.14
2nd Jett JOSEPH, BTR Fabrications/PORC, 1:28.21 (+10.07)
3rd Jack DRISCOLL, Musn't Grumble, 1:34.14 (+16.0)
Hardtail:
1st Paul BURFORD, BTR Fabrications, 0:48.87
2nd Shaun WREN, 0:52.81 (+3.94)
3rd Ryan HICKS, 1:14.16 (+25.29)
Thanks to the riders, spectators, medics, marshals and all the sponsors for their unfailing support and making our grassroots racing such a huge success: Downhill Freeriders, BTR Fabrications, Juice Lubes, Whisper Bikes, geebeebee media, Moose Cycles, Hope Tech, Mucky Nutz, Monster Energy UK, Kenny Racing, Madison UK, ii10photo.com, Southcoast Suspension, Drift Cycles, Miles Professional Brake Components, ZAGWAY, High5 Sports Nutrition, MRF Photo&Video, Schwalbe, SHIMANO, DaveHaywardPhotography and MIKROTIME.
Full final round results can be found at:
Mikrotime
.
Championship results can be found at:
PORC Series Championship
.
Catch up with PORC via the
Facebook page
.