2017 is turning out to be quite a season. With Greg Minnaar (the Greatest Of All Time—GOAT) schooling the rest of the field in how to tame a mountain last weekend, the downhill circus motors across the European continent to Leogang in Austria, for the third instalment of the UCI DH World Cup this Sunday.

While one G.O.A.T shines, another licks their wounds. Rachel Atherton had to have her shoulder popped back in track-side after taking a tumble in the treacherous woods during Sunday's practice at Fort William, leaving her unable to race, and putting an abrupt end her incredible winning streak.

Elsewhere, riders from down under shone brightly, with Tracey Hannah making the Fort William course look easy (and being notable in being able to clear the big motorway tables near the finish line as if they were mere bumps in the road), and in the process, taking the win in Elite Women. Her countryman, Jack Moir, succeeded in achieving his best Elite Men's result ever, taking second place behind Minnaar and in front of Aaron Gwin. Advance Australia Fair.

---
Like a fine wine, Leogang's World Cup track gets better with age. For too long it was the leading light of the 'bike park' style track, but with some major adjustments over recent years, the track is maturing, with plenty of tricky technical features on offer that will test the riders' abilities, especially in the wet.
The track was first used by the UCI for DH World Cups back in 2010 and has been used ever since, excluding 2012, when it was used as a World Championship track. Open to the public all year round under the moniker, 'Speedster', this 2,524 metre-long World Cup track is only a few paces short of last weekend's track.
Most of the track weaves down and along the mountainside in the open, making it a great venue for spectating. It's super fast and full of tables which could be a pleasant relief to some of the riders who reached their limit on the endless technical rock gardens and root sections at Fort William. With a few sections in the wood, on bright sunny race days, riders will have to cope with the extreme changes of light as they enter the dense pine forested sections full of drops and off-camber exposed roots. Tough going at any time but at speed, it's even more demanding on skill and fitness. The final section of the course features a big fade-away (should I mention #TapeGate?), with the run out zig-zagging across the freeride park and into the finish corral. It's an impressive natural amphitheatre.
---
Last year saw a weekend of heavy rainfall which brought a massive challenge to the riders for qualifying on Saturday. Rachel Atherton secured pole position despite suffering from an elbow injury that saw her out of contention at Fort William, Tahnée Seagrave took second spot, with Manon Carpenter in third. In the Elite Men's, the weather closed in and the rain factor got dialled to 11.
With Mother Nature throwing its worst at the Austrian hillside, Aaron Gwin proved he was just as capable in the mud as in the dry and secured the spot to be the last man down the hill on race day. A few people were caught by surprise when young-gun Loris Vergier took second in seeding but after catching up with a tangled Rat in the bottom section, he lost valuable seconds. Next in line was Mike Jones, Danny Hart, and Greg Minnaar, all finding it tricky in difficult conditions to make their flow stick throughout their time on track.
Come race day, we saw the track drying out, leaving most riders struggling to remember what it was like to ride Leogang in the dry. With little to no training on a tacky track since practice on Friday, those fast on their feet took the initiative, including the likes of Troy Brosnan, who kept the hot seat warm for a while. It wasn't until Loris Vergier that Brosnan was displaced, leaving the crowd and Vergier looking up to see whether Gwin could put down a perfect run. Gwin had a point to prove. Not content with managing to get down without a chain the previous year, Gwin set to his task and his blistering time saw three seconds between him and Vergier at the finish line, handing him the victory.
Meanwhile, in the Elite Women's race Rachel Atherton secured her 10th back-to-back victory, bringing her grand total at that time to 30 career wins. Tahnée Seagrave overcame her elbow injury to take second place but with a five second deficit between herself and her fellow Brit. Miranda Miller was the surprise third placed finisher.
---
---
---
Tickets at Leogang are reasonably priced, with €15 getting you entry on the day of the race. Tickets with (limited) gondola access are €22, and there are other options available, including VIP passes and weekend passes. For more information visit the Saafelden Leogang ticket page
here
.
---
---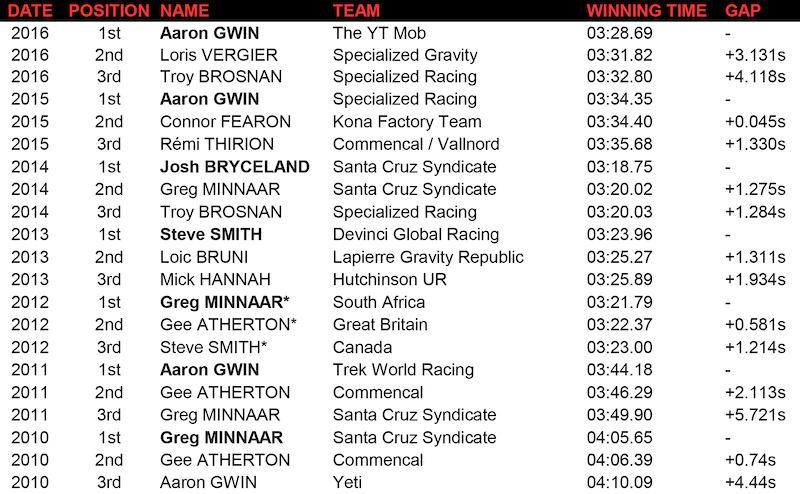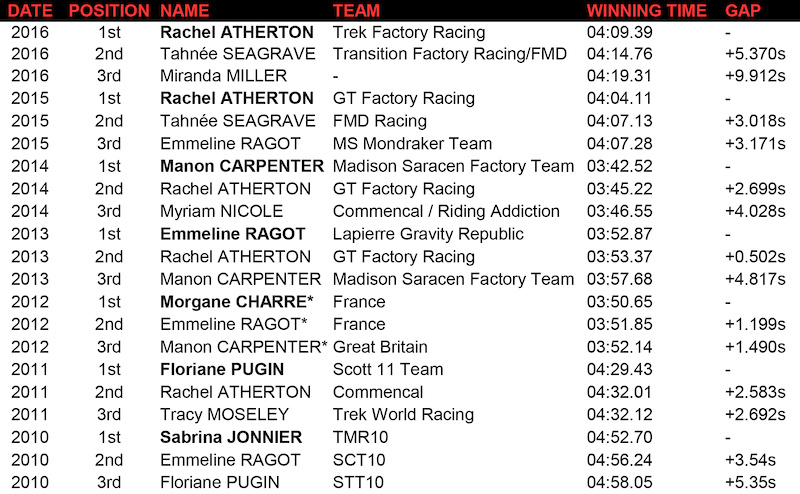 Note * denotes World Championship year.
---
Pinkbike will be providing you with the best daily coverage from our awesome team of photographers and tech wizards in Leogang this week. There'll be the usual eye-candy photo epics from the track walk on Thursday, practice on Friday, qualifying on Saturday and finals on Sunday, as well as a smattering of tech reports throughout. For a full rundown of the schedule, check it out
here
.
A full schedule is available to download here. For the Elite Women and Elite Men finals, you can watch the action live on Red Bull TV or via a local broadcaster (e.g. The Bike Channel in the UK) from 13:00 local time/CEST on Sunday 11th June (12:00 BST // 04:00 PDT // 07:00 EDT // 21:00 AEST // 23:00 NZST).
---
MENTIONS
:
@fraktiv
/
@natedh9
/
@davetrumpore
/
@YTIndustries
/
@trek
/
@TransitionBikeCompany
/
@tahneeseagrave
/
@paulaston
/
@ms-racing2
/
@Specialized
/
@redbullbike
---