The 4th annual Asia Pacific Challenge took place a couple of weeks ago in Bandung, Indonesia and Dan Atherton (GBR/GT Bicycles) proved that he can still race a downhill bike. Atherton pedalled his way to victory ahead of teammate Marc Beaumont and American Specialized rider Mitch Ropelato in third. Neko Mulally was 5th and Brendan Fairclough went down on the race course / slip n slide mid run and was out of the top 10. He did through down a huge Nac Nac over the swampy finish line jump however that got the loudest cheers of the day from the huge crowd.
<Deleted photo>
<Deleted photo>
<Deleted photo>
<Deleted photo>
The results, fresh off the timing system.
This event wasn't so much about the actual race however as it was, in Dan's word's, "bringing mountain biking to the people." For most of us, it was also about the experience. How many opportunities do you have to go to South East Asia, ride bikes, surf and white water raft? This trip was worth a lot more than the sum of it's parts. Except for the baggage fees... ask GT mechanic Polish Pete about them.
<Deleted photo>
The crowds in Bandung were massive and seemed to not mind the 2+ hour commute to the city every day... all 20km of it. The entire country seemed like one big traffic jam from the moment we all arrived in Jakarta at the airport, until we left Bali 10 days later. Add to that the monsoon like rains we experienced on all 3 days, and you wouldn't have had a single fan here in North America; in Indonesia the fans flocked to the venue for a chance to get a photo and autograph with Brendog, Mitch, Neko and the GT boys.
<Deleted photo>
<Deleted photo>
<Deleted photo>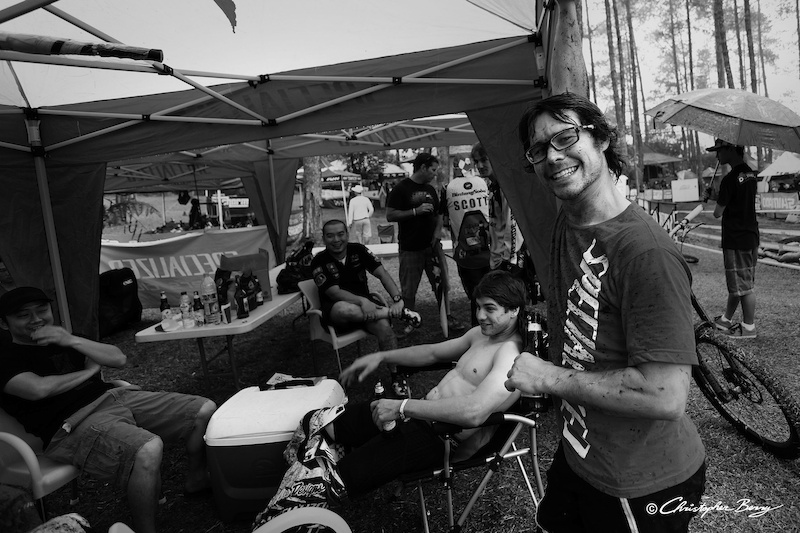 You know it's a good day when even the trip photographer can borrow a bike and a helmet and get some laps in! Smiles all around, even in a monsoon.
The race track itself was fairly mellow until the rains came. A mini bobsled track with a few roots some fun jumps and one small stepdown. Once the rain came however, it was turned into one long skating rink as the clay based dirt turned to ice and made for a few wild runs.
<Deleted photo>
<Deleted photo>
<Deleted photo>
When there's 30 hours of travelling involved, it's hard to convince a professional athlete to leave home when they just got back after a season on the road. In Indonesia it seems fairly simple, offer a 5 day trip to Bali post event. Brendog even put off his knee surgery to go on this one.
<Deleted photo>
<Deleted photo>
We all crammed our way into the craziest airport any of us had ever been to in Bandung and hopped on a 90 minute flight to Denpesar, Bali. The small Island off the Eastern tip of Java is legendary for legendary surf breaks, mega parties, Australian tourists and really sketchy drinking water. Oh, and scooters. For an island of 3 million people, there is over 1.5 million scooters. They are everywhere; sidewalks, alleys, roads, lawns - you name it.
<Deleted photo>
<Deleted photo>
<Deleted photo>
<Deleted photo>
<Deleted photo>
<Deleted photo>
<Deleted photo>
A week of playing tourist, white water rafting and surfing was in order and United bicycle showed us all a great time on this trip. From the race to the food to the activities - Indonesian hospitality was at it's finest. Everyone walked away with a smile on their face and not a sign of Bali belly, a pretty extraordinary feat considering. If you're looking for a fun event to head to on your downhill bike, and an epic vacation afterwards, this event is highly recommended.
<Deleted photo>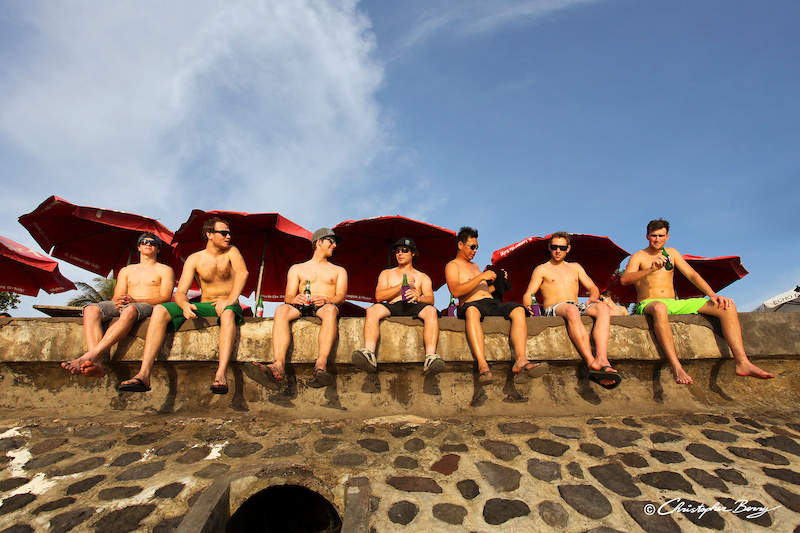 Until next year, Bali!
And yes, this report contained both Go Pro and Iphone images as the horrendous weather managed to kill a pair of Canon 1D MK4s for a few days until they dried out! Additional photos by Christopher Berry.