gdumont
Member since Oct 2, 2017

Male / 50
Leeds , United Kingdom
Block user
Recent

Jun 25, 2022 at 3:36
Jun 25, 2022

Selling
Jun 25, 2022 at 3:35
Jun 25, 2022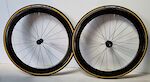 $380 GBP
Used but in very good condition, DT Swiss 240 carbon wheelset. https://photos.app.goo.gl/y36eGe8QyCJbp7VS8 DiCut hubs 20/24 hubs laced to 50mm Stren carbon rims. Shamans 11 speed freehub. I have owned these from new since they were hand built for me by https://www.jimthewheelbuilder.co.uk/, approx August 2020. They are superbly fast wheels, sufficiently aero and stable in wind. I don't race on the road anymore, but they have helped me win the non-aero prize in a local TT! I have only ridden them during summer since building, and mostly in the dry. The front hub is still silky smooth, and the rear still turns nicely. Neither will need new bearings for a while. The wheels were trued in the past 2 months. The condition of both rims is excellent. They have the usual blemishes and imperfections expected, the odd tiny scratch and mark, but nothing that goes below the surface of the carbon. Stren are a reputable manufacturer (used by Wheelsmith UK) and although they might not be finished as nicely as Enve, etc are very good value rims and dependable. Spokes are Sapim CX-Ray (I think!). Without tyres I would say they weigh about 1400g. I'll throw in the Vittoria tyres and tubes, which have plenty of miles left in them. I have some allen key, or QR Cero skewers. Wheels will be suitably packaged in a wheel box and sent within a few days, tracked and insured. Any more pictures, or questions, please let me know.

Selling
Jun 25, 2022 at 3:32
Jun 25, 2022

Selling
May 2, 2022 at 1:09
May 2, 2022
$350 GBP
I'm looking for a carbon XC hardtail in excellent condition, must be 148mm rear. Preferably 30.9mm seatpost. Looking to pay around £300-350 I'll collect within a hour or so of Leeds, or pay for postage within UK. Thanks! PS...still looking as of end of June 22

Jun 13, 2021 at 11:43
Jun 13, 2021

Jun 13, 2021 at 1:29
Jun 13, 2021

May 31, 2021 at 1:21
May 31, 2021

May 22, 2021 at 4:39
May 22, 2021

May 14, 2021 at 13:00
May 14, 2021
Tech Randoms: Nove Mesto XC World Cup 2021
@hllclmbr: I doubt it. I ride both wide bars and narrow road bars 8-10 hours a week and don't notice any difference ever. Surely your rib cage stays in the same shape almost all of the time, and your lungs occupy the same space?

May 8, 2021 at 5:40
May 8, 2021
Load more...