gnar-shredderz
Member since Sep 3, 2016

Male / 23
Waldwick , New Jersey
I like smashing gnar
Block user
Recent

Dec 8, 2022 at 8:45
Dec 8, 2022

Selling
Dec 8, 2022 at 8:45
Dec 8, 2022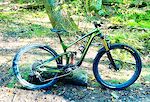 $1999 USD
Here is my reign advanced pro 29 frame. Comes with a -1 degree wolf tooth headset. With a 170mm fork, it is 63.5 degrees. I have only ridden it for half a season. Will come with a second rear triangle and rocker link. W/O shock is $1999, with a shock is $2300. The shock on it is brand new(2023 rockshox super deluxe coil ultimate). Message me if your interested

Dec 2, 2022 at 4:31
Dec 2, 2022

Dec 1, 2022 at 10:02
Dec 1, 2022

Selling
Dec 1, 2022 at 10:01
Dec 1, 2022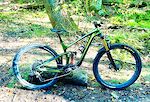 $3500 USD
Here is my custom 2022 Giant reign 29. This frame was a left over from the previous year. I have two shocks with it, one of which is over stroked to get 157mm of travel(RS coil ultimate) in the rear, and the other is stock 146mm(RS Super Deluxe+Megneg). The parts spec is as follows: Frame: Advanced-Grade Composite front and rear triangles Chameleon Saturn Fork: 2022 Fox 36 Factory 170mm Shock: 2023 Rockshox super deluxe coil ultimate/Super deluxe+Megneg(Additional $150 with both shocks) Headset: Wolftooth -1 degree headset (Head angle measured to be 63.6 degrees) F wheel: Stock Giant 29in R wheel: Custom raceface vault hub + raceface arc-HD, 32 hole Cassette: Sram X01 10-50t Chain: Sram GX Cranks: Truvative Descendent Derailleur: Sram GX Lunar Shifter: Sram GX Brakes: Hayes Dominion A4 Dropper: Oneup 175mm Handlebars: Stock Giant aluminum cut to 765mm Stem: Stock 40mm Grips: PNW Loam-grips For an additional $300, I will include another rear triangle and another rocker link. If you have any questions, please message me!

Aug 21, 2022 at 14:12
Aug 21, 2022

Selling
Aug 21, 2022 at 14:12
Aug 21, 2022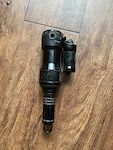 $160 USD
Here is my rockshox super deluxe select plus with a megneg aircan. Was a back up shock for me and got very minimal hours. If your interested, let me know!

Selling
Aug 21, 2022 at 14:09
Aug 21, 2022

Aug 5, 2022 at 15:32
Aug 5, 2022

Selling
Aug 5, 2022 at 15:31
Aug 5, 2022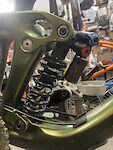 $250 USD
205x65. Serviced 2 months ago by Gearwork suspension. I don't have many miles on this shock. Buyer pays shipping
Load more...