Pedals get no respect. If they do their job well, you don't notice them, but they still deserve your reverence. They're arguably the most important point of contact on your bike—sorry, grips; sit down, seat—but they're often where we save a few bucks by not getting the good stuff, and it's even easier to scrimp when it's for a kid's bike. But is that a good idea?
There have always been two trains of thought when it comes to pedals: Buy the cheap stuff, bash them for a few months, and then get another set of disposable platforms; or splurge for the good stuff that should work better for longer, but that can also sting your wallet as much as your shin. If you value pedal performance enough to spring for the premium price, that's a personal decision. But what about the groms who don't yet have the experience to make the comparison, or even the ability to articulate the nuances of their opinions? So, is it worth getting 'the good stuff' for a kid's bikes?

Now, we're not talking about the kind of kid's bikes that you get from your local big-box store, branded with the latest Star Wars, Marvel, or Pokemon characters. Instead, we're talking about the latest generation of performance bikes that now come in smaller sizes, machines that can handle laps in the bike park or tagging along with parents as they hit their regular trails.

Sadly, most of the new generation of full-suspension kid's mountain bikes come with terrible pedals. However, some manufacturers have stepped up and now offer small-platform versions of their high-end adult pedals, including Chromag with their Radar pedals and Spank's Spoon 90 pedals, both of which we tested over an entire season. So how did these pedals stack up? The short answer is that they performed well. Seriously, upgrading pedals is one of the easiest things you can do to a grom's bike, and it has an immediate impact on their confidence and riding.
But which pedal is the best for them?
Spank Spoon 90 Pedal
While some manufacturers offer different pedals with different platforms sizes, Spank offers their Spoon pedal in three versions. The smallest of these, the $95.00 USD Spoon 90, measures 90mm x 105mm and is intended for the grom who rides bigger than their stature. The alloy body is home to twenty pins per pedal (ten per side), and they spin on a combination of sealed bearings and IGUS bushings. Two other size options are available as well: the Spoon 100 and the Spoon 110, both of which offer a larger platform size.
Spoon 90 Details
• Platform size: 90mm x 105mm
• Height: 12mm (16mm concave)
• Material: extruded, CNC alloy
• Twenty pins per pedal
• Axle: chromoly steel
• Sealed bearing/IGUS bushing
• Weight: 360 grams (pair)
• MSRP: $95.00 USD
•
www.spank-ind.com
Chromag Radar Pedal
Chromag's entry into the pint-sized pedal game is no slouch, either. Using what they've learned over the years with their Contact and Scarab pedals, Chromag set out to create something with the same performance but in a much smaller package, and the result is the $96.00 USD Radar. The Radars employ the same internals as Chromag's adult-oriented pedals, but the 70mm x 93mm package is intended for riders with smaller feet. They also feature custom pins that can be adjusted to best suit the rider's needs.
Radar Details
• Platform size: 70mm x 93mm
• Height: 13mm concave
• Material: CNC alloy
• Twenty four adjustable pins per pedal
• Axle: chromoly steel
• Weight: 300 grams (pair)
• MSRP: $95.00 USD
•
www.chromagbikes.com
The Testers
The testers, all of whom range in age between seven and twelve years old, are from Whistler and North Vancouver and possess vastly different ability levels. In order to properly assess the impact premium pedals would have on a rider, a crew of testers was assembled who could really put them through their paces. This included more than twenty races (some enduro and cross-country, but mostly downhill events), and they've spent at least one hundred and fifty days in the bike park.
All told, it's not out of line to equate the last year of combined testing to about five years of normal use.
Performance
Proper sizing of a flat pedal is a point of great debate. Some like a large platform, while others want just enough room to be able to turn the cranks but not so much that they're more likely to be clipping roots and rocks. Regardless of preference, everyone will agree that small feet are not a great match for full-sized adult pedals.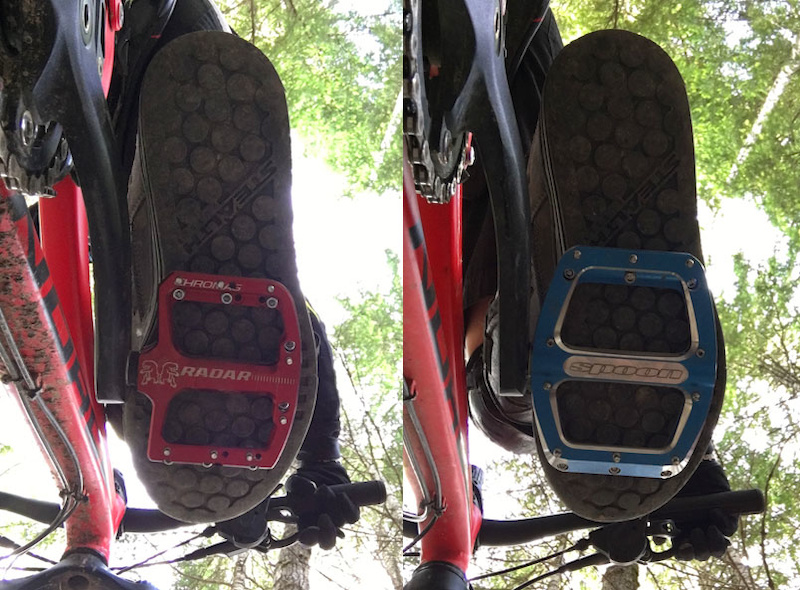 Side-by-side comparison of the platform size with a size five shoe.
In this showdown, it's the Spoon 90s that are the larger of the two. Both offer a low profile, but the Spoon 90 is just a hair thinner. So, which comes out on top? Well, that's completely up to the size of the foot they'll be supporting. Larger groms will appreciate the bigger platform of the Spoon 90s, but that same sizing might be a bit too much for kids on smaller 20" and 24" wheeled bikes who might not have their timing perfected quite yet.
For kids who wear a size five shoe or larger, it's going to be the Spoon 90s that makes the most sense. But for those who have smaller kicks, the Radars are the ones to go with. It should be noted that while the Chomag Radars might be more appropriate for smaller feet, a trailside non-scientific experiment showed that the relative size of size five shoes on Radar pedals was roughly the same as this writer's size thirteen shoes on Chromag's Contact pedals. That means that even the smaller Radars will last a growth spurt or two.
This is purely subjective, and both the Spoon 90 and Ranger pedals have looks based on their larger siblings and come in different colors. The Spank pedals come in four colors, and Chromag offers the Rangers in five different colors options - both can be had in red, black and blue, but if you're looking for orange, green or purple, your brand decision will be made for you.
Both pedals feature chromoly axles, replaceable bearings, and a concave profile, although the Spoon 90s have a slightly more concave shape to them. Due to their larger size, the Spoon 90s also weigh 60-grams more.
The biggest difference between the two comes down to their pins. While the Spoon 90 is no slouch with twenty pins per pedal, they don't come assembled. That's not a huge deal, but prepare yourself to spend a fair bit of time with a tiny hex key and a tired wrist before the pedals are ready to go.
On the other side of things, the Radars come pre-assembled. But that's not where it ends. They have sixteen pre-installed pins per pedal but can take up to twenty-two pins depending on your grom's preference for grip and position, making them more adaptable than the Spoon 90s. In addition to the option custom placement, the pins themselves have the same feature common to all Chromag pedals—they have a shear point that keeps things from getting messy if they do happen to smash into a rock.
The difference in grip that both of these pedals offer compared to generic OEM pedals can't be understated. In fact, our younger testers found the pedals too grippy. This is likely due to the fact that it's a big step to go from regular pedals to something with more performance in mind. One feature offered on the Chromag Radars really stood out here: the Radars come with spacers on each pin, and the depth of these spacers is close equal to the length of the pin beyond an engineered shear point, or a place where the pin is meant to break when under stress. In the adult line of Chromag pedals, this ingenious little feature lets users simply remove the spacer on a pin to have it back to regular length, an operation that can easily be performed trailside if needed.
For the pint-sized rider, these spacers add the extra advantage of letting users run much shorter than normal pins by using two spacers per pin. The photo below shows the variety of pin lengths that can be used on the Radar pedal. We ended up preferring the shorter pin options for our smaller testers, and they found it to be a great feature, especially when taking the big step up from OEM pedals.
Chromag's adjustable height pins may be a minor yet nice-to-have feature on full-size pedals, but it's absolutely genius for smaller riders. The Radar pedals win this round.
Groms are rough on equipment, and just by the fact that they're closer to the ground, they're particularly hard on pedals.
So how well did the test pedals hold up? Flawlessly, it turned out. Both the Radars and Spoon 90s were used and abused up to and beyond any adult level. They were run into roots, clipped against rocks, rubbed against pavement and much more, but both sets came out the other side relatively unscathed and even looking pretty good, especially once any damaged pins were replaced.
Which Pedal is the Winner?
So, is it actually worth getting premium pedals for small riders? Biking is a very expensive activity, one that's only made more expensive when you're trying to outfit someone who grows out of their bike every few years. A bike park-worthy full-suspension kid's bike starts at around $2,000 USD, so it's tempting to look for ways to keep the costs down. But do good pedals merit the extra $120-ish dollars that you'll have to lay out? No question, it's an emphatic 'yes' in my mind.
Watch a kid ride on some technical terrain that's right at the edge of their ability and you'll notice that they struggle a bit more to keep their feet on the pedals compared to an adult rider. This is likely because they don't have the upper body strength and put more weight on their feet to compensate, not to mention the fact that their light frames are easier to buck off the bike. When we introduced the new pedals to our two smallest testers, there was an almost immediate improvement in their riding. I'm sure that some of that had to do with the performance of the pedals, but that increase in performance also lead to a massive increase in their confidence—they began to trust that their feet would stay where they wanted them to.
There's also the safety factor to consider, of course. If you've read this far, we'll assume that you're either a parent or someone who rides with kids a fair amount. Just think about how many of their bails have stemmed from feet coming off pedals. A good set of pedals isn't going to eliminate the issue, but it is going to make it a less common occurrence, which can only lead to fewer ejections. The cost of a set of premium pedals is a small price to pay for that kind of immediate confidence, and if those pedals lead to just one less bail, they're more than worth it.
Pinkbike's Take:

About the Writer
Grom Patrol is a collection of mostly parents of kids who don't see much coverage of ripping kids in non-traditional sports like DH biking, snowboarding, etc. Passing on the stoke.
grompatrol.com