guildenstern
Member since May 3, 2011

Ottawa , Ontario
Block user
Recent

Apr 2, 2017 at 9:58
Apr 2, 2017

Selling
Apr 2, 2017 at 9:56
Apr 2, 2017

Selling
Apr 2, 2017 at 9:52
Apr 2, 2017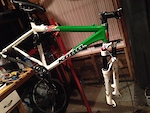 $100 CAD
For sale is my 2009 Kona Kula Deluxe scandium 26er frame. This is a crazy light race frame that has seen very little use. It was used only for racing and only saw about 20 hours of use. It is in perfect condition. The size is 17 inches with a horizontal top tube length of about 23 inches. The frame is stiff, fast, and light and has modern angles, with a 69 degree head angle with standard 100mm fork. A truly great frame at a great price. I am firm on price. Fork in photo is not included. If you need a fork and headset, we can talk about some stuff that I have that are compatible with the frame.

Nov 10, 2016 at 5:07
Nov 10, 2016

Apr 28, 2015 at 19:48
Apr 28, 2015

Selling
Apr 28, 2015 at 19:46
Apr 28, 2015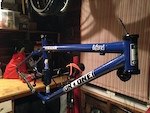 $125 CAD
For sale is my On-one 456 Inbred frame. Chromoly tubing. 16 inch c-to-c seat tube. Has been used a spare frame / spare bike for the past 4 seasons. Truly fun frame to ride. This is the 456 model, and not the more xc oriented Inbred. Geometry is designed to be run with a 4 inch, 5 inch, or 6 inch fork. Some scratches on the frame covered with touch-up paint, but no dings and no crashes and no rust at all. It was used sparingly and has been treated with frame saver. Geometry details are below: Seat tube: 16 inches Effective Top Tube: 23.5 inches (best run with a short stem) Chain stay length: 16.5 inches Stand-over: 30 inches (with 140mm fork) Head angle: 68 with 100mm fork; 67 with 120mm fork; 66 with 140mm fork Price is $125 with Cane Creek headset. $100 without headset.

Aug 10, 2014 at 20:37
Aug 10, 2014

Selling
Aug 10, 2014 at 20:26
Aug 10, 2014
Load more...