An outline explaining why Downhill Mountain Bike Racing is the greatest sport in the world, and why all others are inferior to it.
Many people, especially those studying Kinesiology, frequently participate in the debate that asks the question, "What is the greatest sport in the world?" As a somewhat opinionated person I believe that regardless of the activity/sport at hand, the question of the greatest sport is always relative and specific to the reasoning that the person who gives the answer can provide. As I sit here listening to some Disturbed, I know without a doubt in my mind what I believe to be the greatest sport in the world. Because of specific reasons I will outline why hockey, football, basketball, baseball, golf, rugby, lacrosse, volleyball, soccer, and cricket are ALL inferior to the majority of extreme sports and in particular Downhill Mountain Bike 'Racing.'(DMBR)If your favorite sport is in the possibly never ending list that does not include DMBR let's hope you're a faithful participant, because I attempt to shed light on the futility of your chosen "hobby." So, to start off I should probably answer the question regarding why I am not a fan of ANY team sports. Believe it or not I have more reasons that I could add to the list.
1-Not every player is directly influencing the outcome at every moment.
A team can still be successful at their goal, "winning," even if the players are not participating at the absolute limits of their abilities. Just think of a hockey team, it is true that hockey is a quite intense sport and needs all its team members, but in reality there is only one puck in the game. That means that at any point in time there are only 1 or possibly 2 people that have the direct ability to change the outcome of the game (by scoring). That is the same with other sports like soccer, volleyball, rugby, and lacrosse, don't even get me started about baseball or football. So in reality in a hockey game, a team can only ever be working at 16 percent of their maximum ability to perform, because there are always 5 players that do not have a direct influence on the outcome. (This isn't even taking into account the numerous useless bench warmers).
2-Team sports are also often "closed sports."
What I mean by the term closed sport is any event where the circumstances of the arena or setting remain constant. That means that where ever you go all hockey rinks will be flat ovals, all basketball courts will be flat rectangles with a basket 10 feet off of the ground, and that a soccer, lacrosse, or rugby field will always be relatively the same dimensions with little exterior influence. The disadvantage to a closed sport is that it is much like learning addition over and over again. You might get better and better at it as your life goes on but your still just adding numbers! Obviously sports like rugby, football, soccer, or baseball have the potential to throw you an environmental oddball. However, have you ever watched a football or soccer team trying to fumble with learning subtraction or sometimes even LONG division on the fly! It's terrible and looks like children having fort wars at recess. It is for these reasons that groundskeepers cut the grass, seed the brown spots, or why we have zambonis in hockey or sweat mopers in basketball. It is simply because athletes these days feel that it is necessary to have "constants," and attempt to maintain those constants in sport at all times. What do you think would happen if someone decided to put a boulder in the middle of a football field or bananas all over a basketball court (it would finally make those sports interesting!). Those are things that downhillers have to think about every time they look down a race course, except for the bananas.
3-All sports have a "time to relax" period.
If you don't know what I'm talking about just think about any hockey – soccer game you have ever played and you will find them. They are times that the clock is still running but is filled with NOTHING that could ever be called sport. They are the moments where you or the other team has just scored, you slipped and lost the ball/puck, in-between plays in football, the entire sport of baseball, or when a fight has just broken out between 30 players in hockey. My question is how top athletes in baseball can suffer from cancer of the mouth, Hockey players need to be good boxers, or linebackers can be good even though they eat all of Africa's food. It seems that the amount of down time in these sports has allowed athletes to become truly lazy that they have to resort to chewing tobacco, fighting instead of scoring, or can actually be 320 pound sloths! I just think that any sport that you have the down time to "catch your breath" or formulate a plan just takes way too much away from the true essence and flow of sport.
4-CON tract.
I don't really have much to say about this other than the fact that the word "contract" is sickening. I realize that people need to make money, and it makes sense to play professionally, but making 13 million dollars as opposed to 5 million dollars a year doesn't really enhance your quality of life. It also does not guarantee that once that contract is signed, you will participate and provide full effort through thick and thin despite your prearranged payment deal. I understand that there are also professional Downhill Mountain Bike Racers, but the majority of them have real jobs in the off season (that they need) where they can go home to live a "real" life. It is also a sport where you will be downgraded to amateur categories, or lose your sponsors if you do not perform well.
5-Fan support.
Whether you like it or not it is impossible to say that fans do not have an influence in sport. It is because of fans that we have stupid things like half time shows, STILL have fighting in hockey, cheerleaders, jumbo-trons, TV timeouts, and tailgate parties. There have been so many changes created with the sole intent of promoting fan base. Though a lot of changes could be classified as independent of the fans, we can safely say that all changes in widely broadcasted sports inevitably have the fans in mind. What happened to the days when the fans actually played the sport? I just think there are way too many alcoholic fans that are out to participate and promote in an activity that is far from sport. I'm not saying that there aren't any downhiller fans that booze, but at least we are still racing after we do it.
6-If you're out, you can still "win."
All I can say is that this concept is a pile of crap. Picture a football player. He is at a party. He has a sprained ankle (aww muffin). His team just won the big game. This football player happens to see a good looking gal that he decides to court with the, "I'm an intelligent football player with important opinions regarding real issues," pick up line… no I'm just kidding that would never happen, but he tries to impress the girl by saying that he just won the game. This situation definitely happens and unfortunately subtracts all the merit and honor from being an athlete. If you get injured and do not participate in a game, or do not participate in the whole game, YOU are not responsible for the ultimate success of your team. Even if you were on the field and scored three goals in the first half, but didn't play the second half, you have no right to take credit for the 3-0 victory. Because if it were not for your team members in the second half, the game could have ended up 3-9 or 3-20, which would really overshadow your insignificant contribution to the game. For these reasons I feel that team sports are truly corrupt because they attempt to identify players that "carry" their team to victory. In reality there are always points in every game where even the best players are rendered useless (simply because they do not have the ball or puck) and therefore not directly responsible for the success of a play.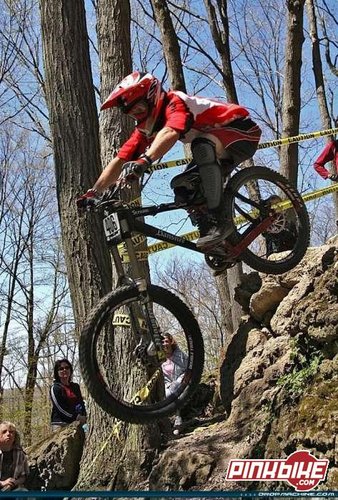 What makes Downhill Mountain Bike Racing so different
?
1-
Seiko timers usually ensure timing accuracy within 1/1000 of a second. The entirety of your sporting event begins when the first knob of your front tire breaks through the laser beam at the start, and ends the instant your front tire passes through the laser at the finish. An accuracy of this caliber ensures that absolutely EVERYTHING you do from the moment you start to the moment you finish will have a direct impact on the amount of time it takes for you to get from laser to laser. Since it is also an entirely individual sport, all success and failure can be directly attributed to the rider, making it a true athletic competition. As the greatest sport in the world, DH requires the athlete to be performing at near perfection throughout the race run. Other sports, sorry, you just can't come close.
2-
We all know what "closed sports" are, but we now must meet the polar opposite, the
"open sport."
The open sport involves an environment that is dynamic and changes from moment to moment. There is no constant in an open sport, and why would we want them, constants just make sports easier and more predictable. In racing there are rules, rules for racers and spectators which involve objects on the course. If a rider speeds through a section during a race run and dislodges a rock, that rock CANNOT be moved. It is considered a part of the natural change of the trail. Racers also have to deal with relatively large altitude changes in the taller mountains, that have significant physiological effects regarding the bloods ability to carry oxygen (makes the top sections fun to watch). We also have to race on rock, wood, roots, dirt, mud, sand, air, grass, metal, through water, in rain, in wind, in cold, in hot, but we can still get to the bottom of a hill sporting a huge grin and say "that was easy." Racing DH would be a lot like making all hurdles random heights for sprinters, making the basket move in basketball, or getting hockey players to play on glaciers. A dynamic sport environment is the only way to truly test who can handle ALL variations of the sport.
3-"Time to relax."
We've already been through this time to relax thing… don't have any… Seiko timers… lasers… they're smart…you can't cheat… unless you use rockets….no that's silly. Sure you can probably find times when riders are relaxing, but that only comes when they are in the air and can't physically speed up. Of course it is up to the rider to relax or not while racing, but the reality is that clocks keep turning and time keeps on. Every relaxing moment that you take in this sport drags you further and further from the podium. It is one of the few sports where EVERY moment counts.
4-The concept of the
professional athlete
is always present when talking about sports that people actually care about and want to watch. DMBR is no different. However there are pretty big differences between most professional DH racers and other athletes. When racers have free time, they go biking. With more money, they go buy more bikes and biking stuff, or beer. They also race because they absolutely enjoy it. Most professional DH racers don't get paid enough to make a living so they often have jobs to help pay for racing. Combine all of these together and it's a pretty crazy cycle no matter how high up in the mountain biking spectrum you get. Get good at biking, go pro, get money, buy bikes, get money, buy more bikes, get money, go see strippers in Gatineau, and race. There is a universal acceptance of commitment to the sport between racers. It's only those who truly love the sport that could ever participate and for those reasons, athletes who live, spend, and breathe DH are the greatest athletes in the world.
5-Fan support.
Let's set things aside. Downhill mountain biking fans love their alcohol, and what's better than watching some awesome racing/crashing sitting in a lawn chair with a cold beer in your hand? However there is one difference between DH fans that separates them from any other fans. People who watch DH racing are either close family and friends of racers, or racers and riders themselves. DH fans have a shared passion for racing, alcohol, and partying rather than just alcohol and partying like other sports fans. The unifying factor is that most of the fans participate in the activity itself, which makes it unnecessary to change the sport for the fans. DH fans realize that they need to scale up hundreds of feet of loose shale and rock, risking life and limb to see the "good stuff," but they still do it and you know why? Because they are the greatest fans in the world, going to watch the greatest sport in the world. DH courses will never change just for the fans, it's our own little way of fan natural selection.
6-If you're out you can still win.
In a fairytale world this would totally work. But in reality the idea of "not finishing" is somewhat taboo in Downhill Mountain Bike Racing. All racers fear the posting of a DNF (did not finish) or worse a DNS (did not start) on the results list. Individual sports are unique because they put the entire responsibility of success or failure on one single athlete. This would be like playing 1 on 1 football in a hallway. Sure a DH athlete can choose not to start, or not finish, or take their time riding the course, but that would pretty much guarantee that they would be finding their name, hometown, race plate number, team name, and amount of time between them and first rider, at the very bottom of the results list. It is pretty understandable why riders, especially professional riders work so hard to put fractions of seconds between themselves and other competitors. It is a sport where one less pedal stroke, slightly over braking a corner, or landing a little off balance coming off a drop, can take you from 1st to 5th place. For these reasons "I" believe that DH racing is the greatest sport in the world
A closing statement for downhill mountain bike racing
-
1. It has speeds seen in a lot of downhill ski racing
2. It requires balance close to that of a gymnast
3. It requires the quick thinking of a football quarterback
4. Requires good cardiovascular endurance, and good muscular strength
5. Requires an applied understanding of physics (intertia, momentum, gravity, friction, acceleration, etc.)
6. Requires the ingenuity of a point guard in basketball, to find the fastest lines through the course
7. Is simply the greatest sport in the world
I'd like to hear what everybody thinks. But if you are just going to bash my views without providing sufficient support for your own, then I will have every reason to ignore your point. If you feel this passionate about your "hobby" then I'd like you to try to convince me…
-
hermo44.pinkbike.com/