hittheshowers13
Member since Dec 2, 2010

Male / 37
Medford , Oregon
Block user
Recent

Mar 6, 2021 at 20:59
Mar 6, 2021
Video: Saturday Sends #5
This is far superior to Friday Fails. Not sure what the attraction is to watching people hurt themselves. As an aging life long mountain biker I know exactly what it feels like to come up short on a double, go too deep on a double, hip, table, stepdown, stepup, etc. I've broken my shoulder and wrist, gone in early from a ride to get neck x-rays and f#cked myself up so many times... I know what that looks like. I know it sucks and hurts and completely f#cks your life up for months or years on end. I don't get why it is entertaining to watch people do that. If you are addicted to this sport, you keep a good attitude while injured, say "it could have been worse", recover and get back on the bike. We as riders all know what it means to ride and push and fail. But when you fully send with the commitment that these riders do, you get what you are searching for, the pure bliss of sending and succeeding. All the energy and mental focus/visualization to unlock that big line, that sketchy gap with barely a lip to get you over it, the natural double, etc. You send it and remember what it is like to be scared as shit, overcome the fear, send it and get dosed so hard with a cocktail of dopamine and adrenaline that you seek it out again and again. Saturday Sends remind me of that addictive passion, Friday fails can go get f#cked.

Nov 30, 2020 at 15:40
Nov 30, 2020

Selling
Nov 30, 2020 at 15:37
Nov 30, 2020

Aug 9, 2019 at 21:54
Aug 9, 2019

Jul 23, 2019 at 14:23
Jul 23, 2019

Jul 30, 2018 at 22:27
Jul 30, 2018

Jul 11, 2018 at 15:46
Jul 11, 2018

May 8, 2018 at 23:16
May 8, 2018
William Robert Hopes This Video Will Help Him Earn an Entry to Rampage
Sendie backflips. Confident style. Editing felt like it lacked soul with a little too much filler. What a world we live in where a free vid that leverages a world class location, pro level rider, top level filmmaking tools and professional editing can garnish so much keyboard warrior negative feedback.

Dec 10, 2017 at 16:50
Dec 10, 2017

Selling
Dec 10, 2017 at 16:49
Dec 10, 2017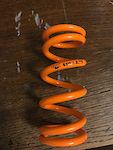 $80 USD
Rode 5 times, sold the shock with a 500lb coil on it.
Load more...