Not just another big wheeled All-Mountain bike, the Prime is Banshee's version of the full suspension 29'er. The current Banshees do not fall into the traditional categories - we do not like labels, we build bikes that we want to ride and that can be ridden anywhere. The very fact that it is a Banshee will mean that it will have the characteristics that Banshee has become known for: aggressive, strong, stiff, fast, light, explosive... the list goes on. Designed by Keith Scott, who is not just a designer, he also has a controlling interest in Banshee, and more importantly he rides bikes. A triple threat. A Masters in mechanical engineering, a company owner, and a rider.
After months of planning, a couple weeks of teasers and two or three hours in assembly trying to piece the first frame together, I give you the Banshee Prime ...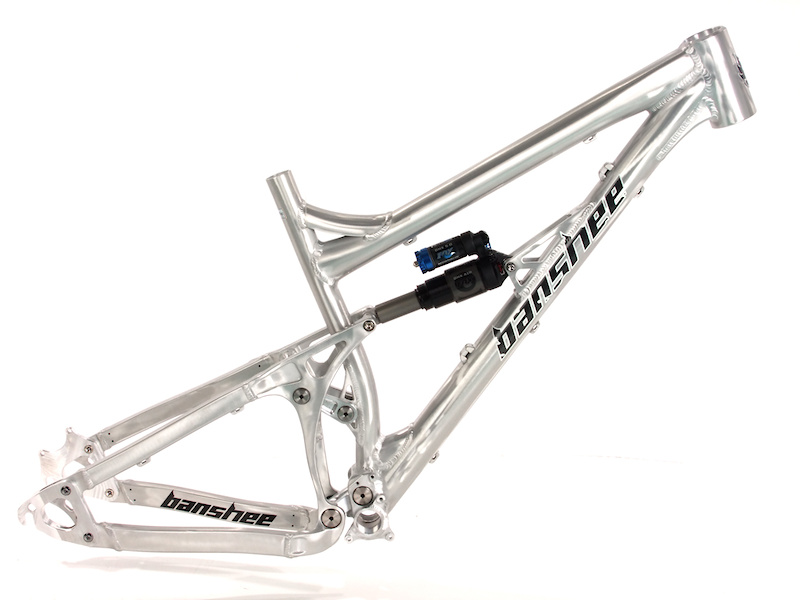 Banshee's new 29'er, the Prime. Hands up if you would like to see this raw finish as an option for production versions!
I am not going to lie, it took a lot of work to get the first prototype assembled. Things are designed, redesigned and then over-designed. But in the real world, once the bike is constructed, they do not always go together the way they were planned. That is why Banshee takes every step necessary to make sure that the first production run of a frame has little to no problems. The first three Primes are now complete and we will take what we have learned from those frames to make 50 pre-production frames for testing purposes. We are not just testing the frames, we are testing the design, testing the production process, testing everything we can think of to find any possible errors.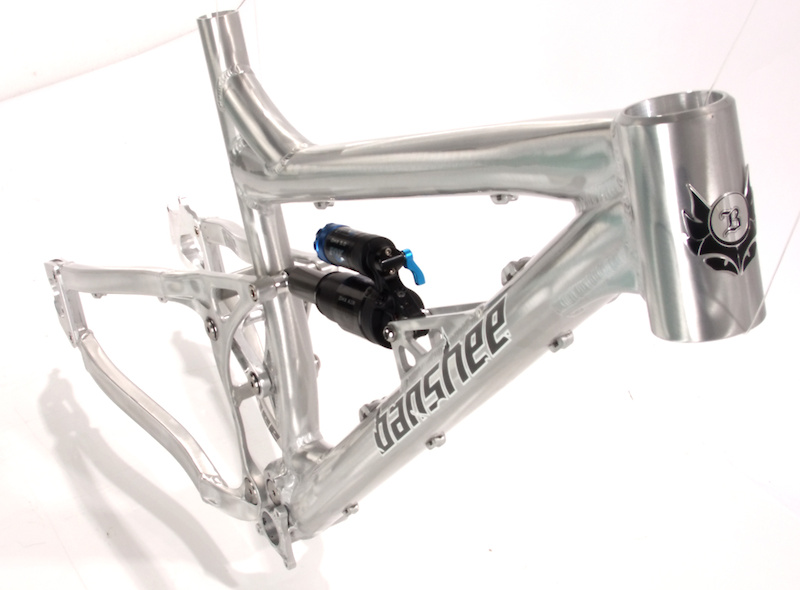 As with Banshee's other creations, the Prime is harder to define than other 29'ers. Stiffness and handling rated higher on the list than out and out weight.

 Keith, what do you feel sets the Prime apart from other 29'ers? Was the Prime aimed at riders who are currently riding 150mm travel 26'ers?
Keith

: I feel that in general, the 29er offerings out there are a few years behind the 26er offerings in terms of performance, geometry and technology, but we aim to push things forwards. Most 29ers are fairly XC orientated, even if they don't claim to be, I find most of them flexy (in part due to longer chainstays, but also due to placing the importance of saving a few grams above stiffness and high end riding performance. The Prime is indeed designed for the sorts of guys who ride 150-160mm travel 26ers, and ride them hard over all sorts of terrain. The lateral stiffness of the Prime is just one thing that will set it apart from most other options, which is achieved by using internally ribbed stays (like on all banshee frames) and short stiff links. The stiffness will come into its own when accelerating hard, pointing through rocky / rooty sections, and railing round corners, where it will track better than a flexy frame and give you more confidence to hold that line. The suspension is tuned to be very efficient when pedaling, but also to be balanced and controlled at high speeds when descending through the rough stuff. The anti-squat profile of the linkage is designed to work well with the slightly smaller chainrings that 29er riders generally use (due to bigger wheel diameter). As with all our frames, the linkage is tuned to be optimal for what the bike is designed for... true, all mountain riding!

 What is the target frame weight (w/ shock)? How high up on the priority list was weight?
Keith

: Target weight will be around the 7.5lbs range for frame without shock for a medium. 29er frames have to be a bit heavier to have the same stiffness due to the larger wheels requiring bigger frame structure. Weight certainly wasn't at the top of my list of priorities. As any really competitive rider will tell you, 'If you want to ride faster, spend less time shopping for parts that save a few grams, and more time riding'. 29ers are never going to win any weight weenie contests against 26ers, as even without considering the frame, the wheels have to be significantly heavier to offer the same strength... but remember that momentum is a rider's friend! For me, after trying many bikes from many manufacturers, I've always enjoyed the ride of a stiff responsive bike, to that of a flexy wet noodle. This becomes more apparent the harder I ride. Plus, I have actually found that after a long day in the saddle of riding up and over mountains, that a laterally stiff frame saves more energy, as less of your power is going into flexing the frame, and more is going to your rear wheel. Don't get me wrong weight is definitely considered, but to me there are several more important factors to consider when designing a frame, such as efficiency, stiffness and strength. Out frames are built to last more than a season, and will not dent when gravel is kicked up by front tire, or noticeably lose stiffness over time.

  What are the advantages and disadvantages to using 7000 series aluminium?
Keith

: 7005 Alloy is a bit more expensive and slightly harder to work with, but the mechanical properties make it my alloy of choice for a couple of reasons. Once T6 is heat treated it is around 10% stronger than the most commonly used 6000 T6 series alloy , and has almost 50% higher fatigue strength, as well as being a bit stiffer. So the tubes are stronger and will not fatigue nearly as fast, which is definitely a good thing for bikes designed to take abuse.

  How does the Prime suspension design differ from the Rune or Spitfire?
Keith

: The KS link could be designed to have the same performance as any of the other bikes, as it is highly adjustable, as all short link 4 bar bikes. The biggest difference with the Prime linkage, is that it has allowed me more space to work with to use fully sealed bearings rather than bushing, and the shock actuator only rotates a maximum of 18 degrees compared to bikes where the shock is actuated by the rotating link where it could be as much as 90 degrees or more. This means that the DU bushings in shocks will last longer, and there will be less friction in the system to get a plusher ride (a little like installing needle bearings in shock eyelets).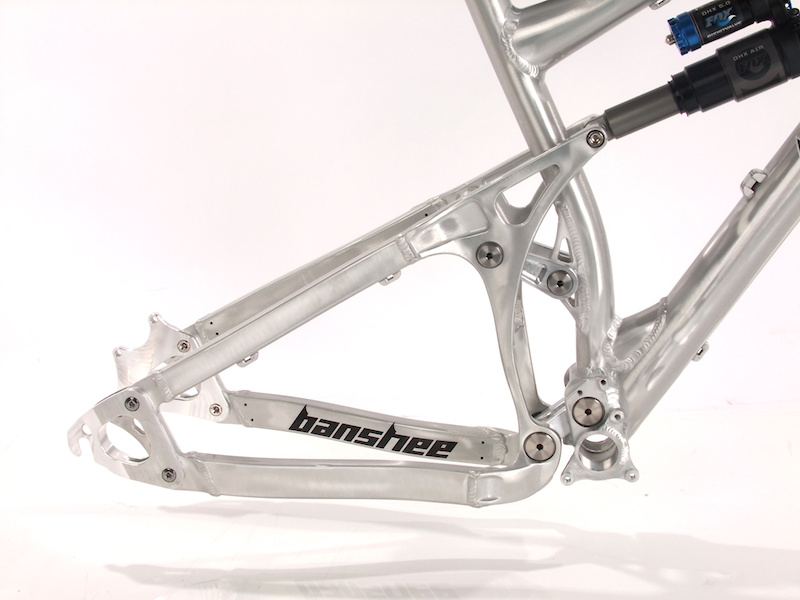 Similar but different. The Prime uses a short link four bar design, like Banshee's other bikes, but the Prime is tuned to have less anti-squat. Take note of the swappable rear dropouts as well.

  How do you think the Prime will ride compared to the Rune or Spitfire?
Keith

: Well taking the bigger wheels out of the equation, it should be fairly similar. It is designed to have less anti-squat than the 26er models because 29er riders generally run smaller chain rings, and I wanted to reduce pedal kickback for any given chain ring size, whilst still keeping a bit of anti-squat to help with efficiency and control while climbing and accelerating hard. These things will be canceled out a bit by the bigger wheels and different setup to have a ride that should be fairly similar to the Spitfire, but a little more playful. This is all just theory tho, and we will be doing a lot of prototype and pre-production testing to dial it in to have the ride characteristics customers want.
I feel that in general, the 29er offerings out there are a few years behind the 26er offerings in terms of performance, geometry and technology, but we aim to push things forwards.

- Keith Scott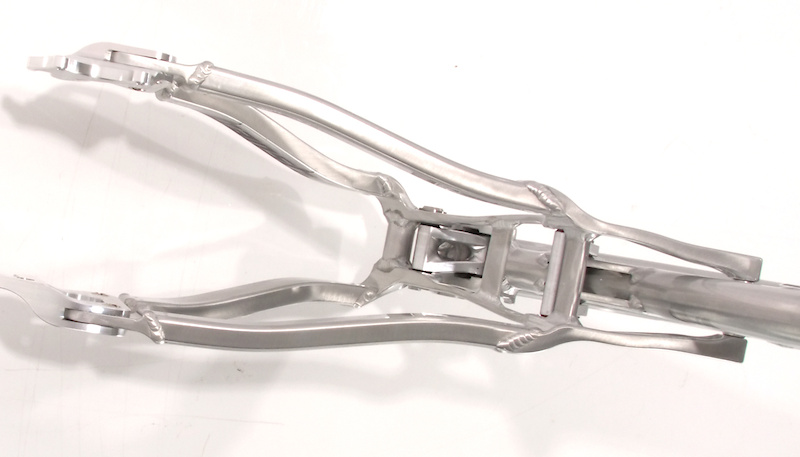 Short suspension links and a robust rear end should make for a stiff overall package.

  When designing the Prime what was your main inspiration?
Keith

: I'm not sure I had an inspiration... I played around with lots of linkage design ideas, some tried and tested, and some new... this is just the design that satisfied my demands the most, and was reached more by iteration than inspiration.

  When designing the Prime what suspension did you design it around? air or coil? front fork?
Keith

: The Prime leverage ratio is quite progressive, and will work well with both coil, and modern air shocks. There are no unusual leverage curve shapes or anything, so shocks will be easy to tune, and the bike will feel predictable and generally progressive. As for front fork, the prime is really designed to work with a new generation of 29er forks that will be coming to market soon with a 120-150mm travel range.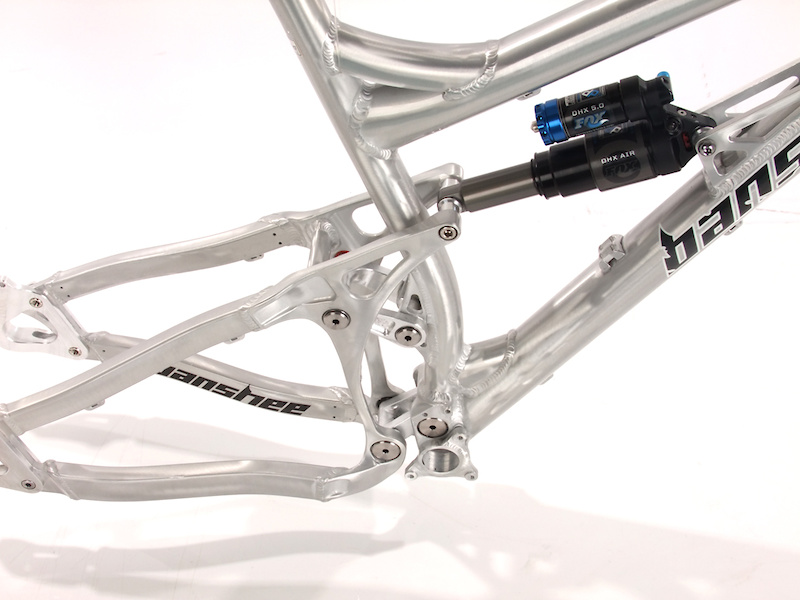 The bike can be fitted with either a coil or air depending on the rider's preference.

  You will be testing the Prime proto type, what do you see as your ideal Prime build?
Keith

: I'll be building it up with some pretty strong all mountain wheels, coil shock (as I'm going to be doing some manufacturer tuning for the bike) 140mm forks when available. 1x10 setup with around a 30tooth chain ring and 12-36 cassette, adjustable post, 50-70mm stem, and fairly low wide bars.
Weight certainly wasn't at the top of my list of priorities. As any really competitive rider will tell you, 'If you want to ride faster, spend less time shopping for parts that save a few grams, and more time riding'.

- Keith Scott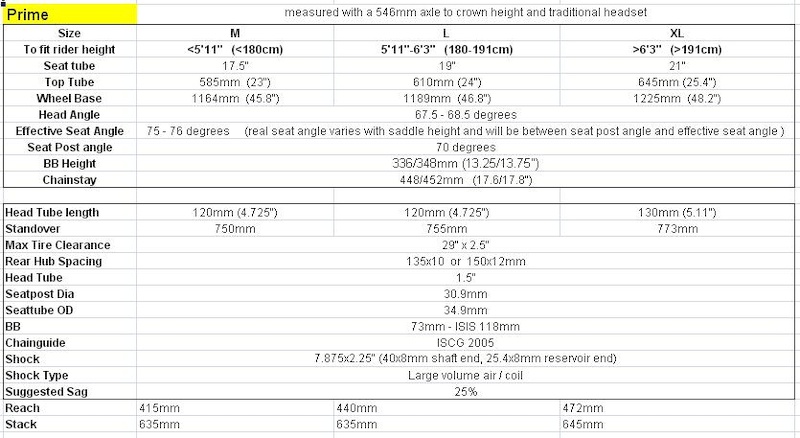 While the Prime's geometry isn't yet set in stone...

  Keith talks about the Prime's geometry...
Keith

: Geometry is not yet 100% confirmed, instead I have dialed it into what on paper I feel is best for this frame, and we will be having real world testers riding 50 pre production frames to give me feedback. Just like we did for the Legend MkI in order to produce the Legend MkII. So these numbers may change significantly before production based on feedback... time will tell. There are certain geometry considerations that I prioritize when designing a frame, such as head angle, seat angle, BB height, and chainstay. A slack head angle really makes a difference when descending, as the fork will work more effectively at speed, the steering will be lest twitchy, and your weight will be more centered between the tires generally (remember that due to 29er fork and wheel dimensions 29ers tend to feel a little slacker on the trail than 26ers, even with the same head angle). Seat angle is very important for ergonomics when you do long days in the saddle, and a steep seat angle is generally more efficient when climbing, and combined with the Prime's anti-squat characteristics will help you get traction and achieve better balance. A low BB height lowered the entire center of gravity of the rider, and so makes the bike much more stable, and easier to corner, as well as helping a lot when climbing by reducing front wheel lift (when combined with anti-squat and seat angle of course) You'll notice that for a 29er the chainstay length is pretty short. Now I do not agree with marketing that tells people that the shorter a chainstay is the better... it totally depends on what the bike is designed for, so I kept the Prime chainstay close to our 26er offerings, as testing all sorts of variations has taught me that this range is best for all mountain, as a short chainstay, although often more fun to ride, can be hard work when climbing and tends to make it too easy to wheelie when climbing steeps.
Keep an eye glued to Pinkbike and the
Banshee website
for more updates on the new Prime.
Follow the Prime as it becomes a bike:
•
Prototype Banshee Prime - 29'er For The Shore?
•
Banshee Prime - CNC 29er bits!
•
Banshee Prime - Coming Together
Is the Prime going to have you considering making the switch to a wagon wheeler? Let's hear your thoughts on Banshee's latest bike!