hondabw
Member since Nov 14, 2012

Male / 30
Idaho Falls , Idaho
Block user
Recent

Mar 24, 2021 at 14:36
Mar 24, 2021

Selling
Mar 24, 2021 at 14:36
Mar 24, 2021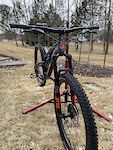 $2800 USD
I bought this bike last august. On the first ride I found out the fork had a defect from the factory and had to send it away to fox. Due to COVID stuff it took them 2 months to return the fork. When I got it back I took it out for two rides. So it hasn't been ridden much. I recently got the bug for new bike on the market and can't say no. That being said, I really like this bike. It's the first bike I've had with this little of travel. It's surprised me how capable it is. It's because of this bike that I've realized that most people are probably over biked. It's had a 180mm oneup dropper, Xt drivetrain, code r brakes, and fox elite suspension. The wheels are new because I had another wheel set on it. And the best part about it is the works components angled 2 degree headset. It has steepened up the seat angle and slackened out the front. Really makes this bike a riot. Text 208-7zero9-8eight40 or pm me for questions.

Mar 16, 2021 at 15:09
Mar 16, 2021

Selling
Mar 16, 2021 at 15:08
Mar 16, 2021

Feb 24, 2021 at 8:17
Feb 24, 2021

Selling
Feb 24, 2021 at 8:16
Feb 24, 2021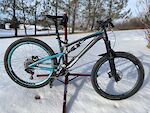 $1800 USD
This bike was bought for my wife back in 2017. It's mostly sat in the garage. It's been ridden so infrequently I haven't even bothered to convert it to tubeless. I've decided to sell it rather than have it taking up space anymore. I put an x fusion dropper post on it. Yari fork Level brakes Monarch r shock Nx 1-11 drivetrain Schwalbe tires. Great bike for the money. I've been really impressed with the release platform. I've owned a lot of "nicer" bikes. Evils and specializeds in carbon. I have no complaints about this plate form. Super well rounded and quite capable. Would be a great bike for anyone getting into biking or for someone that likes the platform and just wants to upgrade it!

Feb 3, 2021 at 11:40
Feb 3, 2021

Jan 29, 2021 at 9:33
Jan 29, 2021

Selling
Jan 29, 2021 at 9:32
Jan 29, 2021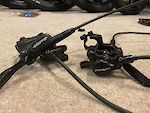 $200 USD
Brand new TRP X2 brakes and rotors. These brakes are powerful and feel great. I just had a set of codes I wanted on the bike. These are new take offs. They were removed after pulling a bike trailer twice. Rotors are 180mm

Selling
Jan 29, 2021 at 9:24
Jan 29, 2021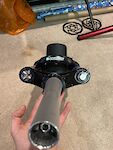 $350 USD
This sr suntour aion. It's a 35mm fork. This one has 150mm of travel. This fork is a like new take off. It was used 2 times and both times it was to pull a baby bike trailer, so nothing intense. It has one tiny chip down by the axle that's from hauling the bikes. It's basically new. It works very well. I just had a fox 34 factory for the bike already. Steerer tube is 7 1/4 inches long. Offset is 44 Travel is 150
Load more...