hondabw
Member since Nov 14, 2012

Male / 32
Tulsa , Oklahoma
Block user
Recent

May 8, 2023 at 10:14
May 8, 2023

Selling
May 8, 2023 at 10:11
May 8, 2023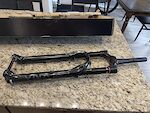 $350 USD
This yari came off a new bike after a couple rides. It looks and feels new with the exception of slight cable rub from the front brake where it attached to the fork. I just change out the fork and don't need this one. Great fork. 7 5/8 steerer 44 offset 160mm 29 wheels

Selling
May 8, 2023 at 10:08
May 8, 2023

May 8, 2023 at 10:04
May 8, 2023

Selling
May 8, 2023 at 10:02
May 8, 2023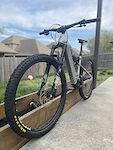 $3800 USD
I bought this bike for my wife. She subsequently got pregnant and couldn't ride it. Almost all of its miles (which are few) are from pulling the kids around the neighborhood in the bike trailer. It looks are rides like new. Several things were upgraded. Parts include Slx drive and brakes Wtb wheel Dvo diamond fork Oneup dropper Pnwu remote Nukeproof horizon oil slick seat EP8 motor Such and awesome, fun bike. We just can't get out with the little ones for now. Pedals not included

Feb 16, 2023 at 16:10
Feb 16, 2023
Meet The All New Transition Smuggler
@dualsuspensiondave: I haven't ridden a smuggler, therefore I can't say anything for sure. But these two bikes are so similar on paper it makes it hard not to draw a comparison between them. I have spent a decent amount of time on the scout, sentinel, and patrol though. All excellent bikes.

Feb 16, 2023 at 13:59
Feb 16, 2023
Meet The All New Transition Smuggler
I don't understand the downvotes on this comment. This guy has it right. I love transitions and have ridden several, but their price point and weight on this bike missed the mark. If you're going to buy a very capable 130/140 bike thats a little portly, the fully revved pistola has the same numbers, a horst link platform, and the same frame weight at a much lower price. Not to mention you can pick them up for nothing used. I've ridden one and doubt the smuggler is SO much better for the money, if at all.

Feb 7, 2023 at 8:32
Feb 7, 2023

Jan 17, 2023 at 12:02
Jan 17, 2023

Selling
Jan 17, 2023 at 12:01
Jan 17, 2023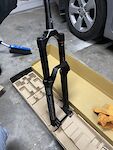 $500 USD
I bought this fork for my gnarvana I built up. It has all the same internals as the ultimate but without the dials. The fork has barely been ridden since I ended up moving and making the gnarvana into a trail pistol. 170 mls of travel. Super long steerer tube still. Almost in perfect condition. Love this fork. I just don't have use for it in the southern states. 44 mm offset I think. Comes with a fancy wolf tooth axle.
Load more...