I5-Troll
Member since Feb 18, 2008

Male / 54
Seattle , Washington
Block user
Recent

May 13, 2019 at 17:35
May 13, 2019

Oct 29, 2018 at 11:30
Oct 29, 2018

Oct 29, 2018 at 11:30
Oct 29, 2018

Aug 4, 2017 at 8:12
Aug 4, 2017

Aug 4, 2017 at 8:10
Aug 4, 2017
Evergreen Trail Crew: High Above the Skykomish Valley
Yep, camping is allowed. Subject to USFS dispersed camping rules. Once the network is complete, an awesome overnight trip will be to take the clockwise loop up to Harlan Saddle between Alpine Baldy and Beckler Peak, ditch the bike and pack, hike west up to Beckler Peak (hiking only), come back down, grab your sh-t and bike up to the AB meadow, then down to the 5-mile campsite, spend the night, then out & back to the meadow again in the am, and then all the way down to finish the CW loop.

Aug 4, 2017 at 8:04
Aug 4, 2017
Evergreen Trail Crew: High Above the Skykomish Valley
@swartzie: We are working very close to the Wild Sky Wilderness boundary, but not actually in the wilderness. The ridgeline above us (north and east of us) is the boundary line. The original trail proposal called for an out&back addition to Jakes Lake to the north. The Wild Sky bill killed that idea. Should still lobby for a hiking trail to the lake IMHO.

Oct 18, 2014 at 18:19
Oct 18, 2014

Oct 9, 2012 at 17:48
Oct 9, 2012

Oct 9, 2012 at 17:33
Oct 9, 2012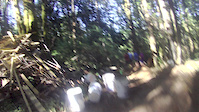 Hey guys, King County Parks found the trails a few weeks ago and they were pretty upset. This is a reserved natural area next to a retention pond system and it was pretty heavily impacted. They started tearing everything down right away and because of the estimated cost to repair the damage, at least $10,000, they filed a case with the King County Sheriff's department. A deputy came onsite, assessed the situation and took all the tools into evidence. At that point King County Parks approached Evergreen about the incident and we recommended a solution that would avoid involving the legal system. The county agreed so we'd like to see if the builders will come forward, work with us to clean up the mess, and do some legitimate trail work at Duthie (or Tiger, Soaring Eagle, Grand Ridge). This is a good solution to an unfortunate situation and will help show that mountain bikers support legitimate trails and are trustworthy partners. Please contact me and let's get started. Evergreen wants to help and by working together we can build more legitimate trails that will last forever! There's opportunity out there and lots more on the horizon, but rogue building really does jeopardize that. Mike Westra Evergreen Mountain Bike Alliance cell: 425-241-7806 email: mwestra@evergreenmtb.org

Jan 24, 2012 at 10:19
Jan 24, 2012
Load more...