ianblenden
Member since Apr 3, 2012

Male / 27
Alamosa , Colorado
Block user
Recent

Apr 3, 2017 at 20:12
Apr 3, 2017

Selling
Apr 6, 2014 at 9:13
Apr 6, 2014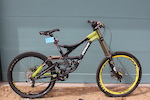 $1900 USD
I have a 2007 Demo 7. The bike is in great shape and great working condition, only showing damage from regular use, and two small dents in the back rim. I had the suspension totally reworked in early 2013, but thanks to a few bad crashes it has only been ridden once sense then. Both the shock and fork were entirely rebuild and the coils in both were replaced. I am selling the bike to help fund a new Meta AM and because I don't ride the bike nearly as much as it should be. The components are as follows: Frame: 2007 Specialized Demo 7, Large Fork: 2007 Fox 40, axle replaced in 2013 Shock: 2007 Fox DHX 4.0 Coil Front wheel: Mavic Deemax rim and hub. Rear wheel: Mavic EX721 with DT Swiss 440 freeride hub. Brakes: Avid XX (freshly bled) Shifter: SRAM X0 Derailleur: SRAM X9 Crankset: Truvativ Holzfeller ISIS drive Chain guide/bash guard: e*Thirteen SRS Feel free to message me with any questions or offers.

Selling
Apr 4, 2014 at 13:29
Apr 4, 2014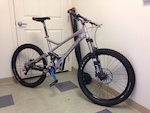 $1200 USD
I have a 2008 giant reign. It is a very fun loving well built bike that I've had for about two years. In 2012 I crashed and had to replace the majority of the parts on the bike (frame is still in good condition.) Sense then the bike has only been ridden about 10 times. The bike is in good condition with signs of regular use. It's components are as follows: Frame: 2008 Giant Reign X0, Large Fork: 2008 Fox 36 Talas 150mm- small scratch on left stanchion. Shock: 2008 Fox DHX 4.0 air. Headset: unknown Cane Creek Stem: 2013 Spank Spike Handle bars: 2013 Race Face Atlas cut to 750mm Breaks: 2013 Formula RX Shifter: 2013 SRAM X9 Derailleur: 2013 SRAM X9 Wheel set: 2008 Mavic rims with Shimano Saint hubs. Crank: 2013 Race Face Atlas If you have any questions or offers feel free to pm me.

Selling
Aug 14, 2012 at 14:27
Aug 14, 2012

Apr 22, 2012 at 20:36
Apr 22, 2012

Selling
Apr 22, 2012 at 19:57
Apr 22, 2012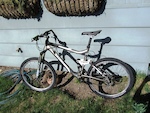 $1100 USD
I have a lightly used 2011 Trek Fuel EX 9 frame with an old component setup. Before this bike I had a Gary Fischer Hifi plus and I snapped the frame. I received this frame from the warranty claim. The frame is in very good condition- it has been ridden conservatively for only half a season. The frame has one scratch on the side of the top tube- along with some small cable rub areas. When I got the frame It came with a new Fox Float RP-23, and I replaced the BB and Crank Set. The other components have been very heavily ridden- but are still functional, having mostly cosmetic damage. The components are as follows: Frame: 21.5" Trek Fuel EX 9 Fork: RockShox Recon 351 (with a Bonktown sticker on it; the stanchion has a few minor scratches on it- the most significant of which I photographed.) Shock: Fox Float RP-23 Breaks: Avid Juicy 3- 185mm front 160mm rear Front & rear derailleur: Shimano Deore Crank set: Shimano FC-M454 Wheels: Bontrager Select Disk with Bont. Hubs (heavily used but run true) Tires: Maxxis Lust Ignitor tubeless 2.35" (back tire is ruined- I can replace it with a tubed tire if you would prefer) If you are interested or have any questions feel free to message me.
Load more...