While Pinkbike is primarily a mountain biking website, it is also a site that involves a lot of photos taken by a great many photographers. With an average of over 4000 photos posted to the site every single day, Pinkbike is a busy place when it comes to pictures. While most of the images posted are shot by amateur photographers, there are also more than a few professional photographers on Pinkbike as well, and everyone regardless of their ability wants their photos to look as good as possible. So to that end I've put together a bit of info to help you make the photos you post on Pinkbike look the best.
In order to have your photos look as good as possible on the site please keep in mind the following rules.
1. Size your photos to either 1600 or 1024 pixels on the long side. This is very important. 800 pixels also works, but in this day of larger screens most people are disappointed if a photo is only available as an 800 pixel 'thumbnail'
2. Make sure your photo looks great at whatever size you upload it (1600 or 1024) If the original is oversharpened, Pinkbike won't make it look any better. And the same goes for images that are soft, make sure the original looks good if you want it to look good on Pinkbike.
3. Embed the sRGB color profile in the image. If you want the colors to look accurate on the web make sure to embed the sRGB color profile into the image, Firefox and Safari recognize color profiles and use them, rendering proper colors.
4. Use Firefox or Safari to view images on the web, IE7 if you need to use a Windows product. Google Chrome does not have any color management as of this post, and will not give you accurate color no matter what you do to your photos.
5. Also please be sure to include your name and or copyright in the Metadata of the photo if possible.
Image Quality and Resizing
The past year I've spent a bit of time working on the image resampling and sharpening algorithm with Pinkbike's resident tech guru, Radek.
During the time that I've been working for Pinkbike there have been a few comments about images becoming over sharpened when uploaded to the site. And also the opposite, some people have said their images were made softer when they uploaded them. That's two completely opposite things, so Radek and I sat down to figure it out. Radek spent a lot of time configuring the original algorithm, and he did a lot of research. He even discovered a few things that I as a photographer really knew very little about. As a result of that the original resampling/sharpening code on the site is quite advanced, possibly even ahead of photo sharing sites such as Flickr in some ways. When I looked into what was happening I took a bunch of different examples I had seen or been sent, and looked at the original images as well as the resampled ones on Pinkbike. Then I uploaded different images and compared how they looked at Pinkbike's various photo sizes to how I wanted them to look. The results were fairly surprising. To understand them you need to know a little about photo resampling to start with. Here are the basics...
To start with some of you are probably wondering why I'm saying resampling instead of resizing. Resizing an image refers to changing the size it will print, without changing the actual pixels. Pinkbike doesn't ever make photos bigger, only smaller. When you make an image for the web smaller, pixels are removed from it to make it physically smaller, and this is normally referred to as downsampling. Which pixels are removed depends on which interpolation method you use to resample the image. Regardless of which method you use for downsampling an image, when you remove pixels edge detail is lost, and it ends up making the image appear softer. Photoshop gives a few different options depending on which version you're using, most people never even notice them and just go with the default. Here is the description that Adobe gives for the relevant downsampling options available in PS CS5:
Bicubic
A slower but more precise method based on an examination of the values of surrounding pixels. Using more complex calculations, Bicubic produces smoother tonal gradations than Nearest Neighbor or Bilinear.
Bicubic Sharper
A good method for reducing the size of an image based on Bicubic interpolation with enhanced sharpening. This method maintains the detail in a resampled image. If Bicubic Sharper oversharpens some areas of an image, try using Bicubic.
There are other options such as Lanczos or Sinc that work better (on Pinkbike we use Lanczos), but for the purpose of downsampling in Photoshop these are usually the only two that we use. Bicubic produces the nicest gradations but tends to make images look a little softer while Bicubic Sharper has built in sharpening to improve this. The problem with Bicubic Sharper is that while it works well for some images it can really oversharpen certain details and textures. The best way to downsample for our purpose is to use Bicubic, and then manually sharpen after as needed. This usually works really well, however it is image and size specific. Some images need more sharpening than others, and images need different amounts of sharpening depending on how much they've been downsampled.
On a website there is no way to control the amount of sharpening that is applied to a specific image, so we need to assume all images that are uploaded are sharpened properly to begin with. That gives us a neutral starting point with which to figure out size specific sharpening. When I tweaked the sharpening algorithm I uploaded several different images that were 1600 pixels on the long side (Pinkbike's recommended size) and adjusted the sharpening on each of the set image sizes until they all looked good. If you're having problems with the way the website sharpens your images make sure you haven't oversharpened them to start with, and be sure to upload them at 1600 pixels on the long side if possible. The algorithm that we use to downsample and create the various sizes used on the site (1024, 800, 500, and 250 pixels) is designed to work with a starting size of 1600. It applies the same sharpening to an image downsampled to 1024 pixels regardless whether the starting size was 1600 or 1100. This is the same for all image sizes. So a starting image of 1100 pixels will produce a 1024 pixel image with more sharpening than a starting image of 1600 pixels will. An image that is uploaded at 1024 or 800 pixels will look great at that size as no processing, downsampling, or sharpening is done to it, however it may be slightly oversharpened when it's downsampled to the smaller sizes.
Gamma Correction
There's more to downsampling than just simply removing pixels and then sharpening to bring back sharpness. If you take an 8 bit image in Photoshop and just downsample it 50% you physically lose a lot of the fine detail. This has to do with the way that most image resampling software interprets the brightness scale as being linear, when in fact it is not. A great example would be this image of the Dalai Lama that was modified by Eric Brasseur. He added a gray line screen to it that changes the way it looks when it's resampled. Try downloading and downsampling this image in photoshop and see what happens. Or if you can't be bothered to do it yourself take my word for it and look at the examples below. You can see the original image on the left, beside it is the image as it appears on Pinkbike at 150 pixels, and then next to that is the image that I downsampled to 150 pixels in Photoshop. Interesting isn't it...

Your scaling software rules! This is a good test of image scaling software as well. Download it and try it out in different apps at different sizes... At 100% you can still see the image with gray lines across it, as you resample it though it becomes simply a gray rectangle. This is representative of what happens to a lot of fine detail when images are downsampled. There is a workaround for this that is documented by Eric
here
if you're interested, although I will warn you that it's fairly technical. Radek took this Gamma issue into consideration when he created the original downsampling code, and it works well, preserving image detail better than even sites such as Flickr that still don't seem to use it. Even Photoshop itself fails in comparison when you downsample an 8 bit image. Lightroom and Aperture however both do a really good job of downsampling, partly because they usually start with a 16 bit image.
What this means for you the photographer
When you upload an image to Pinkbike a lot happens in the background. Pinkbike stores your original image, then creates and saves different versions at different sizes, depending on your original upload size. It does a whole bunch of math and applies gamma correction and sharpening during the process to bring back sharpness that was lost in the downsampling process and keep your smaller images looking as good as the full size one. What the downsampling engine can't do is figure out anything specific to your particular image, it can't tell if your image is a little bit soft or a little bit sharp to begin with. This means that it's up to you, the photographer, to sharpen your images so that they look good at the size you upload them. It's best if you upload images at 1600 pixels, although 1024 will do reasonably well also. Once they've been uploaded check the different sizes to make sure they all look good.
Metadata
You may have noticed that photos now display the IPTC and EXIF information below the photo info. EXIF stands for Exchangeable Image File Format and it's a way that standardized information is stored in photos taken by digital cameras. IPTC stands for International Press Telecommunications Council, and IPTC data is information that is added to a digital image file to tell us about the photographer and the photo. Professional photographers normally add their copyright and contact info, as well as information about the image itself including such things as the subects name and the location where the image was taken. The display of this info was initially a test we worked on, and with a lot of positive feedback we rolled it out as a regular feature.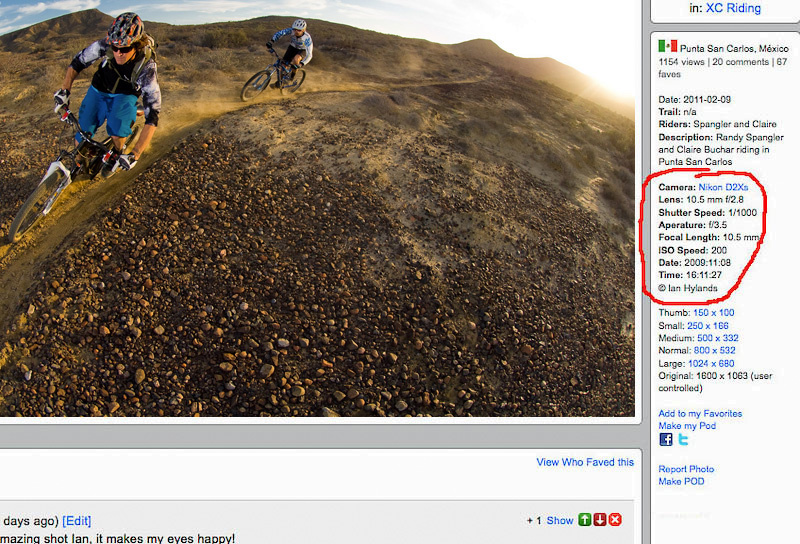 The EXIF info displayed on Pinkbike includes the camera make and model and basic camera settings. It also includes copyright info taken from the IPTC Author or Copyright field in your images. If you don't see any copyright info you should probably make sure to add it before uploading your images in the future. For more info about adding and removing image data you can look at
my previous post on the subject
. Radek has also been hard at work creating a feature that sorts images by their data, you can now click on the camera model in the display and see all the images taken with that particular type of camera.
If for some reason you don't want people to see your camera settings please be sure to remove that info from the metadata before uploading your images.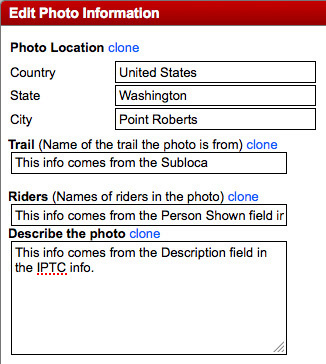 We've also been working on automatically adding rider name and location along with description to the Pinkbike images straight from the IPTC info. This would take the info that you put into your metadata in Photoshop, Bridge, Lightroom, or whatever other program you use, and automatically add it to the Pinkbike photo info. For those of you that are adding this info to your photos already, You'll then only have to do it once. Pinkbike currently takes the "Trail" name from the "Sub-location" field in the IPTC and the rider name from the "Person in image" field. The "Description" currently comes from the IPTC Caption or Description field. If you don't see these fields in your EXIF or IPTC tool please upgrade to a tool that supports the current IPTC standards, more info on the standards and tools can be found
here on the IPTC site.
View Photos By Camera
Curious to see the types of photos that certain cameras produce. Or looking for inspiration to see the types of photos your camera is capable or producing? We can now display a list of ALL cameras and then view the photos taken by those cameras. Check that feature out here.
View all cameras
If you have any questions about photo related issues please send me a message here on the site.