jamesfts
Member since Feb 7, 2005

Male / 37
Malvern , United Kingdom
Block user
Recent

Selling
Jul 17, 2020 at 3:30
Jul 17, 2020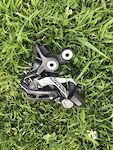 $65 GBP
Shimano Saint short cage mech 10 speed with mode converter included meaning it can either be run on a super close ratio road block or a mtb cassette up to 36t. Good condition, no play. - £50 posted Shimano Saint shifter 10 speed, good condition. - £35 posted Mech, shifter, cassette, chainring & chain All been used together, plenty of life left in it. -£100 posted

Selling
Jul 17, 2020 at 2:29
Jul 17, 2020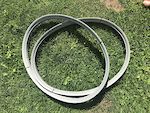 $80 GBP
Pair of Cushcore 27.5 tyre inserts, including the Cushcore specific valves. Very good condition, been used on my hardtail but have recently moved to 29er. £80 collected or happy to split postage. You know what they are but here is the Cushcore blurxb.... 01. CushCore transforms your tubeless tire into a suspension system with a tune-able air spring and foam damper. 02. A proprietary closed-cell, polyolefin foam controls compression and rebound forces. Its lightweight, ultra durable and impervious to sealant. 03. CushCore's patented profile applies constant pressure on the tire sidewalls. This provides protection and stability even at low tire pressures. 04. CushCore is designed to fit tight on the rim. This radial tension locks the bead to the rim while maintaining a supple tread patch 05. CushCore provides a 12% smoother ride and 3% reduced rolling resistance. Ride with more control, more momentum, and less fatigue.

Selling
Jul 17, 2020 at 2:27
Jul 17, 2020

Selling
Jul 17, 2020 at 2:23
Jul 17, 2020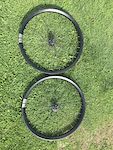 $325 GBP
Front 15mm (non boost) Rear 142x12mm (Shimano freehub, non boost but have cups to convert to Boost though I've not tested these) DT 240s hubs (rear has upgraded ratchet) built onto Ibis 741 rims, 35mm internal width, 41mm external width. These things are massive, making them a super sharp and confidence inspiring set of wheels whilst allowing you to run slightly lower pressures. Been using them on my hardtail so have the usual marks to the lacquer and scratches that you'd expect, both wheels are true but the rear has had a harder life with a few more marks and notably an impact strike from a rock (pictured) which although ugly doesn't seem to affect the wheel. Posh wheels with plenty of life left in them priced to reflect condition or rear rim. £350 collected or happy to split postage costs.

Jul 17, 2020 at 2:19
Jul 17, 2020

Jun 22, 2020 at 8:00
Jun 22, 2020

Selling
Jun 22, 2020 at 7:59
Jun 22, 2020

Jun 5, 2020 at 2:05
Jun 5, 2020

Selling
Jun 5, 2020 at 2:05
Jun 5, 2020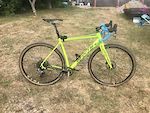 $1250 GBP
Looking to sell my Whyte, have loved owning it and been really impressed with what it'll do but trying to slim down my collection so I can get another mtb. Great condition other than a couple of scrapes to the hoods and 1 small scratch near the head tube. I've fitted a slightly shorter Raceface stem, has a Hope bb and SRAM XX1 cranks. Saddle has been swapped to an Ergon carbon/ti item. Tyres are 700x42 WTB Resolutes with plenty of life, setup tubeless with tyre inserts. I do have the original Riddlers and also a static seatpost to go with it if required. Just had fresh bar tape and brake pads, front hub will need wheel bearings at some point but this can be done for the asking price. Happy to include some Shimano SPD pedals if required. I also have some lovely Chris King wheels with 650b carbon rims that could be fitted for the right price (+£500)

May 22, 2020 at 2:43
May 22, 2020
Load more...