jeffinburlington
Member since Dec 28, 2020

Male / 57
Hamilton , Ontario
Why? I like bikes.
Block user
Recent

Nov 30, 2023 at 13:29
1 day

Selling
Nov 30, 2023 at 13:28
1 day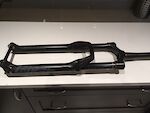 $400 CAD
Taken off a 2022 Instinct Powerplay eMTB with 990km on it. Hasn't seen any demanding terrain or big hits. I swapped the airspring for a 160mm and will include both 150 & 160 in sale. 42mm offset. Steerer tube cut to 7.25". Stanchions perfect, only a few minor scratches or scrapes on lowers.

Sep 19, 2023 at 5:56
Sep 19, 2023

Selling
Sep 19, 2023 at 5:55
Sep 19, 2023

Sep 15, 2023 at 11:59
Sep 15, 2023

May 22, 2023 at 11:25
May 22, 2023

Selling
May 22, 2023 at 11:17
May 22, 2023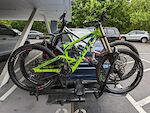 $1500 CAD
2013 SCOTT Gambler 10 - Medium (but may be a small, not sure) Bought October 2022 for $1800 and threw about $600 into it to make sure it was good mechanically and ready to ride. It's in pretty decent shape but as you might expect shows its age in paint chips (although I colored matched the green and touched them up, you still know they are there) and the odd bruise here and there from past riders. Otherwise it's mechanically sound, and ready to ride anywhere you want that DH travel, geo and durability. I've had it at both Horseshoe and Highland (May 2023 long weekend). I'm old and not a shredder by any stretch of the definition, I'm really just learning and trying to improve. I bought it on the understanding that it was a Medium, but I'm not sure if it's actually a Small. It's not easy to take a wheelbase and other geo measurements by myself. I'm 5'8" and while it is totally rideable for me, it feels a bit small. I definitely sit in, not on, this bike which is actually a good thing. As well 26'er rigs back in 2013 were, by design, shorter and just generally tighter. You can find all the reviews, specs and geo numbers online. All that said, this bike would be a great starter DH rig for a younger or shorter rider who doesn't want to spend a fortune at this point, and who may upgrade in the future as they get more into the DH or continue to grow. I would say it's a great fit for anyone 5'1 - 5'7". ANVL pedals you may see in pics are NOT INCLUDED. But I will put the noticeably used lime green Deity pedals that came with it back on the bike. Highlights: Geo is highly adjustable, both BB height and chain stay length. Standard HTA is 62 degrees. I don't have the adjustable headset cups. Shimano Saint 10 speed dérailleur, cranks and adjustable ZEE shifters Shimano ZEE 4 pistons calipers matched to 203mm rotors for great stopping power and modulation and are recently bled. Fox 40 RC2 Fit (203mm travel) up front and Fox DHX RC2 BV (210mm travel) in the back. 26" DT Swiss FR600 wheels laced to DT Swiss 350 hubs New stuff: E Thirteen LG1 chain guide and bash guard 325 lb spring (also comes with 300 lb spring) Chromag grips (lime green) Spank aluminum bars with 40mm rise, cut to 760mm Schwalbe wire-bead Magic Mary's front and back FUNN direct mount stem New fork wipers and oils done by Dundas Speed Shop Shimano chain Extra derailleur hanger from North Shore Billet I'm happy to let it go to some aspiring DH shredder for CAD $1500, considering the parts and money I've dropped into it to make sure it is ready to ride.

Apr 25, 2023 at 8:10
Apr 25, 2023

Selling
Jan 18, 2023 at 16:55
Jan 18, 2023

Selling
Sep 25, 2022 at 8:53
Sep 25, 2022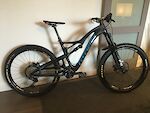 $3000 CAD
Selling to thin the herd since having bought EMTB and have a DH bike already. FOX 36 Rythm 160front / Float DPS Evol 150rear travel, Shimano 200front / 180rear discs paired to Shimano 520 4-pot brakes. XT mech drivetrain. Some frame marks and scuffs as to be expected. Full disclosure - had crack in rear triangle but was fixed by CarbonWorks in Oakville. Have proof of work. Bike is perfect mechanically and includes many upgrades including: - swapped 29's for 27.5, DT Swiss M1900's with 370 hubs setup tubeless. I can switch out the 27.5's for the original 29'er wheels and tires with tubes if that's what you want. Your choice. - M7100 12 speed (10-51T) cassette. - Race Face Aeffect cranks 165mm - Shimano XT pedals - Race Face 35mm stem in Kashmoney. - Race Face Kashmoney grips. - New Token Ninja BB. Weight is about 32 lbs. https://khsbicycles.com/bikes/2020-khs-models/6600-20/
Load more...