jeremyhamilton24
Member since Mar 9, 2012

Online
Male / 38
Marshall , Michigan
Block user
Recent

Sep 25, 2020 at 12:53
Sep 25, 2020

Selling
Sep 25, 2020 at 12:53
Sep 25, 2020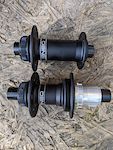 $125 USD
Selling off a set of Stans Neo Ultimate hubs that I bought thinking I'd build up a second set of wheels. However, I traded frames and now have boost front and rear, so these are just sitting in my workbench. Decided I'd rather sell them and fund some road bike parts, or maybe a second set of boost wheels. These are brand new. 28h front and rear with centerlock rotors. The rear has a XD driver on it.

Selling
Sep 3, 2020 at 8:47
Sep 3, 2020

Selling
Aug 6, 2020 at 6:40
Aug 6, 2020
$1 USD
I just got a Bontrager Line Elite 30 rear wheel. I don't need it at the moment and reviews of it say that the rims for this wheelset are soft (my visual inspection of the used rear rim would seem to confirm that!). Anyways, the hub is sweet with it's 108pt engagement. So I'm thinking I may hold onto the wheel to build up onto different rims. Hoping that someone has an older front wheel or even better, just the hub laying around collecting some dust and would want to part with it. https://www.trekbikes.com/international/en_IN_TL/equipment/cycling-components/bike-wheels/mountain-bike-wheels-wheelsets/bontrager-line-elite-30-tlr-boost-29-mtb-wheel/p/22217/

Selling
Jul 9, 2020 at 10:14
Jul 9, 2020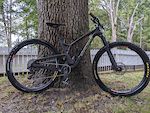 $1400 USD
Looking to trade my medium Evil Following frame (gunmetal gray, looks almost black) for something with slightly more travel. Doesn't have to be carbon, but would be ideal. I just installed new silver decals onto the bike. I've only put a few hundred miles on the bike so there are very little dings/marks on the bike at all. Want to swap just frames. Let me know what you got!

Mar 13, 2020 at 10:43
Mar 13, 2020

Feb 24, 2020 at 8:40
Feb 24, 2020

Selling
Feb 24, 2020 at 8:39
Feb 24, 2020

Feb 13, 2020 at 10:09
Feb 13, 2020

Selling
Feb 13, 2020 at 10:08
Feb 13, 2020
Load more...