jkshield
Member since Mar 21, 2012

Male / 29
Golden , Colorado
Block user
Recent

Jan 4, 2021 at 22:28
Jan 4, 2021

Selling
Jan 4, 2021 at 22:27
Jan 4, 2021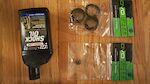 $600 USD
Hi this is my 2019 DVO diamond fork set up to 150mm. It fits 29in wheel and has a 44mm offset. I would say it is 9/10 condition. I just flushed the fluids a few rides ago. I have all the stuff to service the fork. It will come with seals the Travel adjust piece and the oil. The steer tube length is 7 1/4 It is easy to change the fork from 140 to 160 with the travel adjust piece. once you take apart the fork you just have to snap in the travel adjust around the damper. Let me know if you have any questions. You can text me at 720 447 77 four zero

Oct 30, 2020 at 22:29
Oct 30, 2020

Aug 23, 2020 at 21:29
Aug 23, 2020

Selling
Aug 23, 2020 at 21:28
Aug 23, 2020

Jul 8, 2020 at 21:20
Jul 8, 2020

Selling
Jul 8, 2020 at 21:18
Jul 8, 2020
$700 USD
Selling my 2020 fox 36 Grip2 140mm 44mm. I only reason I am selling the fork is because I had it previously on my Tallboy. I sold that frame to a friend and getting the druid. The stack height is huge on the druid 120mm vs 100 on the tallboy so the fork just fits on the druid with 2mm under the stem compared to the tallboy which i fit 25mm of spacers. The steer length is 6 3/4 in with the crown race installed. The fork is about 4 months old and just replaced the oil a few weeks ago. Its in excellent shape just throwing this out to see if that steer length works for anyone. No low ball offers as worst comes to worst i'll just run it but would like to buy other fork with more stack adjustment. message me about any questions.

Jul 8, 2020 at 21:01
Jul 8, 2020

Selling
Jul 8, 2020 at 20:59
Jul 8, 2020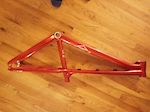 $270 USD
Selling my 2016 Commencal DJ. It is brand new, unfortunately I do not have the money or time to build it up properly. Hit me up if you have any questions. Can ship and will let you know how much based on location also can meet up in you want to swing by boulder.

Oct 9, 2018 at 17:35
Oct 9, 2018
Load more...