jonjr
Member since Jan 26, 2007

Male
Scranton , Pennsylvania
Block user
Recent

Jun 6, 2019 at 5:03
Jun 6, 2019
10 Men's Kits Tested - 2019 Summer Gear Guide
In the era of online ordering, why are we still using s,m,l etc., for size references on shorts. No one makes their clothes the same size. Can we start using waist sizes and inseams. Yea, I know, there are reference charts, but Wouldn't it be easier to reduce the hassle of returning a short marked XL that shows up w/ a 32" waist or legs so long they could be pants?

Selling
Sep 17, 2018 at 13:33
Sep 17, 2018

Jun 7, 2017 at 8:48
Jun 7, 2017

Selling
Jun 7, 2017 at 8:47
Jun 7, 2017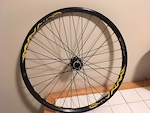 $125 USD
Brand new 26" mavic Dee Traxx. Bought these a few years ago,but never used them.Dont remember much about them, but I guess you can google it.Rear has not even had a tire mounted on it. 135 x 10 bolt on rear. bolt on, not bolt through, threaded axle is part of hub, 20mm front

Selling
Jun 7, 2017 at 8:39
Jun 7, 2017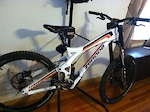 $1000 USD
Zerode G1 This is the First Zerode Brought into the USA Currently has older Marzocchi 888 fork and sun single track rims. (not in pictuers) Saint cranks, SDG saddle and post, Hayes stroker Ace brakes. Needs headset and brake lines cut and bleed. Comes with Origonal sticker kit and both sram and shimano shifters. Typical scuffs and scratches, no dents or cracks. Will pay half of shipping. shipping only to USA.

Jan 1, 2017 at 19:08
Jan 1, 2017

Jan 1, 2017 at 19:07
Jan 1, 2017

Jan 13, 2016 at 16:08
Jan 13, 2016

Dec 20, 2015 at 9:42
Dec 20, 2015

Selling
Dec 20, 2015 at 9:40
Dec 20, 2015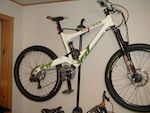 $800 USD
Medium Commencal Mets 666. Older bike like new condition. Less than 75 mile on bike. Marzocchi 55 fork Mavic 819 rims DT swiss hubs 20 mm front / 10mm rachet thru axel rear. Have Both head tube sleeves to change geometry, 2 sets of dropouts and extra hanger. Azonic B52 scandium bars Hayes Stroker brakes w/ 7" rotors Gravity light DH cranks set up 2 ring and bash Truvativ chain dual ring guide. SDG seat and Seat post Thompson 50mm4x stem. Sram x7 rear, Bike is in like new condition. older build, but hardly ever used. GF was riding, but she is now gone. Motivated to sell. will pay half of shipping. Local pick up? will give you a great deal.
Load more...
Featured
Photo by jonjr