jordanfletcher
Member since Oct 27, 2014

21
Burlington , Ontario
Block user
Recent

Selling
May 1, 2019 at 16:28
May 1, 2019

May 1, 2019 at 16:22
May 1, 2019

Selling
Jul 6, 2018 at 17:16
Jul 6, 2018
$60 CAD
No longer using these bad boys so figured I could let them go. Great shoe in awesome condition, only used for a season and a half. 2-hole mounting pattern with toe spike compatibility. Priced to sell!

Sep 30, 2017 at 9:43
Sep 30, 2017

Selling
Sep 30, 2017 at 9:40
Sep 30, 2017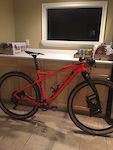 $1999 CAD
She's got to go! Fully custom spec build. Frame and fork are less than 5 months old. Insanely fast rig. Bike weighs in it around 18lbs with mounts, pedals and bottle cage. Only reason I'm selling is that I'm need of money for school right now. Wouldn't be giving her up other wise. Here's the spec list: The bike was built up in March of this year. The frame was received brand new from Louis Garneau as was the Lauf fork along with the Easton EA70 wheelset. The Maxxis Ardent tan wall tires were hard to find but I was able to track a pair down from a shop in Toronto. They still have basically perfect tread left on them as I didn't get them until June. Wheels are setup tubeless with Stan's. I've got a 130mm -17 degree 3T stem on there holding the carbon Niner bars in place along with ESI extra chunky silicon grips. Full Shimano XT drivetrain (1x11) and brake set with carbon Raceface Next cranks and Razor ultralight rotors. The XT derailleur and new XT chain are brand new and have not been used since they were installed (3 weeks ago). Carbon Niner seatpost and a super lightweight PZ Racing saddle. Let me know if you're interested!

Aug 17, 2017 at 19:38
Aug 17, 2017

Selling
Aug 17, 2017 at 19:36
Aug 17, 2017

Jun 2, 2017 at 19:10
Jun 2, 2017

Selling
Jun 2, 2017 at 19:08
Jun 2, 2017

Mar 1, 2017 at 6:00
Mar 1, 2017
Load more...