52 weeks ago I set myself a challenge to compete in the Mega Avalanche 2010 after a 10 year break away from my bike due to a back breaking injury. But after all those blogs and my recent patch of injuries - I can finally say it is finished!
And my story is below, enjoy
!
Day 5 – Qualifying Race
It's 6am and we drive up the hill into Oz and join the world's longest queue of around 600 other riders – The queue moves slow and we eventually make our way up the steel snow shedding steps to our new summit for the qualifying race.
On arrival the helicopter takes off as group 3 begin their race of 200 riders bundling their way down a series of fire road hairpins into the black downhill run.
The deal then with qualifying goes as so:
200 riders in each race.
Riders who finish 1 – 38 of each race go into the Mega Avalanche Main Race
Riders who finish 39 – 74 of each race go into Mega Challenger Race
Riders who finish 75 – 111 of each race go into Mega Amateur Race
Riders who finish 111 – 200 split into Affinity 1 and Affinity 2 Challenge
---
As we line up and scope out some sort out of technique to get out in front of the 200 other riders in our race – it suddenly dawns on me in my second row position – all I have to do is get out in front and away from the other riders and I am ok – so I line myself up to ride as hard as possible and get out in front! The countdown begins and I make my way to the front tucked behind around 15 / 20 other people away from trouble and into a safe position to make my way down the fire roads and onto the thin black downhill run.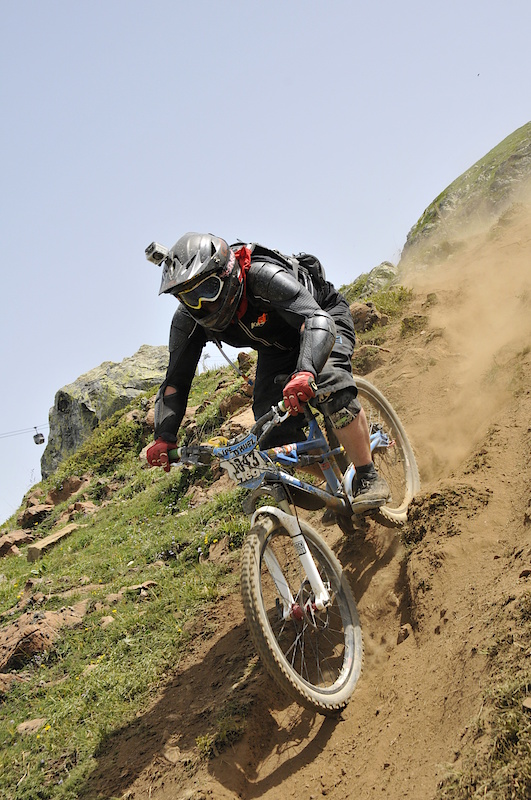 All is going well and I am holding my top 20 position easily and enjoying myself. After a couple of dodgy moments and a great race start, suddenly all hope is taken away and my rear wheel is now bouncing around and the tyre is hanging off. I pull over and begin fixing my bike suffering a huge heart braking moment as I watch my whole group pass by me and down the hill. After changing my inner tube and using another dude's pump to inflate it 200 yards further down the track – I am back on the bike in around 10/15 minutes and playing catch up with my disappearing group and attempting to pick them off one by one and get back into the qualifying races. As I make my way down and take a nasty slide on the singletrack – I am then left with a diagonally bent up seat post and I begin my final attempt descending into the finish passing the stragglers in my group and following Julien Cammelini's dust into the finishing area.
As I jumped the step down giving it all the style my bike would allow, I crossed the line and I was exhausted and slowly realizing my bike was wrecked after my footloose, risky, high speed race run! My forks were dead and were running at around a maximum of 40mm of travel, my adjustable seat post bent, rear tyre torn and now all my spares were used up!
I was greeted by friends and family all trying to pick my gutted face off the floor – I just couldn't believe that after such a good start, it was all taken away by a flipping puncture and a torn sidewall.
I knew my time was around 44 minutes and considering all my faffing and mechanical issues – it was a fair time for me to make it into the finish area considering the circumstances. However I knew it wouldn't get me into any of the main races and now I would end up in the carnage of one of the affinity races chasing a huge group of riders in front of me and with a massive amount behind me! I wasn't convinced that my race position would leave me with the opportunity to achieve a great time in the final results – but I decided to approach my race with a singular objective - Race as fast as I could and overtake as many other riders possible!
The results that evening confirmed I was racing in affinity 1 and would be racing the next day! I headed home to try and fix my bike and prepare for the next day.
Day 6
-
The 5 am wake up call sounds and I head down stairs to collect my new ride for the event. The sad news from the mechanic at the bike shop last night meant I wouldn't be able to race my Haro Porter in the mega avalanche race and instead I would have to hire a 35 euro Giant Reign rental because...
1 – Suspension Fork could not be repaired in time
2 – Rear rim separated on the join
3 – Rear brake needed bleeding
4 - Seat post was officially dead!
So as we head up the mountain with my new ride, I have no idea what will happen in this race and if I can even get to grips with this bike during the race. All would be a mystery until I left the start line and began my descent from Pic Blanc to Allemont down the relentless 33km of mass covered Snow, rock and dust!
As the gondola arrives and the helicopter buzzes above filming the madness about to happen I watch the Mega Ladies and Mega Challenger racers make their way down the Glacier at Pic Blanc. The snow appears soft and you either make a rut and groove down or get caught in the small dips and are sent head over heels down the glacier.
As the madness settles we are directed to the start and then sent off in mini waves around 15 minutes after the first group. I began my drop into the first snowy run and the cut up mess that awaited us was like cycling through knee deep powder and when surrounded by numerous other cyclists and with your sights set on reaching the bottom pronto – it becomes frustrating and time consuming.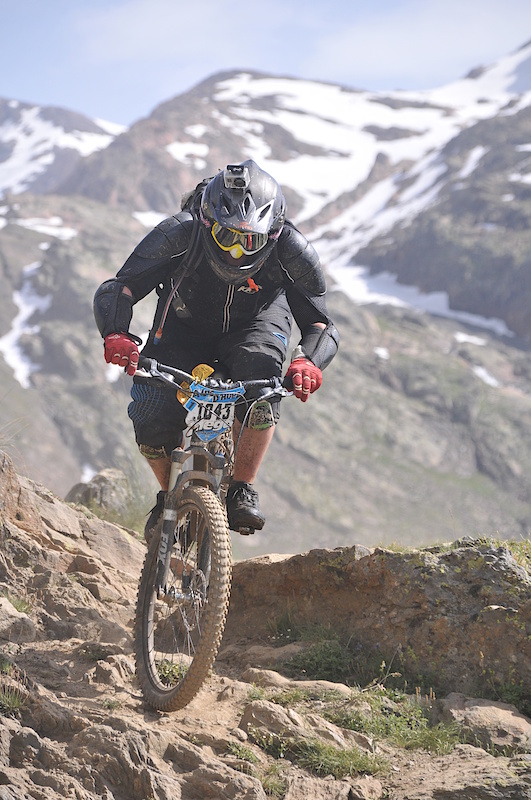 Most people began running the track and picking their way down to solve the speed issue. At times you could ride and others you just had to walk it out – as we escaped the frozen wonderland – we were all shocked at the energy that was zapped from us at the very beginning of the race. We were not even a 1/4 of the way down! I had to stop as my seat had fallen off at the worst time ever – so I quickly found some allen keys and tightened that rude boy up!
The long bottle necked single track section was our next obstacle and it was slow riding due to a lot of slow moving congestion. If you had some balls and did some risky overtaking manoeuvres with a dash of all or nothing riding – this paid out and gave you hints of light ahead; causing you to sprint as hard as possible to catch the riders you could spot in the distance. This seemed to really motivate me and caused me to really focus on catching the dudes ahead – I worked harder than I have ever ridden before and I constantly overtook riders and caught the rear section of the race ahead of me!
As we traversed Alpe d huez and climbed for way too many km's across the dust settled trails until we peaked over the mountain and peered into another huge length of single track signposting the half way mark and the end of the long climbs.
As I continued snaking my way down the next section of single track I began to find a faster pace and I promised myself that I would ride harder than I have already and give it everything to make my time as fast as possible.
The final half of the track went by surprisingly fast and as I descended the steep woods into the final few Kilometers I was managing to keep on overtaking more and more riders and continue my newly found confident pace to the bottom of the hill
As I crossed the bridge into Allemont and hit the final flat section – I cranked up my gears and sprinted towards the finish line and get my time as strong as possible.
I came across the line as either one of the 1st or second from our Mega Affinity group and ahead of a lot of riders from the 2 races that left before me.
I removed helmet and looked at the mountains I had just blasted my way down and I thought – was the 52 weeks of training, all the work and effort, all the time sacrificed, all the races entered worth it ………
Hell YES
!
After seeing my family and chatting to some friends we left the finishing area knowing I finished the 33kms of hell in around 1 hour 35/40 minutes – a time that I feel reflected my riding fairly and would hopefully give me a good final overall time rankings in the Mega Avalanche Race Results. I'll have to wait and see on that one though - all I know is that out of my race - I came 28th out of 283 - not bad that!
I am now in Paris with my wife and son before arriving back in the UK to the 9-5 job mixed up with a couple of dates with some magazines and video journalists – so expect to see a final blog from me soon in a few weeks and a summary of my last year and what that means next.