Every race is full of talented riders and people working their guts out to make it in the world of racing bikes. Welcome to our second of many, quick slap in the face style 60 second interviews - and next up, US Pro Downhill racer Dennis Yuroshek.
Pics and words inside
,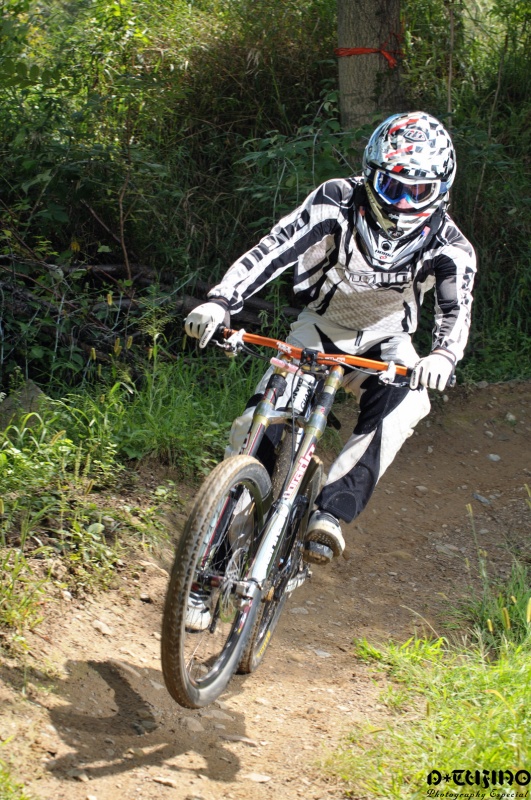 Name - Dennis "DFY" Yuroshek
Age - 23
Race - PRO
Bike - 2010 Giant glory with Hayes Bicycle Group goodies
Job - Currently 1 of the 14.3 million people in the US that are unemployed. Looking for a job in the Bicycle Industry! I won't become rich, but it will make me happy.
Sponsors - Giant, Hayes, Manitou, Sun Ringle, Nema, Smith, KMC, ODI, GoPro Cameras, Diablo Freeride Park, Freelap Timing System, E.13, Components. Still waiting on a few more companies to get back to me. Other sponsorship opportunities are in the works.
Best ever moment in 2009 - Qualifying 1st place for the US OPEN as an Amateur.
Worst ever moment in 2009 - Crashing at the National Championships in Sol Vista, Colorado during practice. I was out for a month due to knee injury.
Fave place to ride - Few can match the progressing trail building of my home mountain Diablo Freeride Park, they have it all from Jumps to berm filled trails to some of the rockiest trails on the East! Great place for training.
Best thing you ever found on the street - A baby squirrel that I raised and named Rocky!
Favourite Rider out there - World Cup level: Brendan Fairclough is just straight up Gnarly. National Level: Gavin Vaughan, kid is super talented and rides like Blinky, PINNED and loose, fun to watch!
Favorite flavour of crisps / chips - Blue Corn Chips with my home made salsa!
In your CD player at the minute - AFI last played on my IPod.
Last gig you went to - hmm Family Values Tour back in 2000! Gigs aren't my thing, I can find better stuff to do with my time haha. Flexing, tanning and facebook occupy the majority of my time.
Who did you text last - Erick Kozin from Nema.
Riders that inspire you - Jason Memmelaar -"Wildman Jr.", Sean "Griz" McClendon- The man that will help US DH become more mainstream.
Tea or Coffee - Protein Drink.
Best result in 2009 - 1st overall in Diablo Downhill and Slalom.
Hopes for 2010 - Have the TOP east coast race team! Land a job in the bicycle industry! Top 20 at the US Open in PRO. Expand my DFY T-shirt company.
People you want to say thanks to - Dana Delarosa and everyone at Giant Bicycles, Clayton and everyone at Hayes, Erick at Nema, Gabe at Smith, Shawn at Diablo, Bentley at KMC, Kevin over at ODI, Justin at GoPro, Mike at E.13! All my friends, team mates and of course Momma Dukes!!
Photos by davidt.pinkbike.com.